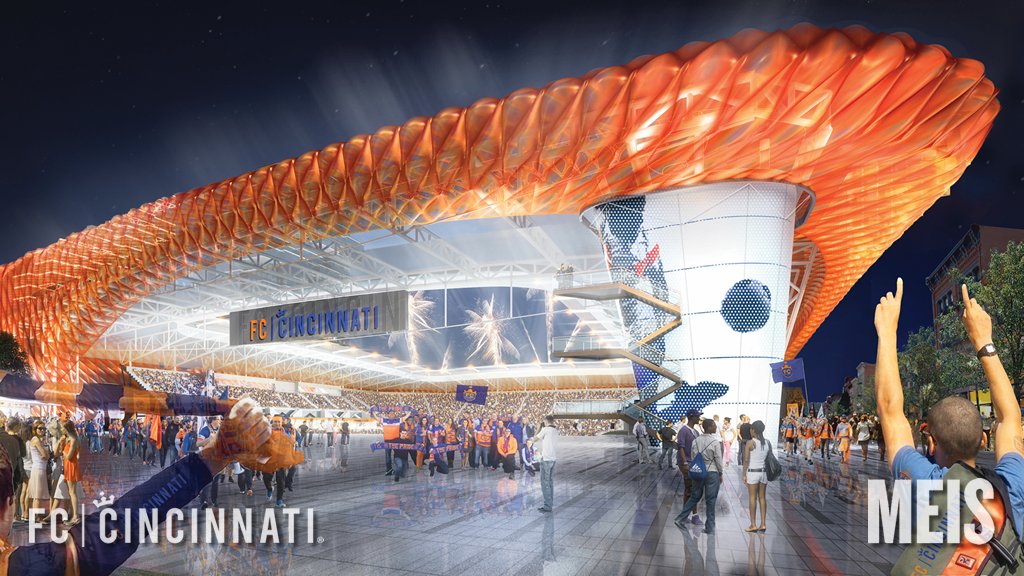 A significant week is on tap for FC Cincinnati, with the club looking to secure political support for a new stadium to bolster its MLS expansion chances. 
Monday and Tuesday will be days to watch for FC Cincinnati. At 4:00 on Monday afternoon, the Cincinnati City Council is set to vote in a special session on a $33.8-million funding package for infrastructure improvements to support a new stadium on the city's West End. This comes after the club's stadium proposal took a step forward last week, when the Cincinnati Public Schools board approved a land-swap agreement that will allow the new facility to be built at the site of Taft High School's Stargel Stadium.
That approval by the school board allowed the proposal to proceed to the city council. While the council typically does not meet until Wednesdays, Monday's special session would give FC Cincinnati's situation some clarity ahead of a key MLS Board of Governors meeting on Tuesday. More from The Cincinnati Enquirer:
P.G. Sittenfeld, who proposed city's plan to help build a $212.5 million West End stadium with David Mann, said Tuesday could be the last day for FC Cincinnati to secure an MLS franchise during this round of expansion.
"Tuesday's meeting of the MLS Board of Governors is really judgment day for whether or not Cincinnati gets awarded a franchise as part of this expansion round," Sittenfeld said Friday.
The league declined to comment Tuesday's meeting other than to say that expansion is on the agenda.
A vote of approval from the nine-member Cincinnati City Council would represent a significant step for FC Cincinnati. The Enquirer reports that at least four members have publicly expressed opposition to the plan, while a fifth wants a community benefits agreement in writing. Under updated terms of the legislation, the club will not receive any funds until a community benefits agreement has been signed and approved by the city council. In addition, the agreement must include both the Over-The-Rhine Community Council and West End.
Along with Detroit, Nashville, and Sacramento, FC Cincinnati was part of a mix of expansion finalists considered by MLS in December. Though it was anticipated that two of those bids would be chosen in December, MLS selected only Nashville while holding off on decisions regarding the other bids. FC Cincinnati has been a USL attendance success story at Nippert Stadium, but MLS has been clear in its desire for a new stadium as part of an expansion bid.
RELATED STORIES: FC Cincinnati Stadium Financing Details Released; School Board Approves FC Cincinnati Stadium, Setting up City Council Vote; FC Cincinnati Pivots Back to West End Stadium Site; Meeting on FC Cincinnati Stadium Scrapped; FC Cincinnati West End Plan Scratched; FC Cincinnati Pushes for West End Stadium Site; Next MLS Expansion Decision Could be Made After 2018 Season Begins; Debate Over FC Cincinnati West Stadium Plan Continues; FC Cincinnati Makes West End Stadium Pitch; County Hopes for February Decision on FC Cincinnati Expansion Bid; FC Cincinnati Still Open to West End Stadium Site; MLS Expansion: What Comes Next?; No More MLS Expansion Decisions Until 2018; State Funds Could Be Sought for FC Cincinnati Stadium; FC Cincinnati Stadium Plan Approved by City, County; Four MLS Expansion Finalists Announced; Committee Approves FC Cincinnati Stadium Plan; Oakley Rejects FC Cincinnati Stadium Proposal; Paul Brown Stadium Scrapped as Option for FC Cincinnati; John Cranley Makes FC Cincinnati Stadium Pitch; County Pitches Paul Brown Stadium to FC Cincinnati; FC Cincinnati Unveils Latest MLS Stadium Proposal; FC Cincinnati, Mercy Health Announce MLS Jersey Partnership; FC Cincinnati Pitches $250M Stadium for Oakley; FC Cincinnati Reports Progress on MLS Stadium Plan; FC Cincinnati Continues to Work on Stadium Plan; FC Cincinnati Stadium Plan Discussed at Meeting; Commissioner, FC Cincinnati Split on Nippert Stadium for MLS; Port Authority Pitched FC Cincinnati Stadium Ownership; FC Cincinnati Releases Stadium Design Details