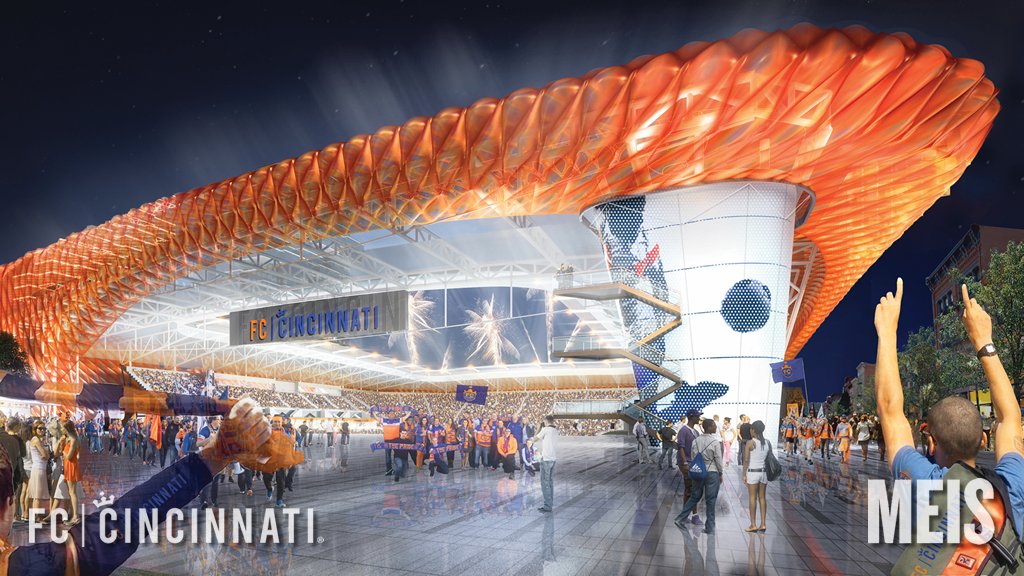 Cincinnati's school board has approved a land-swap agreement for a new FC Cincinnati stadium on the West End, but the plan has another hurdle to clear.

The decision on Tuesday by the Cincinnati Public Schools board was the approval of a land-swap agreement. That proposal calls for FC Cincinnati to construct a new $200-million soccer-specific venue on the site of the existing Taft High School's Stargel Stadium, while building a $10-million replacement for Stargel Stadium at a nearby site.
Discussions of a new FC Cincinnati stadium have come as the USL club, which currently plays at Nippert Stadium, looks to finalize a successful MLS expansion bid. Tuesday's school board meeting reportedly included some vocal protest from residents who were opposed to the plan, but ultimately the school board voted 6-0 to approve the terms that were table. More from The Cincinnati Enquirer:
The board members who voted for the swap were [board president Carolyn] Jones, vice president Ericka Copeland-Dansby, Melanie Bates, Eve Bolton, Lannis Timmons and Mike Moroski. Ryan Messer was absent.
The school board initially rejected FC Cincinnati's proposal for payments in lieu of taxes on a stadium. Board members passed a draft resolution stating the team must pay its "fair share" of taxes and agree to a community benefits agreement with West End residents.
The school board's unyielding stance paid off this week when the team agreed to pay $25 million to CPS, $10 million of which will be paid upfront for the first 10 years. After that, the payment will be made on a year-to-year basis for the following 15 years. Those numbers are based on projections, so the actual payments might end up different depending on how the county values the stadium.
The team has also promised to develop soccer programs in the district and has committed to helping fund other neighborhood athletics programs in West End.
Now that the plan has been approved by the school board, it will head to the Cincinnati City Council for its consideration. In order to pass there, the stadium development deal will need five votes of approval from the nine-member council. Councilman Jeff Pastor, who has in the past expressed support for a new FC Cincinnati stadium, wants a community benefits agreement in writing. Pastor's vote is expected to be crucial to the stadium development deal passing, and he is asking for more assurance when it comes to a community benefits agreement with the club. More from The Cincinnati Enquirer:
After his colleagues David Mann and P.G. Sittenfeld released a proposed development package, Pastor on Friday rallied behind the stadium.
"I know how transformational and positive it will be to the West End for FC Cincinnati to be there. FC Cincinnati and its owners care about Cincinnati," Pastor said that day. "They want our city to win. I want the West End, Cincinnati, and our children to win with those on the field. Let's seize the day."
But his attitude toward the deal has changed. His hesitation surrounds the community benefits agreement (CBA), a contract between the team and West End community groups that will cover everything from lighting and noise to money for sports programs.
"Before I'm comfortable moving forward, a community benefits agreement must be in writing," Pastor wrote to The Enquirer Tuesday.
He asked that Mayor John Cranley, council members and the law department also have ample time to review the document before voting.
Over its time in the USL, FC Cincinnati has been an attendance success story at Nippert Stadium, but MLS has been clear in its desire to see a new stadium as part of an expansion bid. Finding a location to this point has been a challenge, as the club has also considered Oakley and Newport, KY for stadium sites, but those locations have posed some issues. Unlike Newport, West End will allow the club to continue playing its games in Cincinnati, while West End is closer to the urban core than Oakley.
Cincinnati was part of a mix of expansion finalists considered by MLS in December that also included Detroit, Nashville, and Sacramento. It was at one point anticipated that MLS would select two of those bids before the end of 2017, but it instead chose Nashville's bid in December while holding off on other expansion decisions. Sacramento's backers have been searching for additional investment, while Detroit's bid calls for sharing the existing Ford Field with the NFL's Lions rather than building a new soccer-specific stadium.
RELATED STORIES: FC Cincinnati Pivots Back to West End Stadium Site; Meeting on FC Cincinnati Stadium Scrapped; FC Cincinnati West End Plan Scratched; FC Cincinnati Pushes for West End Stadium Site; Next MLS Expansion Decision Could be Made After 2018 Season Begins; Debate Over FC Cincinnati West Stadium Plan Continues; FC Cincinnati Makes West End Stadium Pitch; County Hopes for February Decision on FC Cincinnati Expansion Bid; FC Cincinnati Still Open to West End Stadium Site; MLS Expansion: What Comes Next?; No More MLS Expansion Decisions Until 2018; State Funds Could Be Sought for FC Cincinnati Stadium; FC Cincinnati Stadium Plan Approved by City, County; Four MLS Expansion Finalists Announced; Committee Approves FC Cincinnati Stadium Plan; Oakley Rejects FC Cincinnati Stadium Proposal; Paul Brown Stadium Scrapped as Option for FC Cincinnati; John Cranley Makes FC Cincinnati Stadium Pitch; County Pitches Paul Brown Stadium to FC Cincinnati; FC Cincinnati Unveils Latest MLS Stadium Proposal; FC Cincinnati, Mercy Health Announce MLS Jersey Partnership; FC Cincinnati Pitches $250M Stadium for Oakley; FC Cincinnati Reports Progress on MLS Stadium Plan; FC Cincinnati Continues to Work on Stadium Plan; FC Cincinnati Stadium Plan Discussed at Meeting; Commissioner, FC Cincinnati Split on Nippert Stadium for MLS; Port Authority Pitched FC Cincinnati Stadium Ownership; FC Cincinnati Releases Stadium Design Details