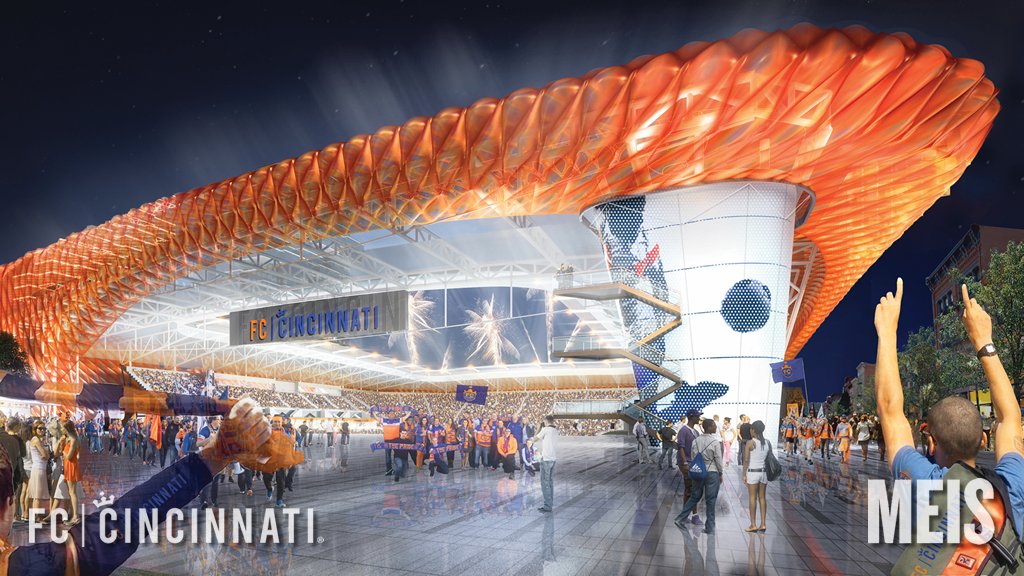 In response to FC Cincinnati's pitch for a new facility, Hamilton County officials stated that the club should consider Paul Brown Stadium for MLS action. 
In an effort to bolster its MLS expansion bid, FC Cincinnati has been pitching local officials on a new soccer-specific stadium. The latest proposal unveiled by the club called for a $200 million stadium that would be privately financed, if local government could contribute $70 to $75 million for infrastructure upgrades and parking to accommodate the venue.
The stadium is being envisioned for Cincinnati's Oakley, and club president and general manager Jeff Berding previously named Hamilton County's hotel tax as a possible source for part of the infrastructure contribution. Hamilton County officials, however, offered a different plan in their announcement on Wednesday by stating their belief that the club could use the existing Paul Brown Stadium.
Home to the NFL's Bengals, Paul Brown Stadium has been cited by the county as a venue that makes sense for FC Cincinnati. The plan B, according to Wednesday's announcement, is to offer a new parking garage that would be paid for using parking revenues. More from The Cincinnati Enquirer:
Commissioner Todd Portune said the Bengals' home stadium, which is paid for through a county-wide sales tax, makes sense as a home for FC Cincinnati and would be far less costly than building a new, soccer-only stadium.
"We believe Paul Brown Stadium can work," Portune said. "Paul Brown Stadium is our first option."
His fellow commissioner, Chris Monzel, was more blunt: "The county already owns two stadiums. We don't need any more stadiums."
FC Cincinnati responded through a statement from Berding that was posted to its website. The statement, in part, says "The next step is to talk further with the County officials and Cincinnati Mayor John Cranley to see whether, after today's initial offer to build a parking garage, we can get there on needed infrastructure. Our owners and FC Cincinnati will fund the stadium but will not be funding public infrastructure routinely covered by governments."
The club added that it would be happy to "work decisively this week with Hamilton County to ensure they are fully informed relative to Paul Brown Stadium. As it relates to the need for a soccer specific stadium, the MLS sets its requirements in the best interest of the League. Respectively, they know the business of soccer and the League the best. The financial data that we transparently shared with the County proves to us that Paul Brown Stadium would not support an MLS team, but we are interested to see how they could have come to a different conclusion."
With other expansion bids–including those in Sacramento and Nashville–making progress in recent weeks, FC Cincinnati has been looking to wrap up some key components of its MLS pitch.
RELATED STORIES: FC Cincinnati Unveils Latest MLS Stadium Proposal; FC Cincinnati, Mercy Health Announce MLS Jersey Partnership; FC Cincinnati Pitches $250M Stadium for Oakley; FC Cincinnati Reports Progress on MLS Stadium Plan; FC Cincinnati Continues to Work on Stadium Plan; FC Cincinnati Stadium Plan Discussed at Meeting; Commissioner, FC Cincinnati Split on Nippert Stadium for MLS; Port Authority Pitched FC Cincinnati Stadium Ownership; FC Cincinnati Releases Stadium Design Details