FC Cincinnati offered a glimpse of a potential future in MLS on Monday, when it released the design of its proposed stadium. 
For its MLS expansion bid, FC Cincinnati is pitching a stadium with a very modern design. As conceived by MEIS Architects, the facility could initially be constructed to seat 25,000, but would have the capability to expand to 30,000. It would also include a canopy over the seating bowl and an out-facing facade.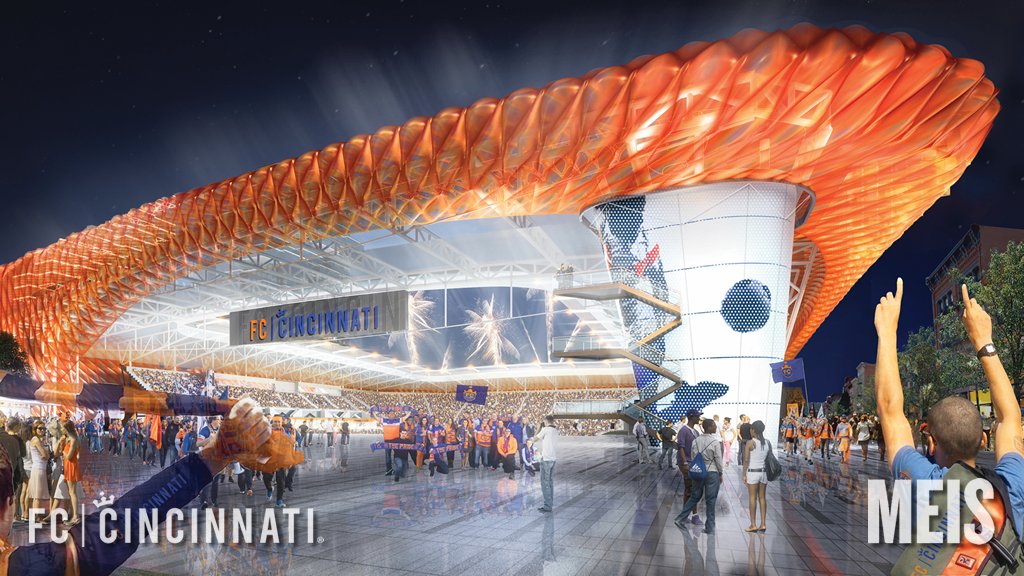 The current cost estimate for the stadium is $200 million. FC Cincinnati is floating a $250 million financial commitment for its MLS effort, and that includes the $150 million expansion fee it would pay to join the league. MLS is expected to pick four bids from a slate of 12 contenders, with two of those clubs gaining entry into the league for the 2020 season and an additional pair joining at a later date. With its stadium effort, FC Cincinnati is hoping to begin play in the circuit sooner rather than later, as stadium construction could begin construction next spring and be completed for the 2020 season.
While the stadium design provides some glimpse into its long-term vision, FC Cincinnati's proposal still faces some questions. The organization has not finalized a site for the venue, though it has been linked to locations in Cincinnati and to land across from the Cincinnati skyline in Newport, KY.
FC Cincinnati is seeking to finance the stadium project as part of a private-public partnership. During Monday's presentation of the stadium design, organization president Jeff Berding sought to address some concerns about building a stadium in Newport by emphasizing the importance of winning the bid, and by noting that no final decisions have been made regarding the site. More from The Cincinnati Enquirer:
Some in the Woodward Theater crowd booed at the first mention of building on the Newport site long-planned for the Ovation mixed-use development near the confluence of the Ohio and Licking rivers.
Berding then stepped in to sell the push for MLS as a regional effort.
"I want to stress this again: The whole thing is to win the bid, right?" Berding said. "Win the bid. Win the bid. So, our whole focus has been to try to find a way – and you've seen some public discussion about this – try to find a way to build the stadium in Cincinnati. That has been our goal, right? However, I want to stress the sites we're looking at are owned by multiple people, and we may or may not be able to pull it off. So, it is great to have the opportunity to develop a stadium in Newport.
"We want to win, so I would just ask you to be inspired, I hope, by the stadium… and be a part of working with us to figure out a way to get it done."
FC Cincinnati played its first season in the USL last year, and has since been one of the league's top draws. While fans have regularly filled games at the University of Cincinnati's Nippert Stadium, FC Cincinnati's proposal for a soccer-specific stadium could prove to be more in line with other MLS expansion bids.
RELATED STORIES: Big Week on Tap for FC Cincinnati; FC Cincinnati to Unveil Stadium Design Plan This Month; FC Cincinnati Zeroing on Stadium Sites; Cincinnati Mayor: Taxpayer Funds Unlikely for FC Cincinnati Stadium; Northern Kentucky an Option for FC Cincinnati Stadium Site; FC Cincinnati Evaluating MLS Stadium Sites; Don Garber Praises FC Cincinnati in Visit; Don Garber Visiting Cincinnati; Training Facility Could Boost FC Cincinnati's MLS Hopes; Don Garber to Visit Cincinnati; Is FC Cincinnati Ready for MLS? Maybe Not Yet