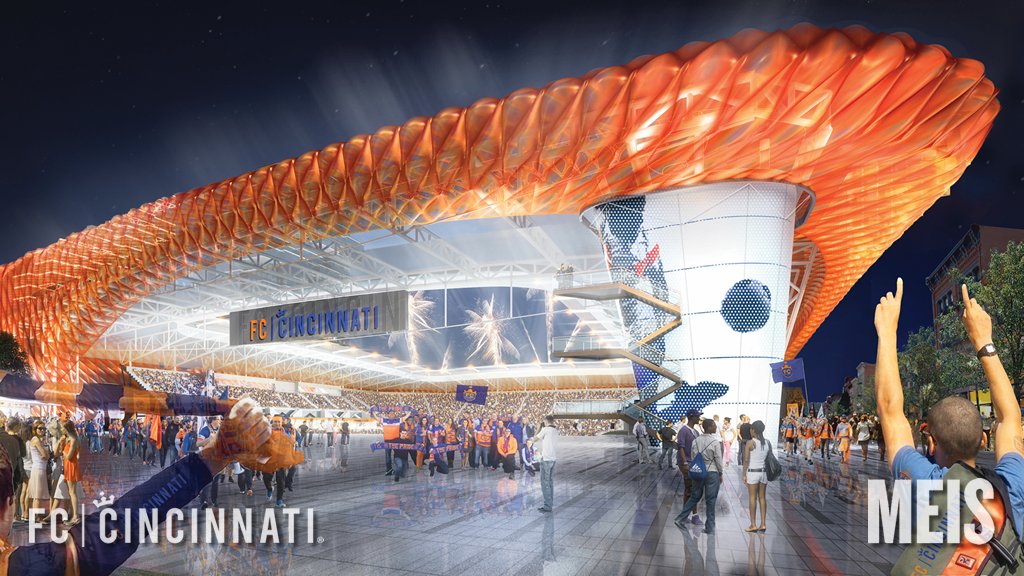 FC Cincinnati is looking to reach an agreement for a stadium site in the city's West End, but negotiations with Cincinnati Public Schools remain unresolved. 
As it seeks to complete a successful MLS expansion bid, FC Cincinnati is looking to construct a new soccer-specific stadium at one of three sites, including Oakley, West End, and Newport, KY. While all three remain on the table, discussions have been unfolding concerning the West End. Under the West End plan, the club would construct its new venue on the site of the existing Taft High School's Stargel Stadium, which it would replace by constructing a new facility at a nearby site that has been slated for a Citirama.
One of the hurdles that FC Cincinnati must clear in order for that plan to move forward is the completion of a land-swap agreement with Cincinnati Public Schools. While the club is proposing to contribute some property tax money as part of that agreement, officials are concerned that its offer is far below what it should pay to build the stadium at the proposed West End site. The club says that it has to make a decision on its stadium site by March 31, but the two sides are still far apart in their negotiations. More from the Cincinnati Enquirer:
As part of the swap – where FC Cincinnati would take over CPS' current Stargel Stadium site but build a replacement stadium for the school – the club offered the school district a starting tax payment of $100,000 a year.
That's more than CPS is currently getting for the property in question. But it's only a fraction of the $2 million or $2.8 million a year the school district calculates it should get if FC Cincinnati builds its proposed $250 million stadium on the Stargel site.
FC Cincinnati's first offer to CPS was $70,000 a year, which the district called "very disappointing."
The second offer didn't go over much better.
"We're committed to a good faith effort on this. This isn't the end of the discussion," said CPS spokeswoman Lauren Worley, after a long debate on the offer during Monday night's school board meeting.
Along with bids from Detroit, Nashville, and Sacramento, Cincinnati was one of four finalists considered in December for an MLS expansion spot. It was at one point expected that the league would choose two of those bids before 2017 concluded, but MLS announced in December that it would select Nashville and hold off on decisions regarding the other expansion bids. While it was recently indicated by MLS that Cincinnati had made the most progress, all three bids are reportedly still up for consideration and the league has not said when it will announce its next expansion decision.
RELATED STORIES: Next MLS Expansion Decision Could be Made After 2018 Season Begins; Debate Over FC Cincinnati West Stadium Plan Continues; FC Cincinnati Makes West End Stadium Pitch; County Hopes for February Decision on FC Cincinnati Expansion Bid; FC Cincinnati Still Open to West End Stadium Site; MLS Expansion: What Comes Next?; No More MLS Expansion Decisions Until 2018; State Funds Could Be Sought for FC Cincinnati Stadium; FC Cincinnati Stadium Plan Approved by City, County; Four MLS Expansion Finalists Announced; Committee Approves FC Cincinnati Stadium Plan; Oakley Rejects FC Cincinnati Stadium Proposal; Paul Brown Stadium Scrapped as Option for FC Cincinnati; John Cranley Makes FC Cincinnati Stadium Pitch; County Pitches Paul Brown Stadium to FC Cincinnati; FC Cincinnati Unveils Latest MLS Stadium Proposal; FC Cincinnati, Mercy Health Announce MLS Jersey Partnership; FC Cincinnati Pitches $250M Stadium for Oakley; FC Cincinnati Reports Progress on MLS Stadium Plan; FC Cincinnati Continues to Work on Stadium Plan; FC Cincinnati Stadium Plan Discussed at Meeting; Commissioner, FC Cincinnati Split on Nippert Stadium for MLS; Port Authority Pitched FC Cincinnati Stadium Ownership; FC Cincinnati Releases Stadium Design Details