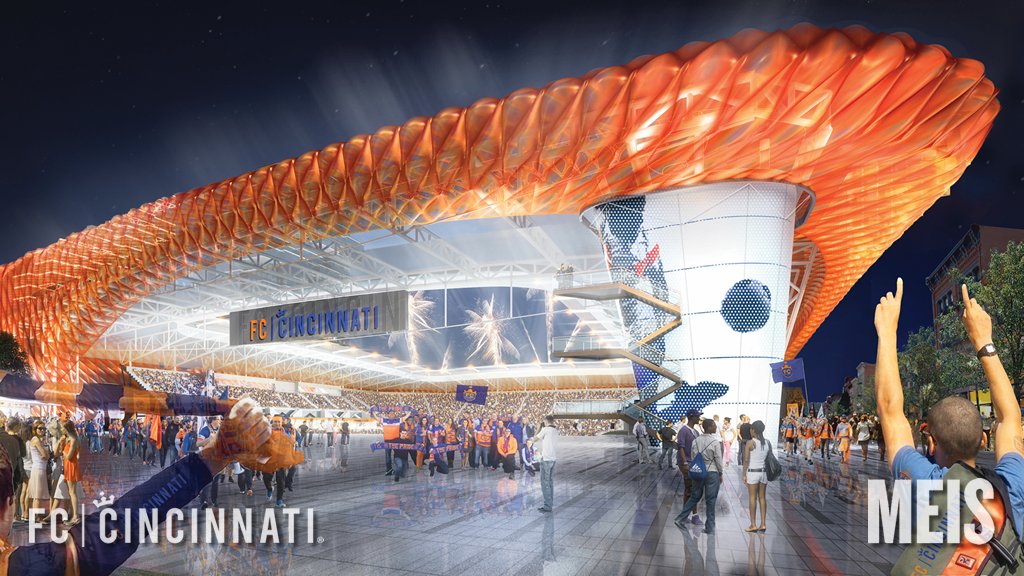 As it continues its MLS expansion pursuit, FC Cincinnati is expressing a willingness to explore the possibility of constructing a new stadium in the West End. 
Late last year, FC Cincinnati's stadium pitch took a step forward when Hamilton County and the City of Cincinnati approved a combined $51 million in infrastructure funds for a new stadium project. The $200 million stadium is expected to be privately financed, and has been discussed for a site in Oakley.
Oakley remains on the table as a prospective site, but FC Cincinnati is showing a willingness to explore the West End as an option. In a letter sent on Monday, club general manager and president Jeff Berding indicated to the Cincinnati Public Schools board that at a certain point, the club would welcome discussions about a partnership if it does decide to pursue a West End site. More from the Cincinnati Enquirer:
"There are multiple locations in that neighborhood where the private investment of the stadium could generate considerable economic impact that would be positive in the West End and overall for our city," the letter says. "While we have not formally moved ahead as we await MLS feedback, we do want to keep as many options on the table as possible …"
The letter is addressed to Cincinnati School Board President Carolyn Jones.
"We would welcome, at the appropriate time, a meeting to discuss a potential FCC-CPS partnership in the event we choose to pursue a West End stadium location," the letter says. "In a similar manner FCC developed a win-win partnership with the University of Cincinnati that made Nippert Stadium our home."
Berding did not specifically mention Taft High School's Stargel Stadium, which has been rumored to be a part of the land needed should the stadium be built in the West End. However, FCC would need the school board's approval for that land.
FC Cincinnati has been linked to three sites in its pursuit of a new soccer-specific stadium, including Oakley, West End, and Newport, KY. In Oakley, the stadium would be constructed at the site of a former Cast-Fab Factory.
The club's expansion bid was one of four finalists considered by MLS in December, making it part of a group that included Detroit, Nashville, and Sacramento. MLS was expected to choose two of those bids by the end of 2017, but instead selected only Nashville and announced that it would hold off on all other expansion decisions until 2018.
RELATED STORIES: MLS Expansion: What Comes Next?; No More MLS Expansion Decisions Until 2018; State Funds Could Be Sought for FC Cincinnati Stadium; FC Cincinnati Stadium Plan Approved by City, County; Four MLS Expansion Finalists Announced; Committee Approves FC Cincinnati Stadium Plan; Oakley Rejects FC Cincinnati Stadium Proposal; Paul Brown Stadium Scrapped as Option for FC Cincinnati; John Cranley Makes FC Cincinnati Stadium Pitch; County Pitches Paul Brown Stadium to FC Cincinnati; FC Cincinnati Unveils Latest MLS Stadium Proposal; FC Cincinnati, Mercy Health Announce MLS Jersey Partnership; FC Cincinnati Pitches $250M Stadium for Oakley; FC Cincinnati Reports Progress on MLS Stadium Plan; FC Cincinnati Continues to Work on Stadium Plan; FC Cincinnati Stadium Plan Discussed at Meeting; Commissioner, FC Cincinnati Split on Nippert Stadium for MLS; Port Authority Pitched FC Cincinnati Stadium Ownership; FC Cincinnati Releases Stadium Design Details