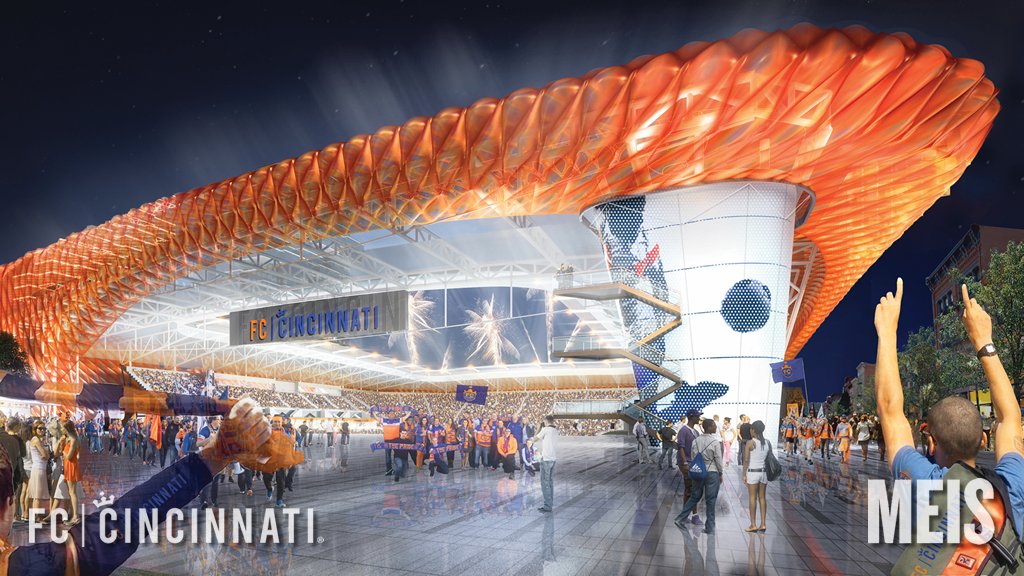 On Tuesday, FC Cincinnati unveiled its latest proposal for a new MLS stadium, with the plan calling for a $200 million facility. 
MLS's mid-December announcement on expansion approaching, and FC Cincinnati is looking to get its stadium plan in order. Club officials released the details of its latest proposal on Tuesday, with the plan calling for a $200 million stadium that is to be constructed in Cincinnati's Oakley. The stadium itself would be privately financed, but the team is asking local government to contribute $70 to $75 million to fund infrastructure improvements.
At Tuesday's press conference, FC Cincinnati president and general manager Jeff Berding specifically named Hamilton County's hotel tax as a possible source for a part of that contribution, and emphasized that the team was not looking to increase taxes. More from The Cincinnati Enquirer:
The county's hotel tax revenue, he said, has $2.8 million left over each year for "other projects." That could pay off the debt for the infrastructure over about 30 years.
It would not raise taxes, he said.
"This money is waiting to be used," Berding said.
Previous pitches from the team have included a $100 million contribution of public funds. As part of this proposal, the club would construct a 21,000-seat stadium–down from an estimated 25,000–and seek public help to cover the cost of road and parking improvements through the money for infrastructure upgrades.
Hamilton County Commission President Todd Portune has said that the county is slated to issue a response on Wednesday afternoon. Oakley has been one of the sites on the table for FC Cincinnati, with another prominent contender being Newport, KY.
With other expansion bids–including those in Sacramento and Nashville–making progress in recent weeks, FC Cincinnati has been looking to wrap up some key components of its MLS pitch. Earlier this week, the club announced that it had obtained Mercy Health as a potential MLS jersey sponsor.
RELATED STORIES: FC Cincinnati, Mercy Health Announce MLS Jersey Partnership; FC Cincinnati Pitches $250M Stadium for Oakley; FC Cincinnati Reports Progress on MLS Stadium Plan; FC Cincinnati Continues to Work on Stadium Plan; FC Cincinnati Stadium Plan Discussed at Meeting; Commissioner, FC Cincinnati Split on Nippert Stadium for MLS; Port Authority Pitched FC Cincinnati Stadium Ownership; FC Cincinnati Releases Stadium Design Details