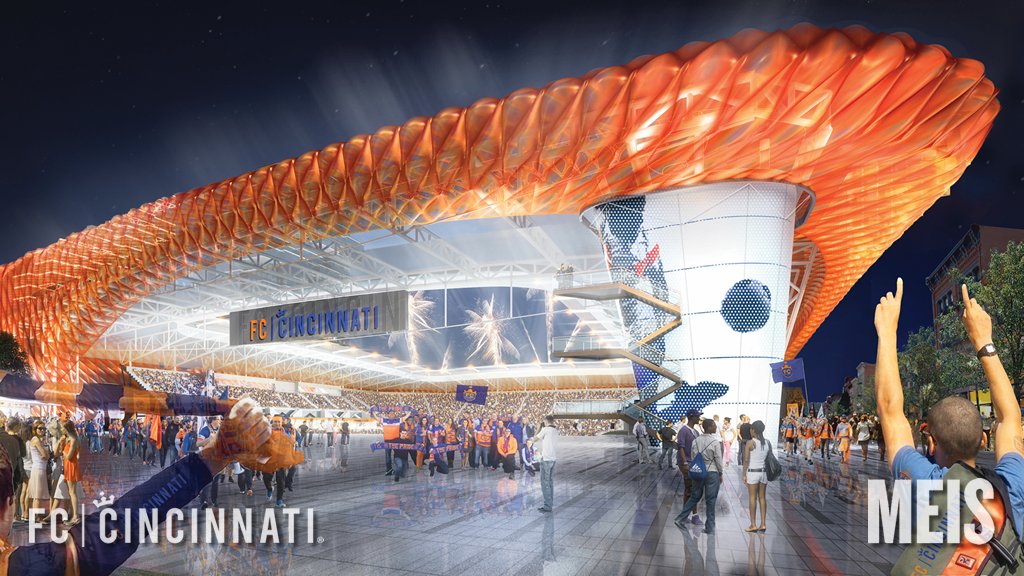 As FC Cincinnati makes its case for a new West End stadium, local officials and community members are debating the merits of the proposal. 
FC Cincinnati has been pitching the construction of a new soccer-specific stadium as part of its MLS expansion effort. The club has discussed three sites as part of that push–including West End, Oakley, and Newport, KY–and all three reportedly remain on the table.
However, the club has been making a more public case of late for West End. As part of its proposal, a new MLS venue would be constructed on the site of the existing Taft High School's Stargel Stadium, which the club would replace by constructing a new facility at a nearby site that has been slated for a Citirama. Government approval will be needed for that plan to move forward, but community opposition has surfaced, as residents are expressing concerns about quality-of-life issues that they believe the stadium could present.
FC Cincinnati has said that it wants the West End Community Council's support in the effort, but the Cincinnati Public Schools board and city council will ultimately a major say in whether the plan moves forward. More from The Cincinnati Enquirer:
[Jeff] Berding, FC Cincinnati's president and general manager, earlier this week told the West End Community Council if the neighborhood says no, he'll go somewhere else. Oakley and Newport, the two other contenders, remain viable options, he said.
In reality, though, if Berding moves a West End plan forward, the Cincinnati Public Schools board and Cincinnati City Council – the decision makers – could override a community vote. Council will be focused on what's best for the whole city; the school board will be looking at what's best for students.
"In the end the responsibility is on City Council," Cincinnati Councilman David Mann said. "We take into account everything we hear. Community council is very important, but they do not have a veto. Nor, if they say yes, does the project go forward.
"We have separate responsibilities," he said.
Along with bids from Detroit, Nashville, and Sacramento, Cincinnati was one of four finalists considered by MLS in December. It was at one point expected that the league would choose two of those bids before 2017 concluded, but MLS announced in December that it would select Nashville and hold off on decisions regarding the other expansion bids.
The plan for a new FC Cincinnati stadium has called for the team to privately finance its construction, while Hamilton County and the City of Cincinnati would contribute funds for infrastructure upgrades to support the venue.
RELATED STORIES: FC Cincinnati Makes West End Stadium Pitch; County Hopes for February Decision on FC Cincinnati Expansion Bid; FC Cincinnati Still Open to West End Stadium Site; MLS Expansion: What Comes Next?; No More MLS Expansion Decisions Until 2018; State Funds Could Be Sought for FC Cincinnati Stadium; FC Cincinnati Stadium Plan Approved by City, County; Four MLS Expansion Finalists Announced; Committee Approves FC Cincinnati Stadium Plan; Oakley Rejects FC Cincinnati Stadium Proposal; Paul Brown Stadium Scrapped as Option for FC Cincinnati; John Cranley Makes FC Cincinnati Stadium Pitch; County Pitches Paul Brown Stadium to FC Cincinnati; FC Cincinnati Unveils Latest MLS Stadium Proposal; FC Cincinnati, Mercy Health Announce MLS Jersey Partnership; FC Cincinnati Pitches $250M Stadium for Oakley; FC Cincinnati Reports Progress on MLS Stadium Plan; FC Cincinnati Continues to Work on Stadium Plan; FC Cincinnati Stadium Plan Discussed at Meeting; Commissioner, FC Cincinnati Split on Nippert Stadium for MLS; Port Authority Pitched FC Cincinnati Stadium Ownership; FC Cincinnati Releases Stadium Design Details