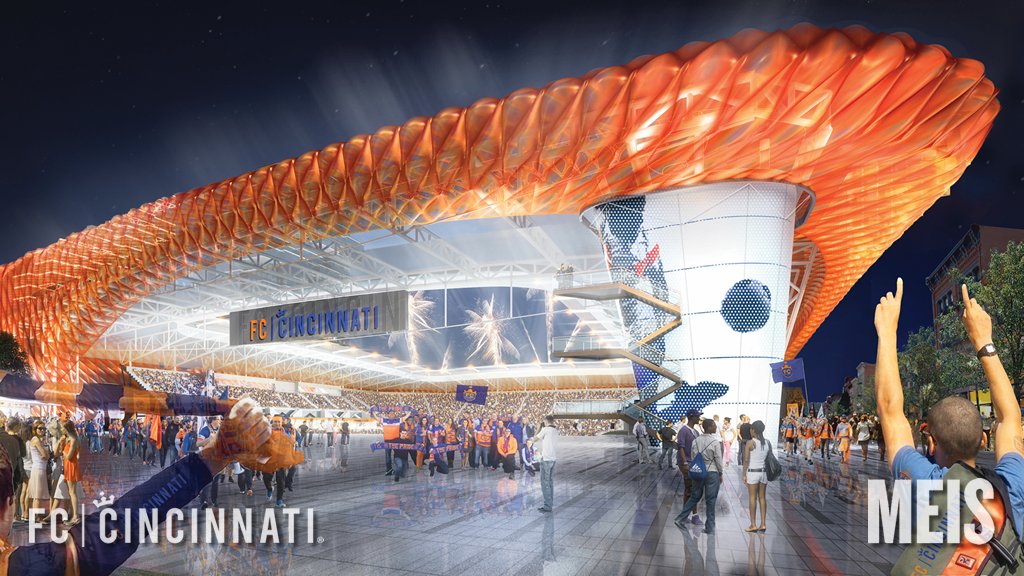 Citing issues with the planned funding model, the Oakley Community Council has rejected a proposal for a new FC Cincinnati stadium. 
As part of its MLS expansion pursuit, FC Cincinnati is looking to secure $70 to $75 million in public funds for infrastructure upgrades that would be completed as part of a stadium project in Oakley. The club has been pitching the stadium for Oakley Station.
A Cincinnati City Council committee is to consider on Monday morning a plan from Cincinnati mayor John Cranley, who has proposed using a variety of funding sources to spend $37 million for infrastructure upgrades. In advance of that meeting, the Oakley Community Council unanimously passed a resolution in opposition of the proposal. As part of that decision, council members noted their opposition to Cranley's plan to use money existing tax increment financing (TIF) districts near the stadium site to cover some of the costs. More from The Cincinnati Enquirer:
In passing a resolution, the community council expressed concerns about the stadium potentially using up all of the area's tax-increment financing money and thus keeping it from going to other projects in the thriving Oakley Station development.
"The OCC Board believes that this proposal could be detrimental to the long-term development needs of Oakley," community council President Sean Fausto said in a statement Sunday. "Current development projects within Oakley have requested access to these same TIF funds, including one project co-sponsored by the city and the Oakley Community Council."
Cranley's plan calls for money from surrounding tax increment financing (TIF) districts in Oakley to be redirected to the stadium infrastructure, The Enquirer reported Nov. 17. But the proposed 16-acre site does not actually fall in these districts. This is expected to provide $9.7 million to help build streets, parking, sidewalks and sewers around a new stadium.
The OCC Board voted Nov. 7 to support a stadium vision presented by FC Cincinnati President Jeff Berding, but Fausto said that vision "did not include, and the OCC Board neither discussed nor took action with regards to, any details of the financing for the FC Cincinnati stadium or the public infrastructure improvements."
An announcement from MLS on expansion is expected in the middle of December. Leading up to that date, FC Cincinnati has sought to move forward with a plan to construct a soccer-specific stadium, hoping it will boost its MLS expansion chances in light of increasingly-strong competition from cities such as Nashville and Sacramento. The latest concept calls for the stadium itself to be privately financed at a cost of $200 million.
RELATED STORIES: Paul Brown Stadium Scrapped as Option for FC Cincinnati; John Cranley Makes FC Cincinnati Stadium Pitch; County Pitches Paul Brown Stadium to FC Cincinnati; FC Cincinnati Unveils Latest MLS Stadium Proposal; FC Cincinnati, Mercy Health Announce MLS Jersey Partnership; FC Cincinnati Pitches $250M Stadium for Oakley; FC Cincinnati Reports Progress on MLS Stadium Plan; FC Cincinnati Continues to Work on Stadium Plan; FC Cincinnati Stadium Plan Discussed at Meeting; Commissioner, FC Cincinnati Split on Nippert Stadium for MLS; Port Authority Pitched FC Cincinnati Stadium Ownership; FC Cincinnati Releases Stadium Design Details