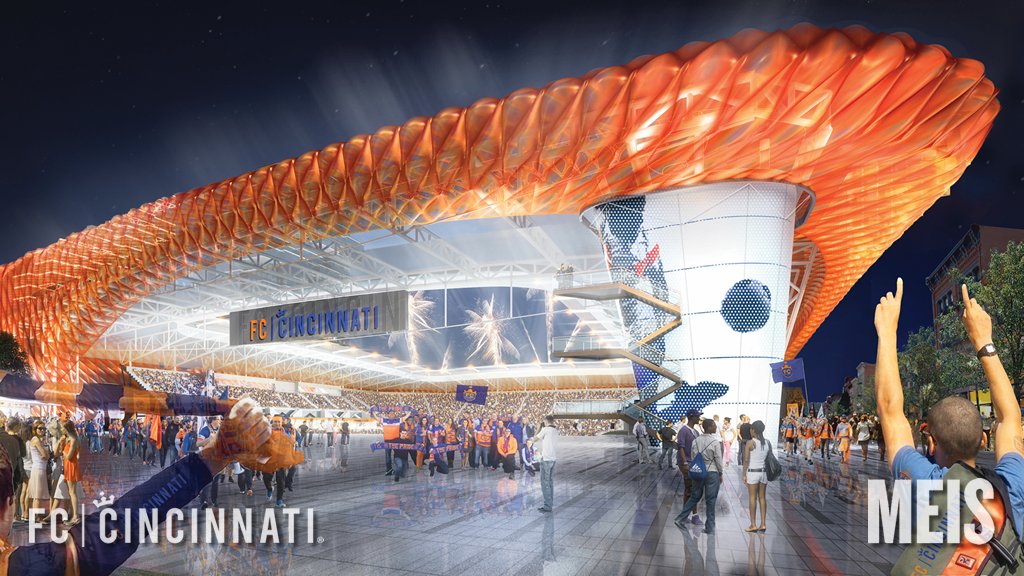 State money could be requested for a FC Cincinnati stadium project, with a potential $10 million contribution helping to cover related infrastructure costs. 
As part of its MLS expansion bid, FC Cincinnati is seeking to build a new soccer-specific stadium in Oakley. The $200 million stadium would be privately financed, but the club has asked for public funds to help cover the cost of infrastructure improvements at the facility's site.
That effort took a step forward last week, when the City of Cincinnati and Hamilton County approved their respective contributions to the project. At a combined $51 million, the sum includes $36 million from the city–paid for through a variety of funding sources–and $15 million from the county to construct a new parking deck. Initial infrastructure cost estimates were in the range of $70-$75 million, and $10 million from the State of Ohio could put the public contribution closer to that range.
Currently, the $10 million request is among the items being considered for a list of Hamilton County projects that could involve state funds. More from The Cincinnati Enquirer:
The ask is among 43 Hamilton County projects totaling $64.6 million being vetted for a final list the region wants the state to fund. The soccer stadium project request is by the far the largest on the list, accounting for 15.5 percent of the total.
The list was sent to state representatives Thursday and obtained by The Enquirer on Saturday.
"These projects are very important to the community," said Gary Lindgren, executive director of the Cincinnati Business Committee, which is coordinating with the Cincinnati Regional Business Committee and the Cincinnati USA Regional Chamber of Commerce to present requests to the state.
As for the stadium plan, he said, "The FC Cincinnati project is an important one and will get a thorough review just like all the other projects."
MLS recently named FC Cincinnati's bid among the four finalists for two expansion spots. The club's effort is among a list that includes pitches from Detroit, Nashville, and Sacramento. Representatives from all four of those pitches are slated to make presentations to MLS commissioner Don Garber and the league's expansion committee on December 6 in New York. MLS is expected to select two of those options later in December, with the winning bids from this round paying a $150 million expansion fee.
In Cincinnati, the request for state funds comes with a deadline of January 3.
RELATED STORIES: FC Cincinnati Stadium Plan Approved by City, County; Four MLS Expansion Finalists Announced; Committee Approves FC Cincinnati Stadium Plan; Oakley Rejects FC Cincinnati Stadium Proposal; Paul Brown Stadium Scrapped as Option for FC Cincinnati; John Cranley Makes FC Cincinnati Stadium Pitch; County Pitches Paul Brown Stadium to FC Cincinnati; FC Cincinnati Unveils Latest MLS Stadium Proposal; FC Cincinnati, Mercy Health Announce MLS Jersey Partnership; FC Cincinnati Pitches $250M Stadium for Oakley; FC Cincinnati Reports Progress on MLS Stadium Plan; FC Cincinnati Continues to Work on Stadium Plan; FC Cincinnati Stadium Plan Discussed at Meeting; Commissioner, FC Cincinnati Split on Nippert Stadium for MLS; Port Authority Pitched FC Cincinnati Stadium Ownership; FC Cincinnati Releases Stadium Design Details