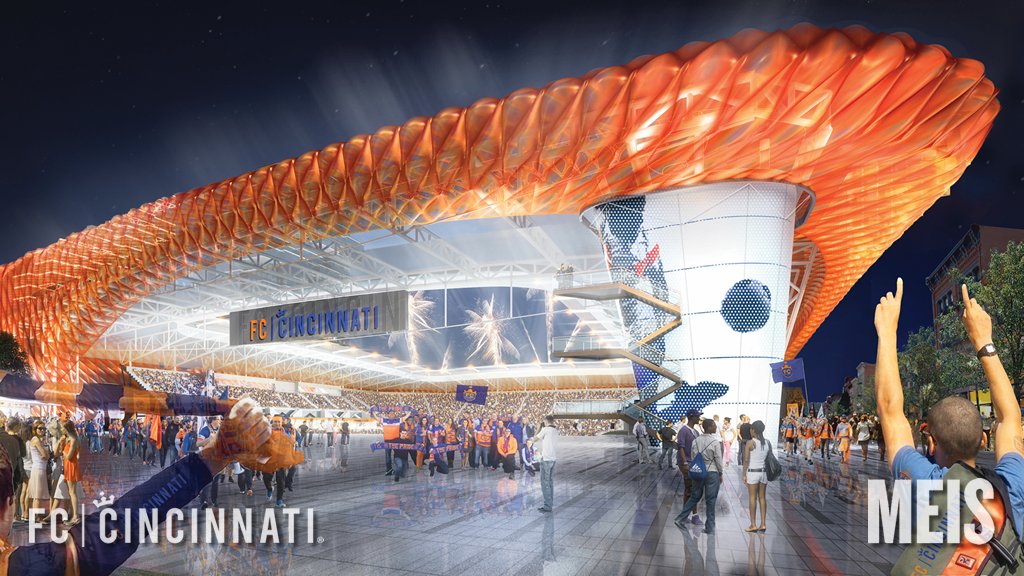 Hamilton County is seeking more certainty on the FC Cincinnati expansion bid, and is hoping MLS will make its decision by the end of February. 
Cincinnati was one of four finalists–along with Sacramento, Detroit, and Nashville–that were considered for expansion slots by MLS in December. It was originally anticipated that the league would choose two of those four bids in December, but MLS ultimately announced that it would select Nashville while holding off on decisions regarding the other bids.
One of the major components in the FC Cincinnati expansion bid is a new stadium that will be privately financed, but the City of Cincinnati and Hamilton County would both contribute funds for infrastructure improvements around the stadium site. Hamilton County's contribution includes the construction of a 1,000-space parking garage to support the stadium. That agreement had an initial expiration date of December 31, but a new agreement will expire on February 28 at the request of FC Cincinnati.
In making this decision, Hamilton County is hoping that MLS will decide on FC Cincinnati's bid by the end of February. More from The Cincinnati Enquirer:
This is to put pressure on MLS to make an announcement by the end of the month, Commission President Todd Portune said.
"We all agree this process has gone on for awhile," Portune said. "We expected a decision would be made sometime in early or mid-December. That did not happen."
Portune said FC Cincinnati in the past week approached him to renew the resolution with the date.
The commission passed the resolution unanimously, giving MLS until Feb. 28 before the parking garage agreement expires. If no announcement is made, the commission will discuss another renewal, Portune said.
It remains to be seen what MLS will decide about the fates of the Sacramento, Detroit, and FC Cincinnati expansion bids. In the case of Sacramento, expansion backers are working to find additional investment to support the bid, and recent indications are that that effort continues to unfold. Though no decisions have been announced regarding Sacramento, Cincinnati, or Detroit, MLS has made another major expansion selection since choosing Nashville, as it announced late last month that David Beckham's effort to bring a team to Miami was moving forward.
RELATED STORIES: FC Cincinnati Still Open to West End Stadium Site; MLS Expansion: What Comes Next?; No More MLS Expansion Decisions Until 2018; State Funds Could Be Sought for FC Cincinnati Stadium; FC Cincinnati Stadium Plan Approved by City, County; Four MLS Expansion Finalists Announced; Committee Approves FC Cincinnati Stadium Plan; Oakley Rejects FC Cincinnati Stadium Proposal; Paul Brown Stadium Scrapped as Option for FC Cincinnati; John Cranley Makes FC Cincinnati Stadium Pitch; County Pitches Paul Brown Stadium to FC Cincinnati; FC Cincinnati Unveils Latest MLS Stadium Proposal; FC Cincinnati, Mercy Health Announce MLS Jersey Partnership; FC Cincinnati Pitches $250M Stadium for Oakley; FC Cincinnati Reports Progress on MLS Stadium Plan; FC Cincinnati Continues to Work on Stadium Plan; FC Cincinnati Stadium Plan Discussed at Meeting; Commissioner, FC Cincinnati Split on Nippert Stadium for MLS; Port Authority Pitched FC Cincinnati Stadium Ownership; FC Cincinnati Releases Stadium Design Details