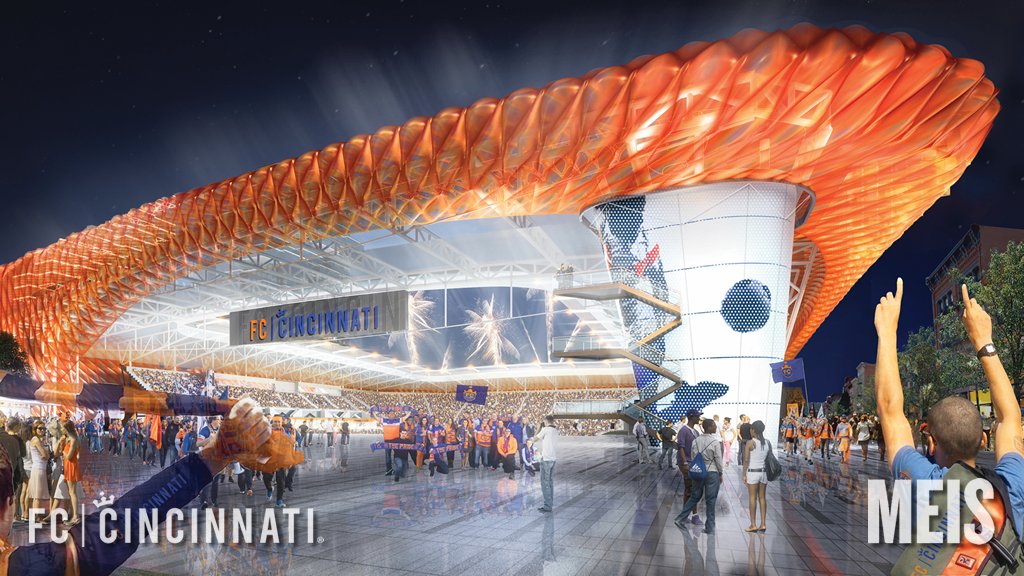 FC Cincinnati announced plans for a $250-million soccer-specific stadium in Oakley on Thursday, and is making the push to complete the financing. 
In its ongoing effort for a successful MLS expansion bid, FC Cincinnati is looking to complete a plan for a new soccer-specific stadium. A previously-released proposal called for a $200 million stadium to be constructed at one of three sites, including two candidates in Cincinnati–Oakley and West End–and another in Newport, KY. FC Cincinnati had pledged a $250 million investment, including $100 million for the stadium plus another $150 million for the MLS expansion fee.
Those terms were updated as part of Thursday's announcement. FC Cincinnati now appears to be targeting Oakley Station as its preferred site, and is proposing a 25,000-seat stadium that would cost $250 million. The club is prepared to commit $150 million toward the stadium, but president and general manager Jeff Berding emphasized the need to complete the need for $100 million in assistance to complete the financing package. More from The Cincinnati Enquirer:
Hamilton County voters agreed to build stadiums in the early 2000s for The Reds and The Bengals, which are funded with a half-cent sales tax, a funding scheme widely criticized for it ongoing costs tied to lease agreements.
"I understand that this has the word 'stadium' in it," Berding said. "And this community is somewhat scarred by that word."
Berding, a former city councilman who championed the current stadium tax, said he's learned his lesson. A sales tax is off the table, he said, and residents will not foot the bill for future improvement costs.
So what will FC Cincinnati ask of the city? Where will the money come from? There are a few options.
Berding mentioned tax incremental financing Thursday, but declined to reveal any details. Using this system, the city borrows money against the future property tax revenue of a property.
Berding said that the club is working to have a financing plan for a stadium in Oakley finalized by month's end, but stressed that all three site options remain on the table. The Ovation site has been identified as an option for the stadium if it is constructed in Newport, located across the river from downtown Cincinnati. In light of Thursday's announcement, business leaders in Newport said that the city would have plenty to offer to the club if a new stadium is constructed there. More from WPCO:
Newport officials said its vacant riverfront site is shovel-ready and would include tax-increment financing, a tax incentive program where when property values increase because of development the property owners only pay the original tax amount.
[Southbank Partners President Jack] Moreland pointed out a number of other Newport positives.
"We have walkability. We have Red Bikes. We have the kinds of things that people can go from Point A to Point B without going in their car," Moreland said.
FC Cincinnati is looking to have a stadium plan completed in time for MLS's mid-December announcement on expansion. The club's bid is not the only one that is trying to make strides toward that date, as several competing efforts–including those in Sacramento and Nashville–have gathered some momentum in recent weeks.
RELATED STORIES: FC Cincinnati Reports Progress on MLS Stadium Plan; FC Cincinnati Continues to Work on Stadium Plan; FC Cincinnati Stadium Plan Discussed at Meeting; Commissioner, FC Cincinnati Split on Nippert Stadium for MLS; Port Authority Pitched FC Cincinnati Stadium Ownership; FC Cincinnati Releases Stadium Design Details