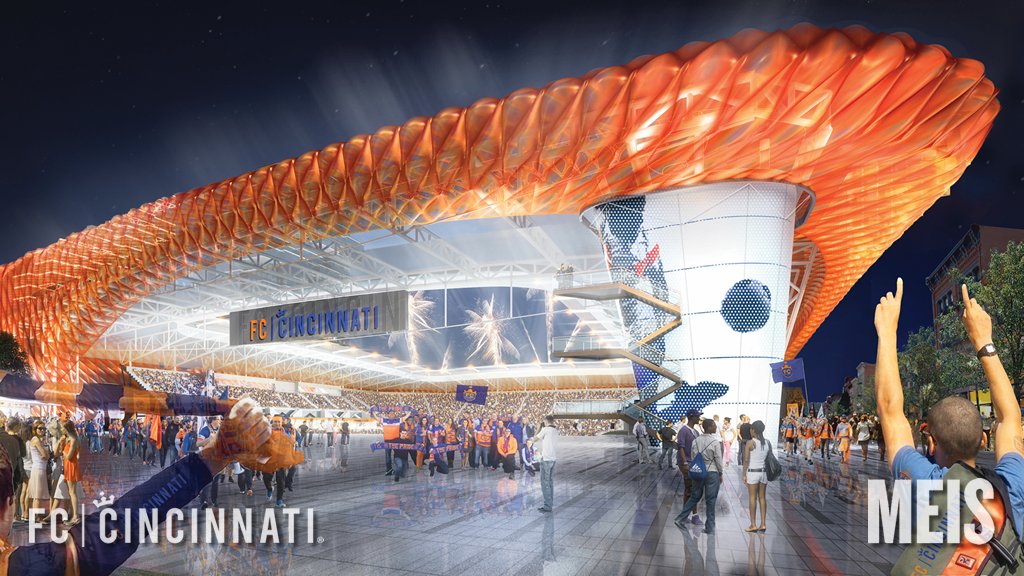 The Cincinnati City Council approved an ordinance paving the way for an FC Cincinnati West End stadium by a 5-4 margin, which could lead to an MLS expansion franchise as soon as Tuesday.
The City Council passed an ordinance today that could lead to a $33.8-million funding package for infrastructure improvements to support a new stadium on the city's West End. This comes after the club's stadium proposal took a step forward last week, when the Cincinnati Public Schools board approved a land-swap agreement that will allow the new facility to be built at the site of Taft High School's Stargel Stadium.
The timing of this deal is important. There is a key MLS Board of Governors meeting on Tuesday, and the topic of FC Cincinnati's expansion bid is sure to be discussed.
The measure did not pass without considerable opposition from area residents, per Cincinnati.com:
FC Cincinnati's West End deal has been plagued from the beginning by heated opposition. At a committee meeting ahead of the vote, a majority of the 33 speakers were against the stadium.
Opponents said it's yet one more example of the rich taking advantage of the poor, that the community has not had a voice and that it amounts to "present-day colonialism."
"I can't help but be disgusted with our leadership," said West End resident Tina Brown. "Just because you use the word 'transparent' doesn't mean you're being transparent."
Kelli Prather, a former City Council candidate, said voting "yes" is "aiding and abetting in the gentrification in the West End."
The deal calls for FC Cincinnati to create a community benefits agreement with West End residents via the West End Community Council, whose leader signed off on the deal. However, that agreement was not approved or deliberated by the City Council.
RELATED STORIES: FC Cincinnati Stadium Financing Details Released; School Board Approves FC Cincinnati Stadium, Setting up City Council Vote; FC Cincinnati Pivots Back to West End Stadium Site; Meeting on FC Cincinnati Stadium Scrapped; FC Cincinnati West End Plan Scratched; FC Cincinnati Pushes for West End Stadium Site; Next MLS Expansion Decision Could be Made After 2018 Season Begins; Debate Over FC Cincinnati West Stadium Plan Continues; FC Cincinnati Makes West End Stadium Pitch; County Hopes for February Decision on FC Cincinnati Expansion Bid; FC Cincinnati Still Open to West End Stadium Site; MLS Expansion: What Comes Next?; No More MLS Expansion Decisions Until 2018; State Funds Could Be Sought for FC Cincinnati Stadium; FC Cincinnati Stadium Plan Approved by City, County; Four MLS Expansion Finalists Announced; Committee Approves FC Cincinnati Stadium Plan; Oakley Rejects FC Cincinnati Stadium Proposal; Paul Brown Stadium Scrapped as Option for FC Cincinnati; John Cranley Makes FC Cincinnati Stadium Pitch; County Pitches Paul Brown Stadium to FC Cincinnati; FC Cincinnati Unveils Latest MLS Stadium Proposal; FC Cincinnati, Mercy Health Announce MLS Jersey Partnership; FC Cincinnati Pitches $250M Stadium for Oakley; FC Cincinnati Reports Progress on MLS Stadium Plan; FC Cincinnati Continues to Work on Stadium Plan; FC Cincinnati Stadium Plan Discussed at Meeting; Commissioner, FC Cincinnati Split on Nippert Stadium for MLS; Port Authority Pitched FC Cincinnati Stadium Ownership; FC Cincinnati Releases Stadium Design Details