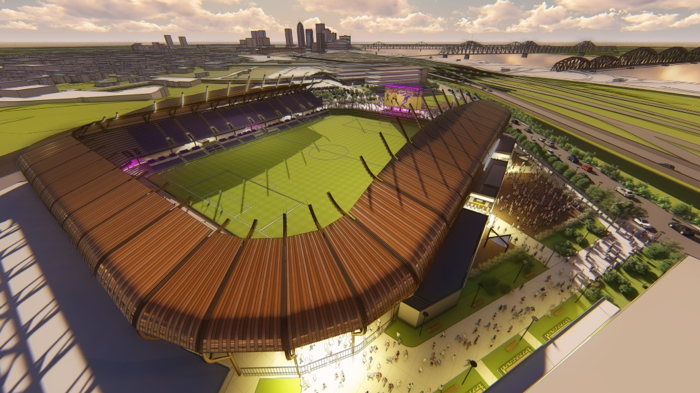 Although it would likely be years away, Louisville City FC officials are open to the idea of fielding a National Women's Soccer League team at its upcoming stadium.
Currently under construction in the city's Butchertown neighborhood, the new Louisville City FC stadium is set to open for USL Championship action in 2020. The $65 million facility is being planned to a fairly ambitious scope, as it is slated to anchor surrounding mixed-use development and is being designed with the ability to expand in a future phase of construction to meet MLS standards.
In planning for the stadium, Louisville City FC officials are exploring ways to expand its event schedule beyond the club's home matches. Non-soccer events could be part of the event slate, but one possibility that seems to intrigue the organization is a potential Louisville NWSL club. Adding an NWSL team would not only expand the stadium's event schedule, but also give Louisville another professional sports club. However, nothing is finalized at this point and the club's launch would likely be years away, as Louisville City FC co-owner Mike Mountjoy emphasizes that the organization's current focus is on completing the stadium project. More from Insider Louisville:
Club owners have been contacted by two groups, including one from California, that have proposed ideas for entertainment projects near the $65 million stadium, Mountjoy said Tuesday afternoon. And National Women's Soccer League President Amanda Duffy has talked with local officials about LouCity eventually fielding a women's team. Duffy formerly served as LouCity's president.
Mountjoy stressed, though, that discussions are in the very early stages and that club owners remain focused on getting the stadium built….
And a women's team, which also would regularly host matches in the stadium, could provide a revenue boost from tickets and concessions.
"It clearly would be something worth considering," Mountjoy said, though he added that such a venture, much like the club's eventual pursuit of a Major League Soccer franchise, is years away.
Louisville City FC has been one of USL Championship's strongest clubs in terms of attendance at Louisville Slugger Field, which helped fuel momentum for the new stadium. In theory, the strong numbers for Louisville City FC could indicate that an NWSL Club would be a well-received addition to Louisville's sports scene, but whether that possibility comes to fruition remains to be seen.
Rendering courtesy HOK Architects. 
RELATED STORIES: Louisville City FC Stadium Financing Closes; Louisville Officials Have Contacted MLS About Potential Louisville MLS Expansion; Louisville City FC: We're Not Ready for MLS Expansion Bid; Financing Delay Not Expected to Affect Louisville City FC Stadium Construction Schedule; Fifth Third Bank Backs Louisville City FC Stadium Financing; Louisville City FC Stadium Groundbreaking Ceremony Set for Thursday; Is MLS in Louisville City FC's Future; State Approves TIF for Louisville City FC Stadium Project; Louisville City FC Stadium TIF Gets Preliminary Approval; Best of 2017, #8: Louisville City FC Pitches a New Stadium; Metro Council Approves Louisville City FC Stadium Bonds; Legal Opinion: Private Funding in Louisville City FC Stadium Project Not Enforceable; Meetings on Louisville City FC Stadium Slated for Thursday; Louisville City FC Stadium Vote Delayed; Louisville City FC Stadium Plan Takes a Step Forward; New Louisville City FC Stadium Project Unveiled