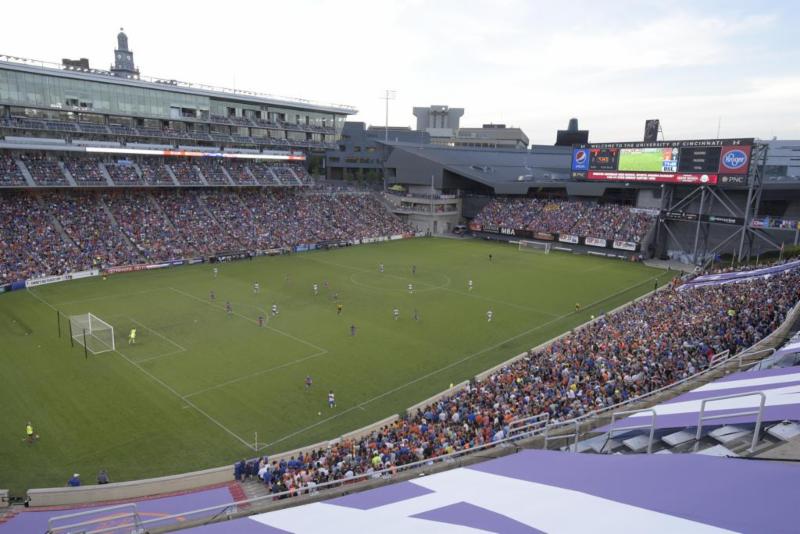 Ahead of Sunday's first home MLS match, FC Cincinnati is unveiling a lineup of Nippert Stadium concession options that include local fare and numerous drink offerings.
In 2019, hometown favorites Skyline Chili, LaRosa's Pizza, Queen City Sausage, United Dairy Farmers and Frisch's Big Boy will be featured as part of a wide variety of stadium fare.
Additionally, the Value Menu returns behind Section 213 with $2 menu selections (plus a $5 domestic beer option). Healthy Grab 'n Go options, new this season, will be available at various concession stands.
Fan favorites – including 24 oz. fountain drinks, super pretzels, candy, chips and peanuts – will once again be available at every permanent concession stand location on both the East and West sides of the stadium.
Queen City Sausage products – including hot dogs, brats and metts (skinless smoked sausages) – as well as burgers, nachos and popcorn will also be available at various stands throughout the stadium.
New in 2019 is an expanded presence of MLS and FCC partner Heineken, which will be offered prominently around Nippert Stadium.
Draft beer selections will include Heineken, Budweiser and Bud Light, among other popular brands. Heineken will be available at all fixed East and West concessions locations, while the other offerings will be on sale throughout the stadium.
Premium alcohol sales will be available in carts throughout the stadium and will include both Heineken and selections from local craft breweries. Wine and hard seltzer will also be available behind Section 124.
Back by popular demand, Skyline Chili will again offer its famous coneys and $5 kids' meals behind Section 118.
Debuting this season at Nippert, LaRosa's will offer cheese and pepperoni pizza by both the slice and by the pie behind Section 101.
Frisch's Big Boy is adding a second location in the Stadium View Café behind the Bailey this season to complement its East Plaza location. The famous Big Boy with fries, 4-piece Chicken Tenders, Hot Fudge Cake will join several new menu items in 2019: Mac N' Cheese, Fish Sandwich* and Strawberry Pie Baby*. (* indicates seasonal items)
In addition to UDF ice cream cups, other stadium "sweet treats" will include SnoCones, cotton candy, funnel cakes, kettle corn and Cheetos-flavored popcorn, while heartier meal options like loaded nachos – either chicken or pulled pork – and Top 'n Go shredded beef will also be available at various stations throughout the stadium.
Image courtesy FC Cincinnati.
RELATED STORIES: FC Cincinnati Entering New Era With First Home MLS Match