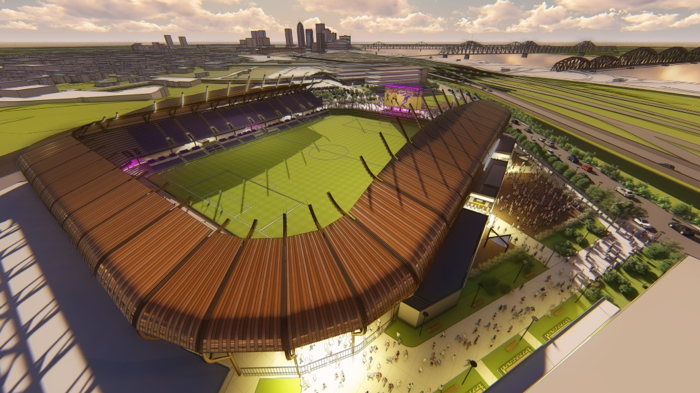 Though the club is still waiting to close on a loan, Louisville City FC says that the financing delay is not expected to stall the construction schedule of its new stadium. 
Plans are moving forward for the new Louisville City FC stadium, which is slated to open in time for the 2020 USL season. Part of a development project in the city's Butchertown neighborhood, the $65-million, 11,300-seat facility could be expanded down the road to accommodate MLS, and will be part of an overall development that could include retail, hotels, dining space, and offices to be built through private investment and backed by tax increment financing (TIF).
Back in July, Louisville City FC announced that a contingent of banks led by Fifth Third Bank would supply the club a $55 million loan. A closing date in August was expected, but the closing did not happen on schedule and the transaction has not been finalized. However, club co-chairman Mike Mountjoy says that the delay is not expected to affect the Louisville City FC stadium construction schedule. More from WDRB:
But the delay isn't expected to affect the construction schedule on the 11,300-seat venue near Adams and Cabel streets, where crews already have cleared and prepared much of the site for the foundation, Mike Mountjoy said.
The team announced in July that Fifth Third Bank of Cincinnati and other banks would loan the money to build the $65 million stadium, with the owners putting in $10 million. At the time, officials anticipated an August closing.
Mountjoy gave an update on the project and its financing to the Association for Corporate Growth Kentucky at a lunch meeting on Tuesday. He told WDRB News in an interview that "on balance we're in agreement on all the major points" of the transaction, which could wrap up within weeks.
"The complexity of the closing to some extent is because it's a syndicate of banks, so we probably have to have a number of different lawyers read all the documents for their clients," he said. "That makes it a little bit complicated."
When it opens, the new stadium will replace Louisville Slugger Field–shared with baseball's Louisville Bats (Class AAA; International League)–as Louisville City FC's home.
Rendering courtesy HOK Architects. 
RELATED STORIES: Fifth Third Bank Backs Louisville City FC Stadium Financing; Louisville City FC Stadium Groundbreaking Ceremony Set for Thursday; Is MLS in Louisville City FC's Future; State Approves TIF for Louisville City FC Stadium Project; Louisville City FC Stadium TIF Gets Preliminary Approval; Best of 2017, #8: Louisville City FC Pitches a New Stadium; Metro Council Approves Louisville City FC Stadium Bonds; Legal Opinion: Private Funding in Louisville City FC Stadium Project Not Enforceable; Meetings on Louisville City FC Stadium Slated for Thursday; Louisville City FC Stadium Vote Delayed; Louisville City FC Stadium Plan Takes a Step Forward; New Louisville City FC Stadium Project Unveiled