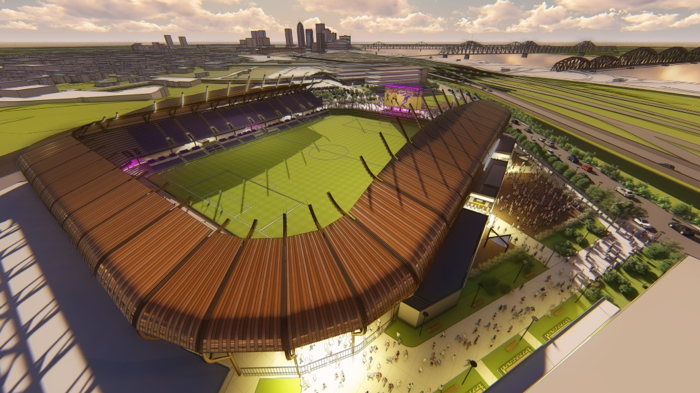 New Louisville City FC stadium financing has closed, with the club announcing $50 million in funding for the soccer-specific stadium that will open in 2020. Syndicated by Fifth Third Bank, this $50 million financing paves the way for the 11,300-seat anchor in the 35-acre Butchertown Development District.  
First Financial Bank, Regions Bank, Paducah Bank, Wesbanco Bank, Stock Yards Bank & Trust Company, and Commonwealth Bank and Trust join Fifth Third as lenders in the deal.  In addition, Middleton Reutlinger served as counsel to the Club during the transaction.
"Our new stadium is a real sign of progress both for this club and the community at large," said LouCity President Brad Estes. "For the first time, we will benefit from all the revenue streams associated with professional soccer, which means sustainability for our business model long into the future.  We would like to thank all our partners, especially the Mayor's Office and Metro Council, without whom this stadium would not be possible."
"Fifth Third Bank is proud to serve as the leader in the syndicated bank facility for the Lou City stadium," said Michael Ash, Market President of Fifth Third Bank. "We remain committed to the development of this community, and it is that vision that drew us to this project.  We look forward to a long and fruitful partnership with Louisville City FC, and the city of Louisville."
Louisville City FC competes in USL Championship, the Division II circuit under the USL umbrella. The 2019 season will be its last at Louisville Slugger Field, a ballpark it has shared with baseball's Louisville Bats (Class AAA; International League).
Rendering courtesy HOK Architects. 
RELATED STORIES: Louisville Officials Have Contacted MLS About Potential Louisville MLS Expansion; Louisville City FC: We're Not Ready for MLS Expansion Bid; Financing Delay Not Expected to Affect Louisville City FC Stadium Construction Schedule; Fifth Third Bank Backs Louisville City FC Stadium Financing; Louisville City FC Stadium Groundbreaking Ceremony Set for Thursday; Is MLS in Louisville City FC's Future; State Approves TIF for Louisville City FC Stadium Project; Louisville City FC Stadium TIF Gets Preliminary Approval; Best of 2017, #8: Louisville City FC Pitches a New Stadium; Metro Council Approves Louisville City FC Stadium Bonds; Legal Opinion: Private Funding in Louisville City FC Stadium Project Not Enforceable; Meetings on Louisville City FC Stadium Slated for Thursday; Louisville City FC Stadium Vote Delayed; Louisville City FC Stadium Plan Takes a Step Forward; New Louisville City FC Stadium Project Unveiled