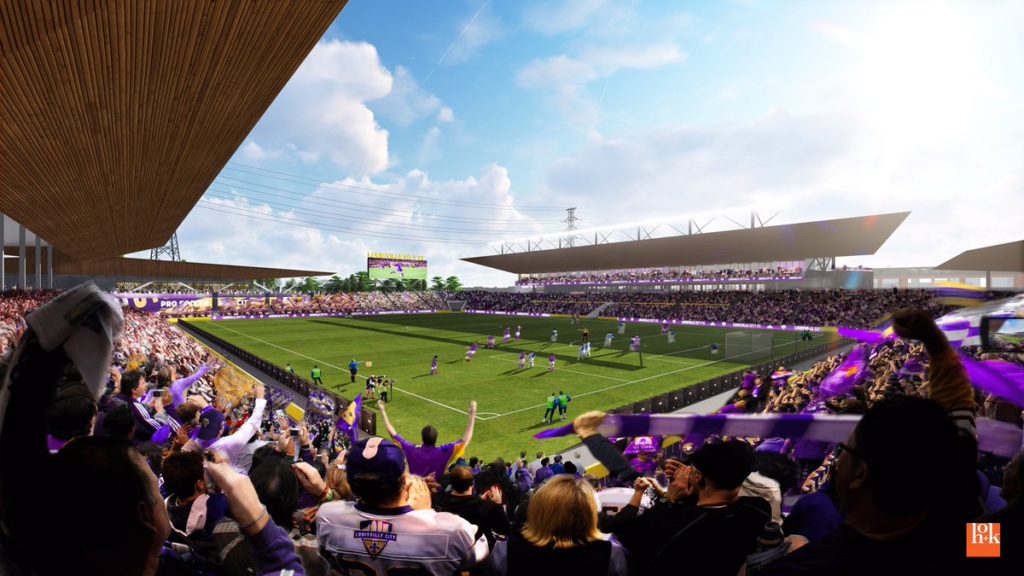 Multiple meetings on a proposed Louisville City FC stadium are scheduled for Thursday, including one on funding and another from the planning commission. 
Louisville Metro officials continue to debate the proposal, which calls for a new Louisville City FC stadium to be constructed in the city's Butchertown neighborhood. Part of the plan requests that Louisville Metro approve a $30-million bond, and a decision on that bond is set for Thursday, October 26 after a previously-planned vote was delayed. If the $30-million bond is approved, $25 million would be used for land acquisition, with the additional $5 million used as a contribution to brownfield remediation and public infrastructure.
That will be one of the stadium-related hearings on Thursday, as the planning commission is also set to address the ptoposal as part of a public forum. More from The Courier-Journal:
The meeting, organized by the planning commission, is necessary under metro procedures in advance of the filing of a zoning-change request.
It will be held the same night that Metro Council plans to vote on a $30 million bond issue or the stadium. The council vote was originally scheduled for two weeks earlier but was delayed after some council members said they felt rushed.
The mayor's general counsel, Jeff Mosley, did not respond to an email Thursday asking whether the planning commission had considered moving its meeting to avoid the scheduling conflict.
The new Louisville City FC stadium would sit on 15 acres, open in 2020, cost $50 million and be financed by the team. As part of that arrangement, the club would pay $14.5 million back to the city over 20 years from sales of land, rent from leases of land, and stadium rent. The overall project, which will include retail, a hotel and offices, will be built by private investment and potentially backed by TIF financing. The Kentucky Economic Development Finance Authority, which will ultimately have to sign off on the TIF, has a board meeting scheduled for Thursday.
RELATED STORIES: Louisville City FC Stadium Vote Delayed; Louisville City FC Stadium Plan Takes a Step Forward; New Louisville City FC Stadium Project Unveiled