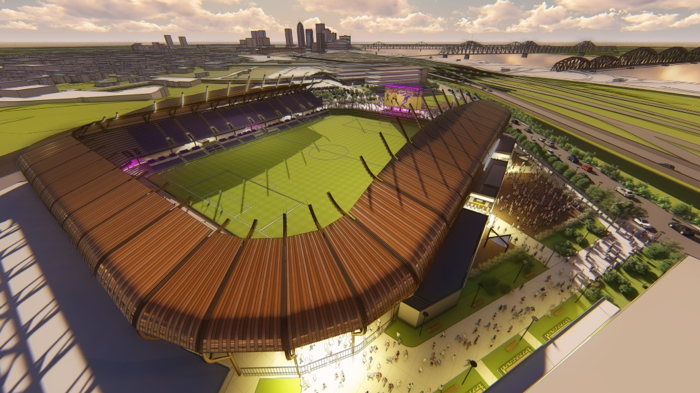 A major piece of the Louisville City FC stadium financing has fallen into place, as Cincinnati-based Fifth Third Bank is supplying a loan for the project. 
Louisville City FC (USL) is moving forward with the construction of a new soccer-specific stadium, which will be built as part of a larger development project in the city's Butchertown neighborhood. The club has completed several steps this year, including a ceremonial groundbreaking last month, to work toward completing the stadium in time for the 2020 USL season.
Another major piece recently fell into place, as it was announced on Tuesday that Fifth Third Bank will supply a $55 million loan for the $60-$65 million stadium. The loan, which is expected to close in August and will be paid back by Louisville City FC's owners, adds to the funding formula for the overall project. More from the Courier-Journal:
The $60-65 million stadium, slated to open by March 2020, is part of a nearly $200 million development district with hotels, retail and office buildings planned for the Butchertown neighborhood.
Fifth Third Bank, headquartered in Cincinnati, will coordinate financing from multiple banks to provide $55 million for the stadium, which will be paid back by Louisville City FC owners.
Club owners will contribute roughly another $10 million in cash to complete construction.
Louisville City FC was awarded $21.7 million in tax-increment financing by the state along with a $30 million bond from Louisville Metro Government. The soccer club's owners are on the hook for at least $130 million total in private capital and agreed to pay back $14.5 million to the city for the land.
The current specifications of the soccer-specific stadium call for it to seat 11,300, with the ability to expand should Louisville pursue and gain MLS entry. It will replace Louisville Slugger Field, shared with baseball's Louisville Bats (Class AAA; International League), as Louisville City FC's home.
Rendering courtesy HOK Architects. 
RELATED STORIES: Louisville City FC Stadium Groundbreaking Ceremony Set for Thursday; Is MLS in Louisville City FC's Future; State Approves TIF for Louisville City FC Stadium Project; Louisville City FC Stadium TIF Gets Preliminary Approval; Best of 2017, #8: Louisville City FC Pitches a New Stadium; Metro Council Approves Louisville City FC Stadium Bonds; Legal Opinion: Private Funding in Louisville City FC Stadium Project Not Enforceable; Meetings on Louisville City FC Stadium Slated for Thursday; Louisville City FC Stadium Vote Delayed; Louisville City FC Stadium Plan Takes a Step Forward; New Louisville City FC Stadium Project Unveiled