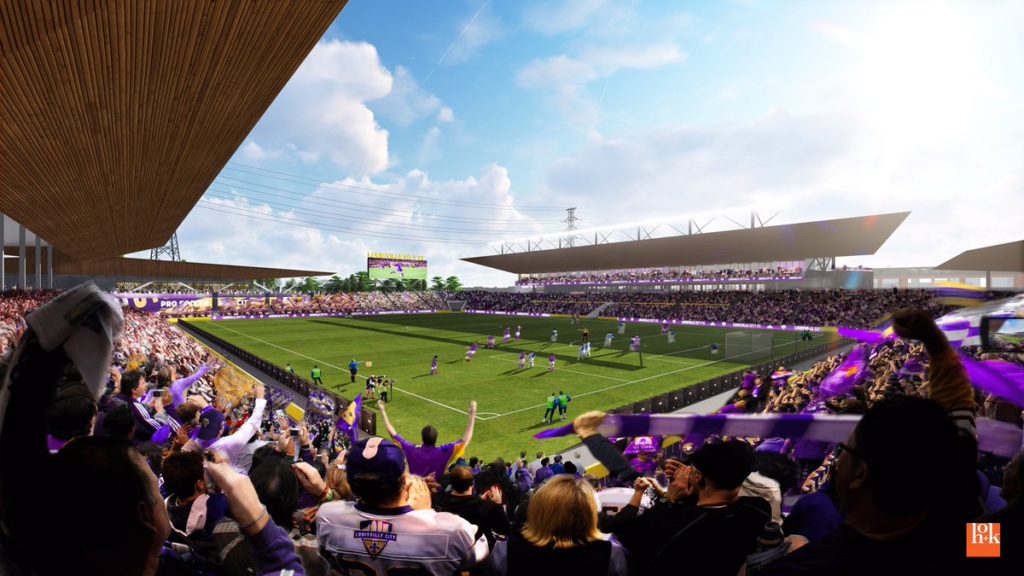 As it continues planning its new stadium, questions are being raised about whether Louisville City FC could eventually leap from USL to MLS. 
The future of Louisville City FC is rapidly taking shape. A new soccer-specific stadium in the city's Butchertown neighborhood is currently slated to open in 2020. Under the current plans, the stadium will have an initial seating capacity of 11,300, but could be expanded to 20,000 in the event that the club joins MLS.
While Louisville was not among the 12 markets that submitted MLS expansion bids last year, the prospect of a Louisville MLS squad carries intrigue for a number of reasons. Louisville City FC has traditionally drawn fans in high numbers at its current home, Louisville Slugger Field, showing that there is support for professional soccer in the area. Additionally, the concept of a new soccer-specific stadium as part of a surrounding development resembles similar MLS facility plans that have taken shape in recent years.
For its part, Louisville City FC is not ruling out any options–even if joining MLS is not a immediate priority–while the league notes that it has been impressed with the club's attendance numbers. More from the Courier-Journal:
Is Louisville even a city that the league would be interested in? [MLS spokesman Dan] Courtemanche did not rule out the possibility.
"We have been impressed by the passionate support for Louisville City FC, and we encourage soccer fans in Kentucky to continue to support their local USL club," he said in an email. "The incredible support for the USL's Cincinnati FC was a key reason why Cincinnati was selected as the next Major League Soccer expansion club."
Louisville City FC spokesman Scott Stewart said earlier this week that the team is not "in a position to rule anything out, but that certainly does not mean we have intent in the present."
Certainly FC Cincinnati provides another example of a move from USL to MLS fueled by strong attendance numbers, and Louisville's fan support could certainly grow with the move to a new stadium. However, there are still numerous questions about how future MLS expansion will unfold and whether an opening for a market like Louisville could come down the road. With that being said, the possibility for Louisville City FC to take its attendance success and move it to a new stadium with surrounding development makes its future intriguing, regardless of whether that future is in MLS or USL.
RELATED STORIES: State Approves TIF for Louisville City FC Stadium Project; Louisville City FC Stadium TIF Gets Preliminary Approval; Best of 2017, #8: Louisville City FC Pitches a New Stadium; Metro Council Approves Louisville City FC Stadium Bonds; Legal Opinion: Private Funding in Louisville City FC Stadium Project Not Enforceable; Meetings on Louisville City FC Stadium Slated for Thursday; Louisville City FC Stadium Vote Delayed; Louisville City FC Stadium Plan Takes a Step Forward; New Louisville City FC Stadium Project Unveiled