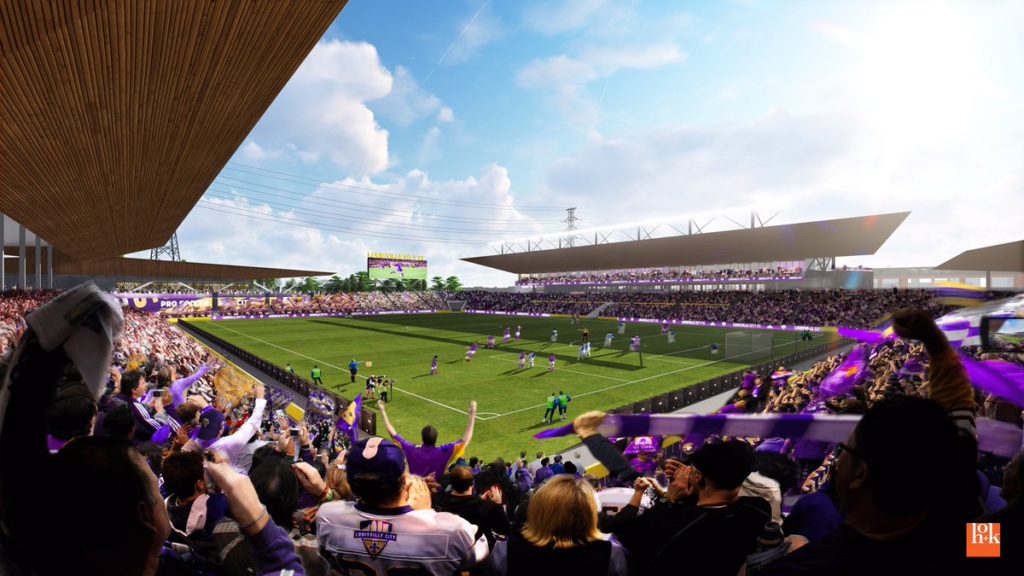 In a step forward for the project, state officials granted preliminary approval for the new Louisville City FC stadium's tax increment financing (TIF) proposal.
Louisville City FC is working on a new stadium that will be constructed as part of a larger development in Louisville's Butchertown neighborhood. The 10,000-seat stadium has an estimated opening of 2020, and Louisville Metro Government has already approved $30 million in bonding for the project, with roughly $25 million going toward land acquisition and the remainder used for infrastructure improvements.
The overall project calls for retail, a hotel, and offices to be built through private investment and potentially backed by TIF. The TIF component has taken a step forward, as the Kentucky Economic Development Finance Authority (KEDFA) has given it its preliminary approval. Additional steps will need to be taken, but final approval could come in May. More from The Courier-Journal:
The Kentucky Economic Development Finance Authority (KEDFA) board voted Thursday to approve the TIF proposal on a preliminary basis. The organization's cabinet will hire an independent, outside consultant to complete its own tax revenue projection, which will be used to determine what percentage of that revenue to make available as incentive to a developer.
The plan will then go back to the KEDFA board for final approval, which is expected in May.
"We're very pleased and we're looking forward to the next stage," Laura Ferguson, assistant director of Louisville Forward, said in an emailed statement.
The 37-acre mixed-use development is to include a 10,000-seat stadium and two hotels with 308 combined rooms as well as 20,000 square feet of retail space, 50,000 square feet of restaurant space and 340,000 square feet of office space.
Under the terms of the agreement, Louisville City FC's owners must spend at least $130 million in private capital on the project, with $45 million going toward the stadium. Construction on the stadium could begin by this summer. The new facility will replace Louisville Slugger Field as the club's home.
RELATED STORIES: Best of 2017, #8: Louisville City FC Pitches a New Stadium; Metro Council Approves Louisville City FC Stadium Bonds; Legal Opinion: Private Funding in Louisville City FC Stadium Project Not Enforceable; Meetings on Louisville City FC Stadium Slated for Thursday; Louisville City FC Stadium Vote Delayed; Louisville City FC Stadium Plan Takes a Step Forward; New Louisville City FC Stadium Project Unveiled