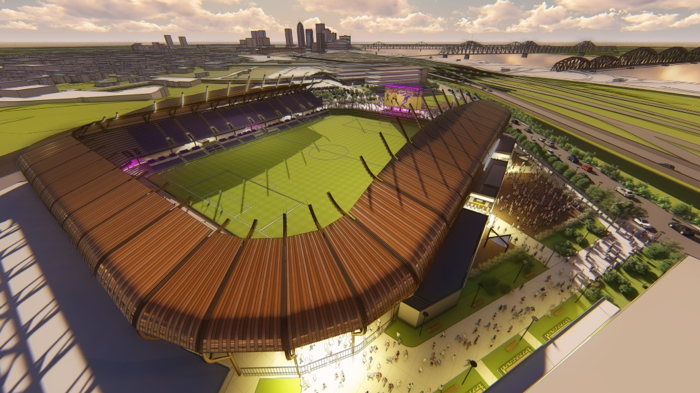 A Louisville City FC stadium groundbreaking ceremony has been scheduled for Thursday, providing another sign of the team's future move to a new facility. 
Louisville City FC (USL) is moving forward with the construction of a new soccer-specific stadium, part of a larger development project planned for Louisville's Butchertown neighborhood. The $65-million, 11,300-seat facility could be expanded down the road to accommodate MLS, and will be part of an overall development that could include retail, hotels, dining space, and offices to be built through private investment and backed by tax increment financing (TIF).
The club is working to open the new stadium in time for the 2020 USL season. A step toward that goal will be celebrated at 3:00 p.m. on Thursday, when officials take part in a groundbreaking ceremony at the stadium's site. More from Louisville Business First:
"We're ready to turn dirt and start seeing the stadium rise," Brad Estes, executive vice president for Louisville City FC, said in a news release. "This is a major step in fulfilling our strategic plan, which includes having the best team and facilities in the United Soccer League. And when Major League Soccer comes calling, we will be ready."…
Construction comes after the Kentucky Economic Development Finance Authority voted in May to divert up to $21.7 million in tax-increment financing for the planned soccer stadium district in Butchertown that will be developed and built by the team's ownership. The TIF will allow the team to divert a portion of new tax revenues generated from the stadium district to help pay off the project's debt.
The stadium and an adjoining commercial district will be constructed on nearly 40 acres in Butchertown. The complex, along Adam and Campbell streets, could include hotels, restaurants, retail, office space and possibly a microbrewery. The total cost of the entire project has been estimated at nearly $200 million.
Louisville Metro Government has already approved $30 million in bonding for the project, with just over $24 million going toward land acquisition and the remainder used for infrastructure improvements. The soccer-specific stadium will replace Louisville Slugger Field, shared with baseball's Louisville Bats (Class AAA; International League), as Louisville City FC's home.
Rendering courtesy HOK Architects. 
RELATED STORIES: Is MLS in Louisville City FC's Future; State Approves TIF for Louisville City FC Stadium Project; Louisville City FC Stadium TIF Gets Preliminary Approval; Best of 2017, #8: Louisville City FC Pitches a New Stadium; Metro Council Approves Louisville City FC Stadium Bonds; Legal Opinion: Private Funding in Louisville City FC Stadium Project Not Enforceable; Meetings on Louisville City FC Stadium Slated for Thursday; Louisville City FC Stadium Vote Delayed; Louisville City FC Stadium Plan Takes a Step Forward; New Louisville City FC Stadium Project Unveiled