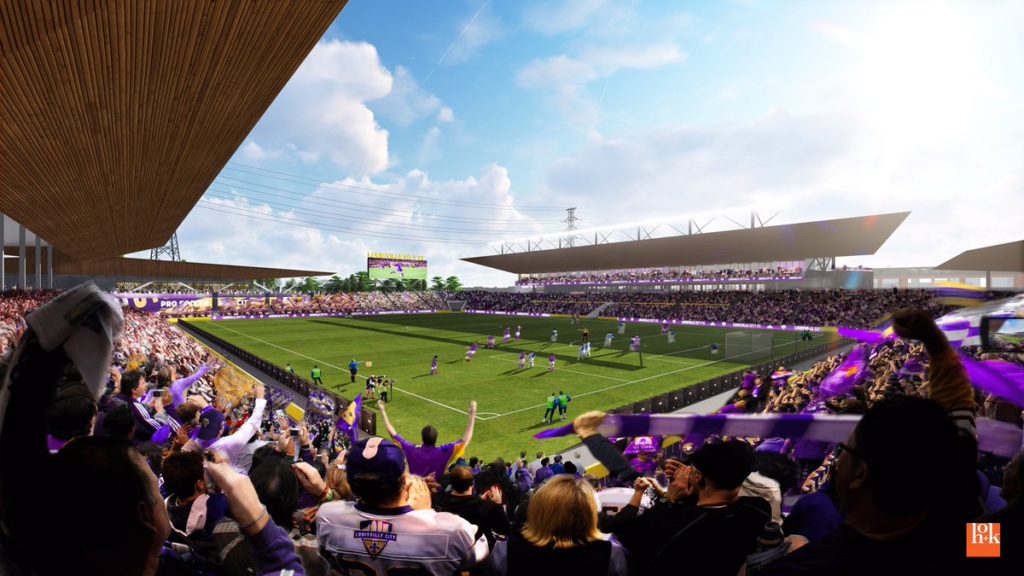 A major vote on a proposed Louisville City FC stadium has been delayed, with Louisville Metro officials confirming the decision on Tuesday. 
The Louisville Metro Council was to have to voted Thursday on a proposal to issue a $30 million bond for a new stadium project. Out of that $30 million, $25 million would be used for land acquisition, with the additional $5 million used as a contribution to brownfield remediation and public infrastructure. That is one component of a proposal for a new soccer-specific stadium that is being pitched as an anchor for a $200 million economic development plan for 35 acres in the city's Butchertown neighborhood.
Under financial details that were presented last month, the stadium would cost $50 million and be financed by the team, while the overall project–which will include retail, a hotel and offices–will be built by private investment and potentially backed by TIF financing.
For right now, Louisville Metro is holding off on its decision on the bonding, citing the need for more time to consider the proposal. The vote is now scheduled to take place on October 26, according to an announcement from mayor Greg Fischer and councilwoman Barbara Sexton Smith. More from WAVE 3 News:
"I want all Metro Council members to feel confident and prepared to cast an informed vote we can all feel good about," Sexton Smith said. "This is the right decision at the right time for the right reasons."
LCFC co-owner Tim Mulloy said despite the delay, they feel the vote will be a success.
"We are confident that after a thorough review, Council members will agree that this a solid project that builds on our city's momentum, and the booming interest in soccer in our community," Mulloy said.
Last week, the Metro Council's budget committee approved the bonding in a 4-1 vote, putting the proposal in the hands of the full council. The terms of the stadium call for Louisville City FC to pay $14.5 million back to the city over 20 years from sales of land, rent from leases of land, and stadium rent. If approved, the new Louisville City FC stadium could open in 2020.
RELATED STORIES: Louisville City FC Stadium Plan Takes a Step Forward; New Louisville City FC Stadium Project Unveiled