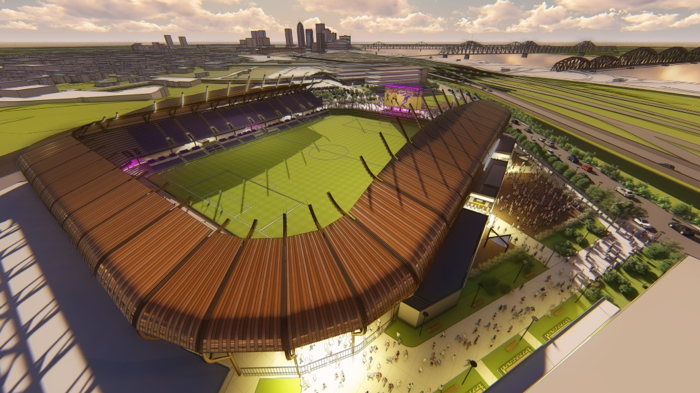 To get a better sense of how it could be a viable candidate down the road, Louisville, KY officials have been in contact with MLS about future expansion. 
Louisville is home to Louisville City FC, a Division II USL club that has been a perennial attendance success at Louisville Slugger Field. Part of its longterm plans include a new stadium (rendering shown above) that is scheduled to open in 2020 as the anchor of a larger redevelopment in the city's Butchertown neighborhood. The stadium will debut with an initial seating capacity of 11,300, but is being designed with room to expand in the event that the club can gain MLS entry.
Potential Louisville MLS expansion has been speculated previously, and Louisville Metro mayor Greg Fischer's officials have reportedly been in contact with the league. Those discussions, which are intended to give the city a better sense of what is needed to be an expansion option, do not necessarily indicate immediate plans for a MLS club. However, the league is on Louisville's radar as an opportunity to grow its professional sports scene. More from the Courier-Journal:
Mayor Greg Fischer's officials have been in regular contact with Major League Soccer for "a while" to see what Louisville needs to do to position itself as an expansion candidate, according to Jeff Mosley, the city's general counsel and former deputy chief for Louisville Forward, the city's economic development arm.
Mosley said the city sees an opportunity with MLS because the league has publicly indicated its intention to expand. He added the talks are in the "discovery phase," but said MLS has been "very responsive and very interested" in Louisville.
MLS spokesman Dan Courtemanche did not confirm a specific interest in Louisville, but told the Courier Journal that "many cities have contacted MLS during the last year regarding future expansion."…
Mosley said he's not aware if Louisville has had conversations with any other sports leagues. That includes the NBA, where there is a local grassroots effort led by basketball Hall of Famer Dan Issel pushing for a Louisville franchise.
Louisville currently features a fairly vibrant sports scene that includes college athletics, along with professional clubs such as Louisville City FC and Minor League Baseball's Bats (Class AAA; International League). It has had aspirations of becoming a major league city, with the NBA especially eyed as a target, though there are plenty questions surrounding the probability of a Louisville-based club in that league.
For now, Louisville City FC appears focused on continued growth in USL and the development of its new stadium project. That, combined with the number of uncertainties surrounding future MLS expansion, leave plenty of questions about if/when Louisville will make a strong run at MLS, but its USL success, new stadium plans, and aspirations for a major league club could be positive factors in any future effort.
Rendering courtesy HOK Architects. 
RELATED STORIES: Louisville City FC: We're Not Ready for MLS Expansion Bid; Financing Delay Not Expected to Affect Louisville City FC Stadium Construction Schedule; Fifth Third Bank Backs Louisville City FC Stadium Financing; Louisville City FC Stadium Groundbreaking Ceremony Set for Thursday; Is MLS in Louisville City FC's Future; State Approves TIF for Louisville City FC Stadium Project; Louisville City FC Stadium TIF Gets Preliminary Approval; Best of 2017, #8: Louisville City FC Pitches a New Stadium; Metro Council Approves Louisville City FC Stadium Bonds; Legal Opinion: Private Funding in Louisville City FC Stadium Project Not Enforceable; Meetings on Louisville City FC Stadium Slated for Thursday; Louisville City FC Stadium Vote Delayed; Louisville City FC Stadium Plan Takes a Step Forward; New Louisville City FC Stadium Project Unveiled