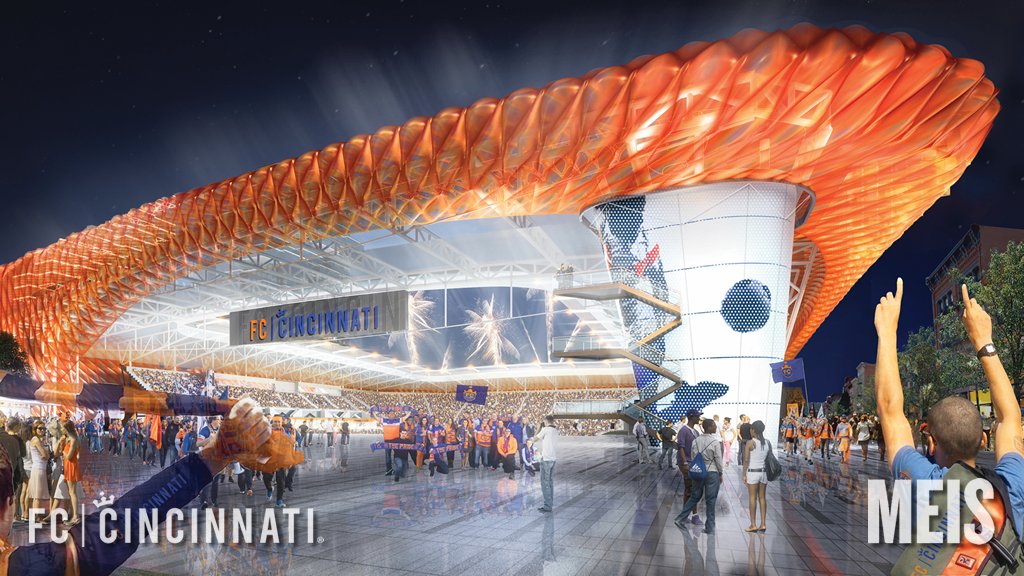 Plans for a FC Cincinnati stadium in Cincinnati's West End cleared a hurdle Wednesday, when the city council approved a community benefits agreement. 
As part of its ongoing MLS expansion bid, FC Cincinnati has proposed the construction of a new soccer-specific stadium at the site of Taft High School's Stargel Stadium. That plan took a step forward last month, when the city council approved an ordinance that could lead to a $33.8-million funding package for infrastructure improvements to support the stadium, but the completion of a community benefits agreement was a step that remained in the process.
The city council delivered its approval on Wednesday, which came after the team wrapped up negotiations with representatives from the West End. This does not finalize MLS expansion approval, but it still represents a major step in the process. More from the Cincinnati Enquirer:
The vote is the last action from City Hill needed to finish the package to build the 21,000-seat soccer stadium. FC Cincinnati now has met the last major requirement outlined by Major League Soccer to secure a franchise in the league.
Council members David Mann and P.G. Sittenfeld said some of the problems that remain in the West End that can't be solved by a community benefits agreement. They said that responsibility falls to the city, and the city is ready to take the right steps forward.
Negotiations for the benefits agreement between the team and representatives from the West End began at 8 a.m. [Wednesday].
If the MLS expansion bid is approved and its new facility is constructed, FC Cincinnati will replace Stargel Stadium by building a new venue at a nearby site. The club has been a USL attendance success story at Nippert Stadium, but MLS has been clear in its desire for a new stadium as part of any expansion bid.
Cincinnati, Detroit, and Sacramento remain from a group of four finalists that were considered for two MLS expansion spots in December. MLS selected Nashville's bid in December, but opted to hold off on decisions regarding the other bids and has still not finalized plans for its next selection. Pinning down stadium plans has been one key issue in FC Cincinnati's pursuit, while Sacramento has been searching for additional investment to back its bid. Detroit's proposal, meanwhile, calls for sharing the existing Ford Field with the NFL's Lions rather than building a new stadium. There is still no firm timeline for when MLS will announce its next expansion decision.
Image courtesy FC Cincinnati.
RELATED STORIES: FC Cincinnati: More Work Needed in MLS Expansion Pitch; Schematics Detail FC Cincinnati West End Stadium Plan; Despite Stadium Deal MLS Passes on FC Cincinnati Expansion–For Now; City Council Approves FC Cincinnati West End Stadium; FC Cincinnati Stadium Financing Details Released; School Board Approves FC Cincinnati Stadium, Setting up City Council Vote; FC Cincinnati Pivots Back to West End Stadium Site; Meeting on FC Cincinnati Stadium Scrapped; FC Cincinnati West End Plan Scratched; FC Cincinnati Pushes for West End Stadium Site; Next MLS Expansion Decision Could be Made After 2018 Season Begins; Debate Over FC Cincinnati West Stadium Plan Continues; FC Cincinnati Makes West End Stadium Pitch; County Hopes for February Decision on FC Cincinnati Expansion Bid; FC Cincinnati Still Open to West End Stadium Site; MLS Expansion: What Comes Next?; No More MLS Expansion Decisions Until 2018; State Funds Could Be Sought for FC Cincinnati Stadium; FC Cincinnati Stadium Plan Approved by City, County; Four MLS Expansion Finalists Announced; Committee Approves FC Cincinnati Stadium Plan; Oakley Rejects FC Cincinnati Stadium Proposal; Paul Brown Stadium Scrapped as Option for FC Cincinnati