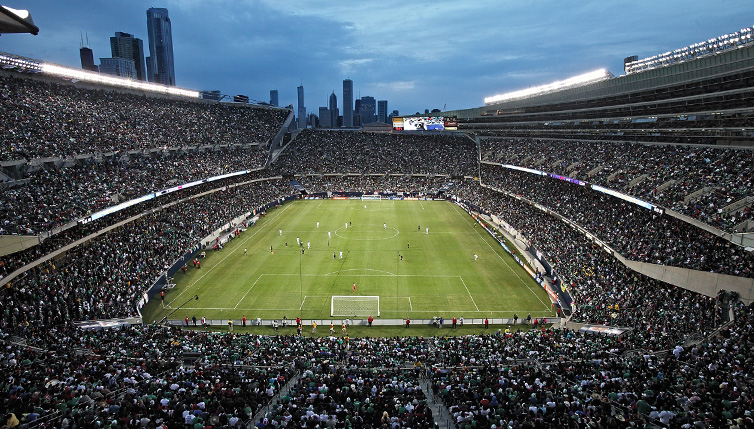 Chicago Fire FC's first match since returning to Soldier Field should be played before a big crowd, as the club announced Friday that it had sold over 30,000 tickets to the March 21 contest.
This season marks the Fire's return to Solider Field, its original home, after it played at suburban Bridgeview's SeatGeek Stadium from 2006-2019. The club's home opening match for the 2020 MLS campaign is slated for March 21 against Atlanta United FC, and it is being met with a strong demand for tickets.
On Friday, the Fire announced that it had surpassed the 30,000 tickets sold threshold for the game, which it is billing as its Soldier Field homecoming match.
"Since announcing our return to Soldier Field, ticket sales have been remarkably steady and momentum is building," Fire President Nelson Rodríguez said in a press statement. "The reunion of Fire fans with our city promises to make this opening day a special homecoming." 
For the Fire, a priority this season will be reversing the attendance issues that had played out at SeatGeek Stadium, as the club finished the 2019 season with a per-game average of 12,324 fans–good for last in the 24-team MLS. With Chicago's central city proving to be a high-growth area, the hope is that the Fire will be a better draw at the NFL stadium than it was at the suburban SeatGeek Stadium.
In October, it was announced that the Fire reached an agreement that guarantees its use of Solider Field through the 2022 season, with options potentially lengthening the deal another eight years. The Fire previously played at Soldier Field from 1998-2001, before the stadium closed for renovations. The club returned to Soldier Field during the 2003 season, remaining there through the 2005 campaign and opening the stadium in Bridgeview–then known as Toyota Park–in 2006.
Image courtesy concacaf.com
RELATED STORIES: Chicago Fire FC Branding Unveiled; Details Emerge on Chicago Fire's Soldier Field Lease; Chicago Fire Plotting Soldier Field Gameday Experience; Chicago Fire Announce Soldier Field Return; Joe Mansueto: Fire Will Focus on Soldier Field Fan Experience; Chicago Fire Controlling Interest Sold to Joe Mansueto; Chicago Fire Moving Forward with Soldier Field Lease Negotiations; Chicago Fire Closing in on Soldier Field Agreement; Rodriguez: Chicago Fire Has Had Discussions About Using Soldier Field; The Unanswered Questions in Amended SeatGeek Stadium Lease; Chicago Fire Amend SeatGeek Stadium Lease, Paving Way for Exit; Chicago Fire to Pay $60.5M to Break SeatGeek Stadium Lease; Michael Reese Hospital Site Could be in Play for New Chicago Fire Stadium; Report: Chicago Fire Negotiating SeatGeek Stadium Exit, Soldier Field Return