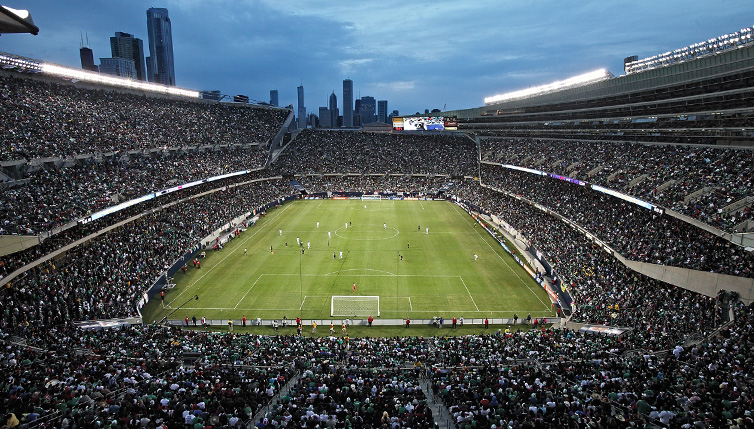 Negotiations over Chicago Fire's potential use of Soldier Field are moving forward, as Chicago Park District commissioners authorized staff Wednesday to enter into discussions with the club.
Since the club reached an agreement this summer to break its lease to SeatGeek Stadium in suburban Village of Bridgeview, there has been speculation that the Fire could set up shop at Soldier Field starting in the 2020 MLS season. The Fire does not have a lease agreement for Solider Field in place, but discussions with the Chicago Park District will move forward following Wednesday's vote by commissioners that authorizes negations between the two sides.
In those discussions, the Park District and Fire will have plenty of terms to settle before they could finalize an agreement. More from the Chicago Sun-Times:
The only specific provision given to the board was the proposed life of the lease — three years with options for eight more — starting with the 2020 season.
The Fire will pay the agency, which owns Soldier Field, "a user fee and operating expenses for home games," said Park District spokeswoman Michele Lemons. In addition, the district "will receive a facility fee for each attendee, as well as a share of revenue from parking, concessions and merchandise sales."
A source said that among the points still being worked out is how the grass field can be shared with the Chicago Bears, as part of the Major League Soccer season overlaps with football.
In a statement, the Fire said, "Given today's positive vote, we're excited to continue working with the Chicago Park District to finalize an agreement. The Club will provide additional updates as they occur."
In July, the Fire and Village of Bridgeview officials reached an agreement that allows the club to break a lease that was set to run through 2036. Under those terms, the organization is to pay Bridgeview $60.5 million over the next 17 years–$10 million of which coming upfront–plus another $5 million to upgrade soccer facilities surrounding SeatGeek Stadium.
The Fire has a history at Soldier Field, playing an initial stint there from 1998-2001 before the stadium closed for renovations. The club returned to Soldier Field during the 2003 season, remaining there through the 2005 campaign. SeatGeek Stadium opened for the Fire as Toyota Park in 2006, and the club has had attendance struggles there over the years–a trend that is continuing in the 2019 season with a per-game average of 11,926 fans through 15 home matches. That figure ranks last in the 24-team MLS.
Image courtesy concacaf.com
RELATED STORIES: Chicago Fire Closing in on Soldier Field Agreement; Rodriguez: Chicago Fire Has Had Discussions About Using Soldier Field; The Unanswered Questions in Amended SeatGeek Stadium Lease; Chicago Fire Amend SeatGeek Stadium Lease, Paving Way for Exit; Chicago Fire to Pay $60.5M to Break SeatGeek Stadium Lease; Michael Reese Hospital Site Could be in Play for New Chicago Fire Stadium; Report: Chicago Fire Negotiating SeatGeek Stadium Exit, Soldier Field Return