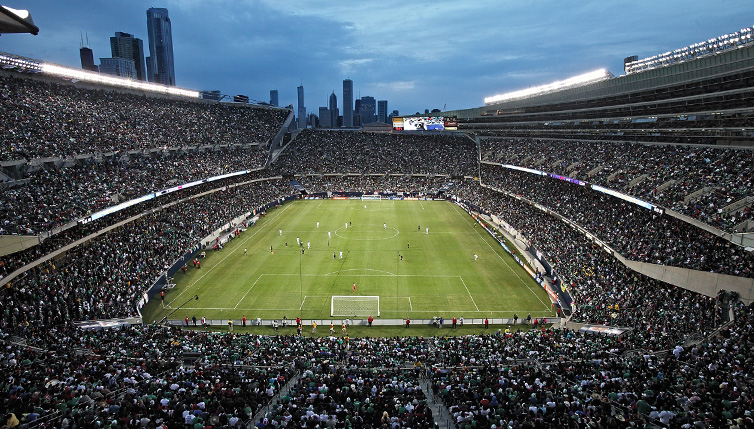 The Chicago Fire and MLS are reportedly negotiating to end the club's lease at SeatGeek Stadium, and are pushing for a 2020 return to Soldier Field.
SeatGeek Stadium (previously known as Toyota Park until a recent name change) has been the home of the Fire since its 2006 opening. At the time, officials in suburban Village of Bridgeview hoped that the stadium would be a catalyst for new development in the surrounding area, while giving the Fire a modern home that followed MLS's increasing emphasis on soccer-specific facilities. However, the development ambitions have not materialized on the scale that was initially hoped, while the Fire has struggled to draw solid attendance numbers at the facility.
The club's facility situation could change soon, as the Fire and MLS are reportedly working to negotiate a buyout of the SeatGeek Stadium lease agreement that runs through the 2036 season and facilitate a move to Chicago's Soldier Field, as The Athletic reported on Friday. That shift could take place in 2020, should the sides settle on an arrangement that involves a cash payout towards SeatGeek Stadium debt, although there is not a final agreement and none of this information has been confirmed by the club. More from ESPN FC:
Sources confirmed that the deal would involve a significant cash payout towards the debt on the stadium, though no precise numbers were given. Sources also confirmed that the push to get out of the lease has been going on for the better part of a year, with Joe Mansueto, who acquired 49 percent of the club last summer, at the forefront of the efforts.
Some details of the plans began to emerge on social media on Wednesday, courtesy of James Vlahakis, the club's former outside counsel. Vlahakis is currently representing a Chicago Fire fan in a lawsuit against the club relating to an incident last season that allegedly resulted in physical harm at the hands of stadium security personnel.
Vlahakis' tweet indicated that a rebrand that involved changing the name to Chicago City Football Club is in the works, but one source told ESPN FC that such a decision has not yet been made.
The Fire declined to comment on any potential move out of SeatGeek Stadium, and would only state, "We don't comment on social media speculation from individuals outside the organization."
Although it is primarily an NFL stadium and does not follow the soccer-specific design model, Soldier Field would provide an immediate boost in terms of accessibility for fans in Chicago over SeatGeek Stadium–which is located 15 miles southwest of the city's downtown. The Fire also has a history at the venue, playing an initial stint there from 1998-2001 before the stadium closed for renovations. The club returned to Soldier Field during the 2003 season, remaining there through the 2005 season.
Image of Soldier Field courtesy concacaf.com