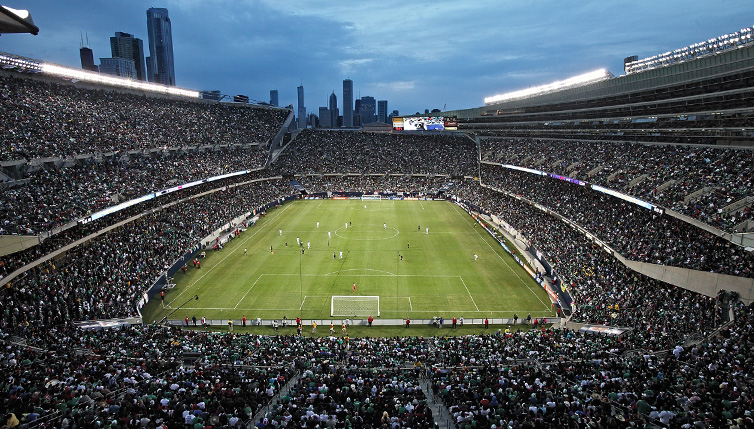 Chicago Fire has made its return to Soldier Field official, announcing an agreement Tuesday that begins with the 2020 MLS season.
In a move that has been developing over the last several months, the Fire are departing SeatGeek Stadium in suburban Bridgeview in favor of Chicago's Soldier Field. The Fire and Village of Bridgeview reached an agreement in July that allows the organization to break a lease that was set to run through 2036, and the club has since taken steps to play home matches at Soldier Field starting in 2020.
That move was made official Tuesday, when it was revealed that the Fire have reached an agreement that guarantees its use of Solider Field through the 2022 season, with options potentially lengthening the deal another eight years. More from the Chicago Tribune:
Financial terms of the deal, which runs through the 2022 Major League Soccer season with extension options for eight more years, were not disclosed. Fire owner and Chairman Joe Mansueto, Mayor Lori Lightfoot, MLS Commissioner Don Garber and Chicago Park District Superintendent and CEO Michael Kelly made the announcement.
"We're really thrilled and honored to be calling this our home next year," Mansueto said.
The date of the announcement — Oct. 8 — is significant to both Chicago and the Fire. Chicago burned to the ground on this date in 1871, and in 1997 team officials announced the then-MLS expansion club would be named the Chicago Fire.
"This sports fan is bursting with pride," Lightfoot said. "… (The Fire) will be successful with this return home."
For the Fire, an immediate priority will be reversing the attendance issues they have had at SeatGeek Stadium, as the club finished the 2019 season with a per-game average of 12,324 fans–good for last in the 24-team MLS. The Fire previously played at Soldier Field from 1998-2001, before the stadium closed for renovations. The club returned to Soldier Field during the 2003 season, remaining there through the 2005 campaign and opening the stadium in Bridgeview–then known as Toyota Park–in 2006.
Image courtesy concacaf.com
RELATED STORIES: Joe Mansueto: Fire Will Focus on Soldier Field Fan Experience; Chicago Fire Controlling Interest Sold to Joe Mansueto; Chicago Fire Moving Forward with Soldier Field Lease Negotiations; Chicago Fire Closing in on Soldier Field Agreement; Rodriguez: Chicago Fire Has Had Discussions About Using Soldier Field; The Unanswered Questions in Amended SeatGeek Stadium Lease; Chicago Fire Amend SeatGeek Stadium Lease, Paving Way for Exit; Chicago Fire to Pay $60.5M to Break SeatGeek Stadium Lease; Michael Reese Hospital Site Could be in Play for New Chicago Fire Stadium; Report: Chicago Fire Negotiating SeatGeek Stadium Exit, Soldier Field Return