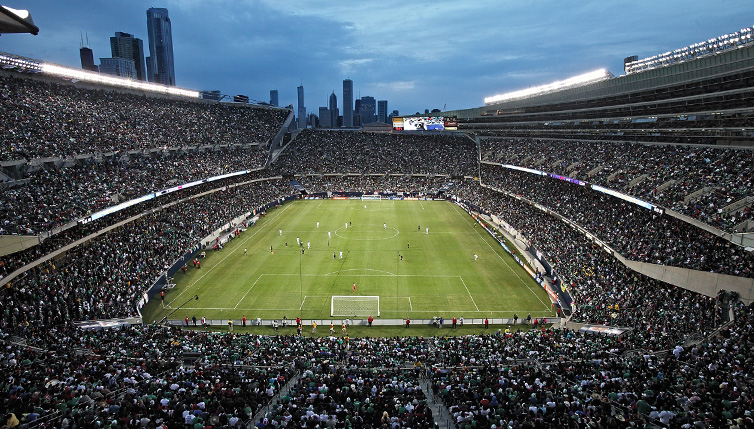 Ahead of the 2020 MLS season, Chicago Fire is working to create a gameday experience at Soldier Field that will be suited to the organization and its fans.
Last month, the Fire confirmed that a seemingly inevitable move was taking place, announcing that home matches would be played at Soldier Field starting in 2020. That came after the Fire and suburban Village of Bridgeview reached an agreement in July that allows the organization to break a SeatGeek Stadium lease that was set to run through 2036.
For the organization and its fans, the shift to Soldier Field is going to represent a significant change in terms of the gamdeday experience. Along with moving into the city of Chicago after playing years in a suburban location, the Fire also has to map out a way to create a strong gameday experience at Soldier Field.
Fire general manager Nelson Rodriguez and the rest of the organization know that working Fire branding into the stadium will be crucial, as will be getting fans acclimated to the facility. As part of that planning, the Fire hosted an event at Soldier Field on Saturday that allowed fans to take in the facility well ahead of next season. More from the Chicago Sun Times:
But there are things the Fire can do to facilitate the acclimation. The Fire will need cooperation from the Bears and signage in and around the stadium, and the club's game-day staff and ushers will need to cater to soccer fans.
"It will have a Chicago Fire taste and feel to it," Rodriguez said. "That prematch, in-match and postmatch experience will matter."
The process of getting Fire fans more familiar with the new digs continued Saturday during a seat-preview event. Supporters used to SeatGeek Stadium's intimacy checked out their new views, and Rodriguez said the excitement and enthusiasm were palpable.
"More than having the fans get to know the venue, which I think most of them do already," Rodriguez said, "it's our chance to communicate with the fans in a much more personal way that I think reflects the direction of the club."
Solider Field is not exactly a commodity unknown to the Fire or MLS. It was the club's home from 1998-2001 before closing for renovations, and then welcoming the team back during the 2003 season and continuing to host it through 2005. (The stadium also hosted the MLS All-Star Game in 2017). Still, after having played at the soccer-specific SeatGeek Stadium (formerly Toyota Park) since 2006, the Fire will be working to come up with an experience at Soldier Field that earns favor from soccer fans. One of the major goals will be to leverage Soldier Field's size and location into better attendance numbers, as the Fire had been struggling to draw spectators to SeatGeek Stadium, a trend that continued in 2019 with a league-worst average of 12,324 fans per-game.
Image courtesy concacaf.com
RELATED STORIES: Chicago Fire Announce Soldier Field Return; Joe Mansueto: Fire Will Focus on Soldier Field Fan Experience; Chicago Fire Controlling Interest Sold to Joe Mansueto; Chicago Fire Moving Forward with Soldier Field Lease Negotiations; Chicago Fire Closing in on Soldier Field Agreement; Rodriguez: Chicago Fire Has Had Discussions About Using Soldier Field; The Unanswered Questions in Amended SeatGeek Stadium Lease; Chicago Fire Amend SeatGeek Stadium Lease, Paving Way for Exit; Chicago Fire to Pay $60.5M to Break SeatGeek Stadium Lease; Michael Reese Hospital Site Could be in Play for New Chicago Fire Stadium; Report: Chicago Fire Negotiating SeatGeek Stadium Exit, Soldier Field Return