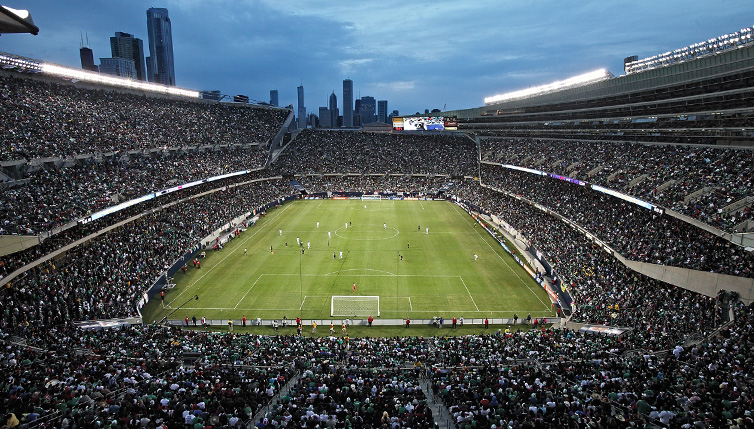 Chicago Fire is reportedly closer to finalizing a deal to use Soldier Field, a move that would bring certainty to the club's facility situation.
The Fire has taken steps this year to depart SeatGeek Stadium, its home in suburban Village of Bridgeview, reaching an agreement in July to break a lease that was set to run through 2036. Under those terms, the organization is to pay Bridgeview $60.5 million over the next 17 years–$10 million of which coming upfront–plus another $5 million to upgrade soccer facilities surrounding SeatGeek Stadium.
Speculation has been that the agreement could ultimately pave the way for the Fire's return to Solider Field. While there is not final agreement on the use of Soldier Field is in place, the Fire and the Chicago Park District are reportedly moving closer to finalizing a deal that would take effect in the 2020 MLS season.
According to the Chicago Sun-Times, the agreement would be for 10 years, with the financial terms still being discussed. On Wednesday, the Chicago Park District Board of Commissioners could vote to authorize the Chicago Park District to negotiate and enter into a deal with the club. More from the Chicago Sun-Times:
However, another source at the agency said the agreement would cover 10 years. The source said financial terms are still under discussion, but could include annual rent of $500,000 to $1 million, depending on whether attendance benchmarks are reached.
The item appears on the agenda for Wednesday's Park District board meeting as "Soldier Field use agreement." [Park District board president Avis] LaVelle said it would be pulled from the agenda if there is no deal with the Fire by Wednesday.
Asked about the board's likely reaction to the lease, LaVelle said, "The terms are still under discussion." The agenda item, she said, was a "placeholder" in case the matter is ready for the board….
Park District spokeswoman Michele Lemons provided the following statement Monday night: "The Chicago Park District Board of Commissioners will vote on Wednesday to authorize the district to negotiate and enter into an agreement with the Chicago Fire for the use of Soldier Field commencing with its 2020 MLS season. No executed terms or contract currently exist between the Park District and Chicago Fire to play its games at Soldier Field during the 2020 season."
The Fire has a history at Soldier Field, playing an initial stint there from 1998-2001 before the stadium closed for renovations. The club returned to Soldier Field during the 2003 season, remaining there through the 2005 campaign. SeatGeek Stadium opened for the Fire as Toyota Park in 2006, and the club has had attendance struggles there over the years–a trend that has continued in the 2019 season with a per-game average of 11,926 fans through 15 home matches. That figure ranks last in the 24-team MLS.
Image of Soldier Field courtesy concacaf.com
RELATED STORIES: Rodriguez: Chicago Fire Has Had Discussions About Using Soldier Field; The Unanswered Questions in Amended SeatGeek Stadium Lease; Chicago Fire Amend SeatGeek Stadium Lease, Paving Way for Exit; Chicago Fire to Pay $60.5M to Break SeatGeek Stadium Lease; Michael Reese Hospital Site Could be in Play for New Chicago Fire Stadium; Report: Chicago Fire Negotiating SeatGeek Stadium Exit, Soldier Field Return