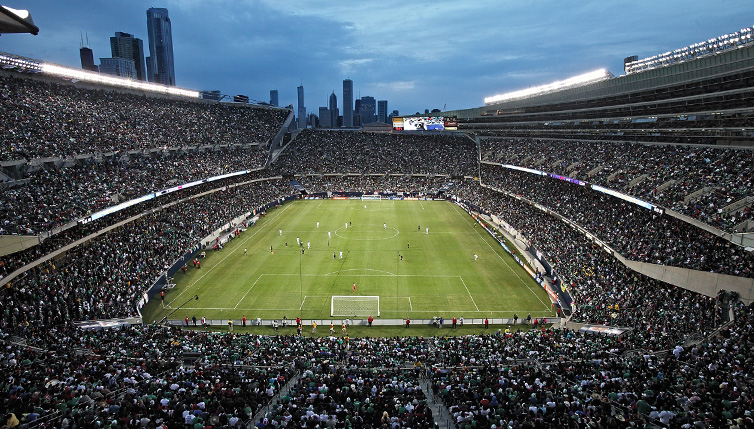 New Chicago Fire owner and chairman Joe Mansueto says that one of his priorities will be building a strong fan experience at Soldier Field, part of a strategy to boost exposure for the club.
On Friday, it was announced that Mansueto–the Executive Chairman of Morningstar–had purchased a controlling interest in the Fire from Andrew Hauptman. The move comes as the Fire continues its effort to relocate from Bridgeview's SeatGeek Stadium to Soldier Field, as Chicago Park District commissioners authorized staff last week to enter into negotiations with the club for a Soldier Field agreement that would begin in the 2020 season.
There has been some speculation that a new soccer-specific stadium is the long-term goal for the Fire, but Mansueto indicated Monday that that is not where his attention is focused. Rather, he is seeking to take steps that will build the club's exposure, with a game-day experience that draws large crowds to Soldier Field being a vital part of that strategy. More from the Chicago Sun-Times:
''The focus is Soldier Field,'' Mansueto said during an interview with the Sun-Times. ''The focus is not [to] start looking for another stadium. One at a time.''
A primary reason for the Fire's move from SeatGeek Stadium to Soldier Field is increased exposure. Mansueto said he has high hopes for the new home.
''To me, the ideal situation is we've got 62,000 fans in Soldier Field, and it's a great experience,'' he said. ''I'd rather have more people exposed to the team than fewer.''
The push to move to Soldier Field has gained traction since the Fire and the Village of Bridgeview reached an agreement in July that allows the club to break a lease that was set to run through 2036. Under those terms, the organization is to pay Bridgeview $60.5 million over the next 17 years–$10 million of which coming upfront–plus another $5 million to upgrade soccer facilities surrounding SeatGeek Stadium. The Fire has had trouble drawing fans to the suburban stadium, which opened in 2006 as Toyota Park, and that trend has continued in the 2019 season with a per-game average of 11,986 fans through 16 home matches.
Mansueto had previously held 49 percent of the Fire ownership before purchasing the controlling interest in the club. Prior to the transaction, Hauptman had been the Fire's owner and chairman for 12 years.
Image courtesy concacaf.com
RELATED STORIES: Chicago Fire Controlling Interest Sold to Joe Mansueto; Chicago Fire Moving Forward with Soldier Field Lease Negotiations; Chicago Fire Closing in on Soldier Field Agreement; Rodriguez: Chicago Fire Has Had Discussions About Using Soldier Field; The Unanswered Questions in Amended SeatGeek Stadium Lease; Chicago Fire Amend SeatGeek Stadium Lease, Paving Way for Exit; Chicago Fire to Pay $60.5M to Break SeatGeek Stadium Lease; Michael Reese Hospital Site Could be in Play for New Chicago Fire Stadium; Report: Chicago Fire Negotiating SeatGeek Stadium Exit, Soldier Field Return