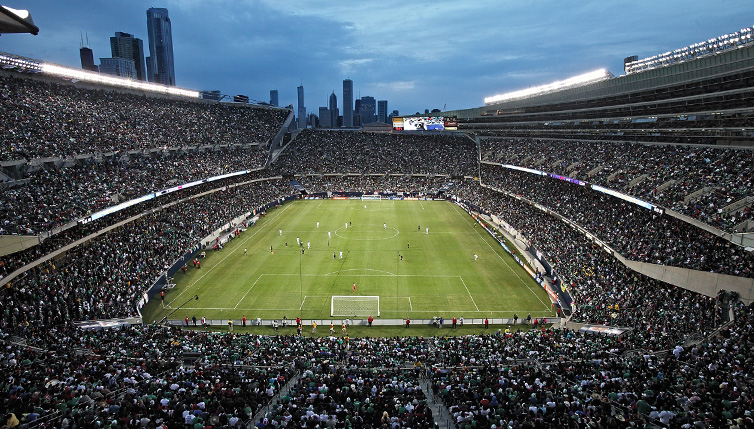 Details have emerged on the Chicago Fire's lease to Soldier Field, where the club will begin playing home matches in 2020 as part of a recently announced deal.
Last month, the Fire confirmed that a seemingly inevitable move was taking place, announcing that home matches would be played at Soldier Field starting in 2020. That came after the Fire and suburban Village of Bridgeview reached an agreement in July that allowed the organization to break a SeatGeek Stadium lease that was set to run through 2036.
The terms under which the Fire will lease Soldier Field from the Chicago Park District have surfaced in the Chicago Sun Times, which obtained the lease after filing a Freedom of Information Act request. The lease will run an initial three years, with a series of options–including two for three-year extensions, plus a pair of one-year extensions–potentially carrying the arrangement for another eight years. Notably, the lease also includes a sliding scale for operating expenses based on attendance. More from the Chicago Sun Times:
For example, the Fire have to pay a minimum $145,000 for operating expenses for games with 15,000 attendees or fewer. The fee rises based on attendance. It's $162,500 for up to 20,000, $176,500 for up to 25,000, $201,875 for up to 35,000 and $253,000 for any crowd larger than 35,000.
The Fire also must pay the district a per-game "use fee" of $10,000.
These fees are supposed to rise by 3 percent per year over the life of the lease….
The Park District issued this statement: "The agreement between the Chicago Park District and Chicago Fire is financially sound and beneficial for both parties. The District utilized the expertise of its management, the Soldier Field management team and outside counsel to develop the terms."
The Fire will play its 2020 home opener at Solder Field on March 21, facing the visiting Atlanta United FC.
Image courtesy concacaf.com
RELATED STORIES: Chicago Fire Plotting Soldier Field Gameday Experience; Chicago Fire Announce Soldier Field Return; Joe Mansueto: Fire Will Focus on Soldier Field Fan Experience; Chicago Fire Controlling Interest Sold to Joe Mansueto; Chicago Fire Moving Forward with Soldier Field Lease Negotiations; Chicago Fire Closing in on Soldier Field Agreement; Rodriguez: Chicago Fire Has Had Discussions About Using Soldier Field; The Unanswered Questions in Amended SeatGeek Stadium Lease; Chicago Fire Amend SeatGeek Stadium Lease, Paving Way for Exit; Chicago Fire to Pay $60.5M to Break SeatGeek Stadium Lease; Michael Reese Hospital Site Could be in Play for New Chicago Fire Stadium; Report: Chicago Fire Negotiating SeatGeek Stadium Exit, Soldier Field Return