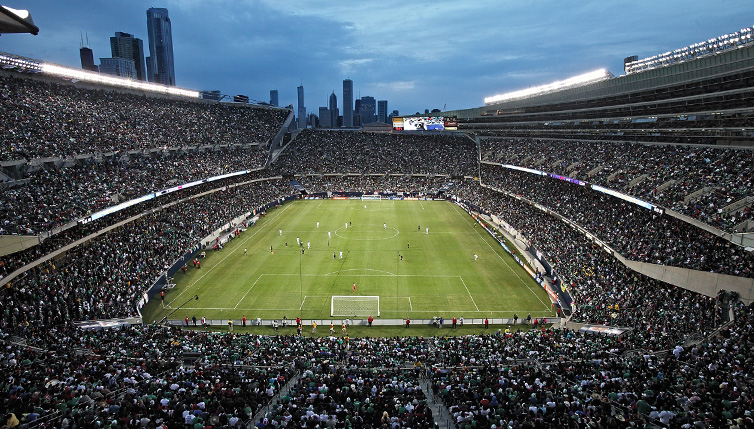 Chicago Fire president and general manager Nelson Rodriguez acknowledged Wednesday that the club has had preliminary discussions about playing at Soldier Field, but there is no agreement in place.
The Fire has made recent progress in the process of breaking its lease to SeatGeek Stadium in the suburban Village of Bridgeview, as the club, MLS, and Bridgeview have signed a Memorandum of Understanding outlining the terms. As was previously reported, the agreement calls for the Fire to pay $65.5 million to walk away from SeatGeek Stadium and a lease originally set to run through 2036.
Technically, the terms of the buyout would allow the Fire to return to SeatGeek Stadium in 2020, but it has been speculated that the club is eyeing a move to Chicago's Soldier Field. At this point, the Fire does not have an agreement to play at Soldier Field in 2020, but Rodriguez indicated Wednesday that the organization has had a "preliminary conversation" about using the venue.
From the Fire's perspective, Soldier Field would offer the advantage of being located within Chicago's limits, at a more accessible location than SeatGeek Stadium's suburban site. More from the Chicago Tribune:
Rodriguez said the team has had a "preliminary conversation" to play at the 61,500-seat venue after negotiating to amend its current lease with Bridgeview.
"There is no timeline designated, but every minute and every day matters," he said. "We're planning for that future and no other decisions at this point have been made."…
Rodriguez said the location — not the size — is what matters.
"It's been challenging to get here for many fans," he said of SeatGeek Stadium. "Soldier Field is well-known, easier to get to, and even on events like the Gold Cup Final, which had 62,000 fans, it clears out pretty easily and pretty quickly. We do not believe that moving to the city is a salve for all of our issues. We know that there's a lot of other work that we need to do."
Should the Fire return to Soldier Field–its home throughout much of its early history, before the move to Bridgeview in 2006–it would be part of a busy venue calendar that includes the NFL's Bears and potentially other large events. In theory, the terms of the SeatGeek Stadium lease buyout would allow the Fire to play some 2020 home games in Bridgeview (albeit without priority scheduling) if Soldier Field cannot accommodate a full-season schedule, but exactly how the club will plan next season remains to be seen.
As noted, the Fire has a history at Soldier Field, playing an initial stint there from 1998-2001 before the stadium closed for renovations. The club returned to Soldier Field during the 2003 season, remaining there through the 2005 season.
Image of Soldier Field courtesy concacaf.com
RELATED STORIES: The Unanswered Questions in Amended SeatGeek Stadium Lease; Chicago Fire Amend SeatGeek Stadium Lease, Paving Way for Exit; Chicago Fire to Pay $60.5M to Break SeatGeek Stadium Lease; Michael Reese Hospital Site Could be in Play for New Chicago Fire Stadium; Report: Chicago Fire Negotiating SeatGeek Stadium Exit, Soldier Field Return