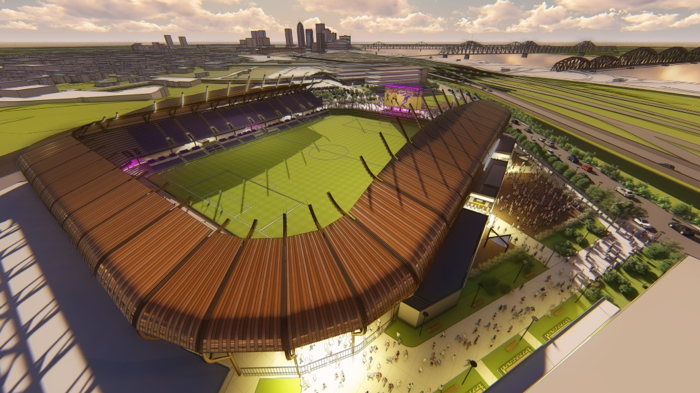 Messer/Harmon JV will lead the new Louisville City FC stadium construction process, as was announced by the USL Championship club on Tuesday. Construction begins in earnest this week, with the stadium set for a 2020 opening.

Messer Construction is one of the region's largest building contracters and is employee-owned with nearly 120 works n the Louisville area. Harmon Construction, based in North Vernon, Ind., has strong ties to Louisville. William A. "Billy" Harmon, the firm's president, played basketball for the University of Louisville from 1973–77.
Messer and Harmon previously teamed up to manage the expansion of the University of Louisville's Cardinal Stadium, a $63.25 million project that added 5,400 seats, loge level seating and field level suites. The LouCity FC stadium is a $65 million project with 11,300 seats.
"We're thrilled to be working with Messer/Harmon because of their proven record in this market and commitment to advancing this project," said Brad Estes, President of LouCity FC. "It's important to us that Messer and Harmon are part of the fabric of Louisville. Messer has built so many large, top-quality projects around Louisville and has demonstrated time and again the ability to finish on time and on budget, which is so important for our new stadium." Construction will take more than a year and is due to be complete for the start of the 2020 season in March.
"The Butchertown stadium is a transformative project for Louisville, and we're proud to team with Harmon to oversee construction of this iconic addition to our city," said John Megibben, Messer vice president and Louisville market leader. "We know all eyes are on us because this stadium is a showcase project. It's in a highly visible location and will be part of the city's front door, welcoming both residents and passersby. It needs to make a statement that this is a city on the move."
"Sports runs deep in my family and business and there's nothing more gratifying than working on a project like this. This will be the site where thousands of people will enjoy soccer. And I'm sure many youngsters who come here be inspired to play professionally, which builds character," said William A. "Billy" Harmon, whose father started the family construction business in 1969.
Messer/Harmon JV has made a strong commitment providing employment opportunities for minorities and local workers during construction. This project will have at least 20% minority participation, which includes 5% for certified female-owned businesses. In addition, at least 75% of the workforce must reside in the Louisville area.
The initial work will include installing auger cast piles, which call for using large crane-like drills to create shafts filled with high-strength cement and reinforcing steel. Excavation work will also take place for the stadium's pitch (playing surface), which will be 10′ below the concourse level.
A groundbreaking ceremony was held in late June as the land was cleared for construction. The 11,300-seat soccer-specific stadium at Cabel and Adams streets in Butchertown is the centerpiece of a $200-million, 40-acre mixed-use development adjacent to Louisville's Waterfront Park near downtown.
Premium components of the stadium include:
18 luxury suites
Premier Club area with accommodations for 250
Club and loge seating options
40- by 72-foot video board
Eight bars in strategic locations throughout the stadium
Since its inception in 2014, LouCity has been playing home games at Louisville Slugger Field, a baseball facility which does not allow for traditional soccer field dimensions.
"We have another year at Slugger Field, and we're grateful for all the Louisville Bats have done to accommodate us," added Estes. "We wouldn't be where we are without the Bats' help. And we want our fans to come out in stronger numbers next year as we play our last season there."
Rendering courtesy HOK Architects. 
RELATED STORIES: Louisville City FC: We're Not Ready for MLS Expansion Bid; Financing Delay Not Expected to Affect Louisville City FC Stadium Construction Schedule; Fifth Third Bank Backs Louisville City FC Stadium Financing; Louisville City FC Stadium Groundbreaking Ceremony Set for Thursday; Is MLS in Louisville City FC's Future; State Approves TIF for Louisville City FC Stadium Project; Louisville City FC Stadium TIF Gets Preliminary Approval; Best of 2017, #8: Louisville City FC Pitches a New Stadium; Metro Council Approves Louisville City FC Stadium Bonds; Legal Opinion: Private Funding in Louisville City FC Stadium Project Not Enforceable; Meetings on Louisville City FC Stadium Slated for Thursday; Louisville City FC Stadium Vote Delayed; Louisville City FC Stadium Plan Takes a Step Forward; New Louisville City FC Stadium Project Unveiled