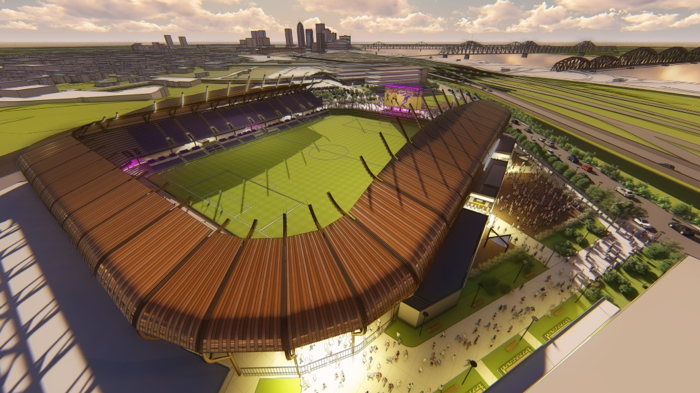 The groundbreaking ceremony for the new Louisville City FC stadium was held Thursday, as club and government officials gathered to celebrate the project.
Louisville City FC (USL) is moving forward with the construction of a new 11,300-seat, $60-$65 million stadium in Louisville's Butchertown neighborhood. The stadium is slated to be part of a larger development project that could include retail, hotels, dining space, and offices to be built through private investment and backed by tax increment financing (TIF).
The facility, which could be expanded to accommodate MLS down the road, is currently slated to open in time for the 2020 USL season. In the meantime, Louisville City FC is anticipating the construction process for the stadium and expects continued progress on the surrounding development. More from the Courier-Journal:
Louisville City FC co-owner Tim Mulloy said the club hopes to have a general contractor hired by August and to begin laying foundations Sept. 1.
"Louisville's always been a community that needs to see shovels in the ground to really believe that something is going to happen, and that's a good thing," Mulloy said
The club's ownership group, which comprises 47 investors, will contribute money and work with local banks to finance the development building by building.
[Louisville City FC co-owner Mike] Mountjoy said he and club officials have been encouraged by "very preliminary" conversations with potential tenants for office and retail space in the development. He said the project has drawn interest from companies based in Louisville and even one in California but said no deals are likely to be inked until the buildings are closer to completion.
Louisville Metro Government has already approved $30 million in bonding for the project, with just over $24 million going toward land acquisition and the remainder used for infrastructure improvements. The Kentucky Economic Development Finance Authority, meanwhile, voted last month to authorize $21.7 million in tax increment financing for the project. The soccer-specific stadium will replace Louisville Slugger Field, shared with baseball's Louisville Bats (Class AAA; International League), as Louisville City FC's home.
Rendering courtesy HOK Architects. 
RELATED STORIES: Louisville City FC Stadium Groundbreaking Ceremony Set for Thursday; Is MLS in Louisville City FC's Future; State Approves TIF for Louisville City FC Stadium Project; Louisville City FC Stadium TIF Gets Preliminary Approval; Best of 2017, #8: Louisville City FC Pitches a New Stadium; Metro Council Approves Louisville City FC Stadium Bonds; Legal Opinion: Private Funding in Louisville City FC Stadium Project Not Enforceable; Meetings on Louisville City FC Stadium Slated for Thursday; Louisville City FC Stadium Vote Delayed; Louisville City FC Stadium Plan Takes a Step Forward; New Louisville City FC Stadium Project Unveiled