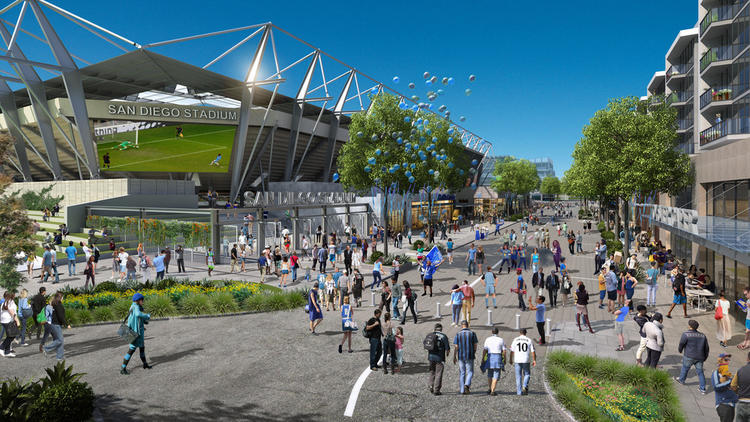 A San Diego official is forecasting missed revenue for the city in a pair of proposals for the SDCCU Stadium site, including SoccerCity. 
First unveiled last year, SoccerCity is a proposal that calls for the construction of a new stadium for an MLS expansion team, with the facility anchoring a larger development plan. Backed by FS Investors, SoccerCity is slated to be up for consideration in a voter referendum on the November ballot, where it will be joined by the competing SDSU West–a proposal for a new San Diego State University football stadium and surrounding amenities at the same site.
Cybele Thompson, director of San Diego's Real Estate Assets Department, recently released projections that claimed both developments will result in lost revenue for the city. SDSU West, assuming a 50-year lease, would amount to almost $400 million in potential missed revenue, while SoccerCity is projected to amount to more than $1 billion in potential missed revenue over its proposed 99-year lease.
Thompson's conclusions are included in a legal argument, as City Attorney Mara Elliott is asking the courts to review both proposals over concerns about their legality. In her projections, Thompson accounts for SoccerCity assuming control of 253 acres of land with an appraised value in excess of $110 million. More from the San Diego Union-Tribune:
"Applying a standard lease of 10% of the appraised value as annual rent, the Soccer City Initiative site could generate in excess of $11 million in annual revenues to the City," Thompson said in one of her declarations.
"Over a 99 year lease period that would equate to more than a billion dollars."
City policy, she said, requires the city to "optimize the sale price or lease rent" of municipal property, usually through a request for proposal, or RFP process. (SoccerCity developers would also have an option to buy nearly 80 acres of the leased land.)
Thompson suggests that SoccerCity would prevent San Diego from achieving optimal return on rent because of numerous conditions on the lease. Costs to demolish the existing stadium, address potential flooding and other environmental concerns could be factored in.
Friends of SDSU–the group backing the SDSU West proposal–has come out in disagreement with Thompson over her forecast for its proposal, and FS Investors is calling projections for SoccerCity into question. More from the Union-Tribune:
"This is quite surprising given that Ms. Thompson negotiated a published set of lease concessions from us a year ago," Nick Stone, project manager for FS Investors, said in a statement.
"The fact is, our proposal is far better than what has ever been proposed before and far beyond what the developer-written SDSU West proposal calls for. Not only will we pay full market value for the property as independently appraised under Ms. Thompson's supervision, we'll privately fund a new stadium as well as a long-desired river park and pay to maintain it for the next century.
"That's why SoccerCity is endorsed by thousands of San Diegans, most notably our city's mayor."
Hearings related to both initiatives have been scheduled, with SDSU West to be considered July 5 and SoccerCity to follow on July 13. In its argument against the two measures, the city is claiming that if either is approved by voters it will illegally interfere with administrative matters.
SoccerCity was unveiled last year as a centerpiece for a San Diego MLS expansion bid. FS Investors had called for a November 2017 referendum for the proposal, but city officials pushed a referendum on the project to 2018. San Diego did not make the slate of four expansion finalists considered by MLS late last year (Nashville, and later Cincinnati were selected from that group), but its bid remains a candidate for the next round of expansion.
RELATED STORIES: Best of 2017, #7: SoccerCity on Hold; San Diego Pushes SoccerCity Referendum to 2018; SoccerCity Backers Will Still Lobby for Special Election; Appraisals: Proposed Site of SoccerCity Worth $110.1M;  San Diego City Council Rejects Fall SoccerCity Special Election; MLS: We Won't Wait for San Diego MLS Referendum; San Diego Mayor Endorses Revised SoccerCity MLS Pitch; SDSU Ends Talks to Share New San Diego MLS Stadium; Report: SoccerCity Would Produce Millions in Annual Tax Revenue; FS Investors Submits SoccerCity Petitions; SoccerCity Proposal Could be Placed on November Ballot; SoccerCity Could Have an Annual $2.8 Billion Economic Impact; SoccerCity MLS Proposal Unveiled by San Diego Investors; San Diego, Tampa Bay Make Their MLS Cases; San Diego MLS Plan Unveiled; San Diego Close to Revealing MLS Pitch; San Diego Looks to Advance MLS Stadium Push; Residents Polled on New San Diego MLS Stadium; Padres Owner Among Potential San Diego MLS Leaders; San Diego Eying MLS Team