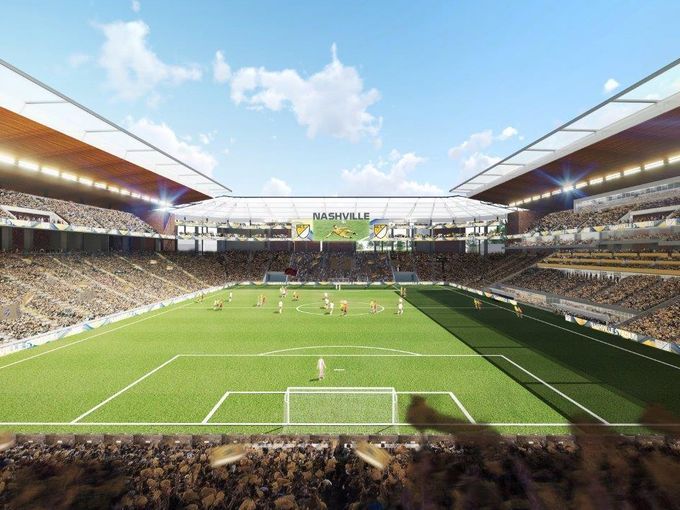 A judge denied a temporary injunction sought by plaintiffs in a Nashville MLS stadium lawsuit to stop related construction at The Faigrounds Nashville. 
A group of plaintiffs that includes Save Our Fairgrounds and the Nashville Flea Market Vendor's Association, among others, is part of a lawsuit seeking to prevent the construction of a new MLS stadium at The Fairgrounds Nashville, contending that it violates state charter and would interfere existing uses at the complex. The suit was filed in September, and the trial is scheduled to resume on November 30 with a hearing.
The new stadium, planned as part of a $275-million project to house an MLS expansion club backed by a group led by John Ingram, requires deliberate planning. It will be constructed on the site of existing buildings that are set to be replaced by an under-construction expo center. A groundbreaking for the expo center took place earlier this month, and its construction must be completed before demolition of existing structures on the future stadium site takes place.
The plaintiffs in the lawsuit requested a temporary injunction to stop expo center construction, contending that by effectively eliminating existing parking spaces, the plans for the new expo center would harm the Nashville Flea Market. That request was denied on Friday by Davidson County Chancellor Ellen Hobbs Lyle. More from the Tennessean:
After two days of testimony, Davidson County Chancellor Ellen Hobbs Lyle sided with Metro government on the request, arguing that Tennessee law does not authorize issuing an injunction to halt the work under the circumstances.
The ruling on the injunction is a win for supporters of Nashville's MLS expansion franchise but the trial is set to continue with a hearing Nov. 30.
The group Save Our Fairgrounds and other opponents of Nashville's MLS stadium in September sued Metro over Metro's MLS stadium plans. They argued the closing of Walsh Road and its surrounding parking lot at the fairgrounds for the new expo center facility will "irreparably harm" the operations of the Nashville Flea Market at its current fairgrounds home.
But Lyle, in a written order denying the injunction, disagreed. She said the flea market can withstand a temporary reduction of parking over the next five months.
The expo center is expected to open next summer, while the new MLS stadium is slated for a 2021 completion. Currently the club is slated to begin play in the 2020 season, meaning that it will need to spend at least one season at another venue in the Nashville area before the new stadium would open.
RELATED STORIES: Injunction Filed in Nashville MLS Stadium Lawsuit; Councilwoman Proposing Higher Nashville MLS Stadium Ticket Tax; Nashville MLS Stadium Construction Contract Moves Forward; Nissan Stadium Eyed as Temporary Nashville MLS Home; MLS Relieved by Nashville MLS Stadium Approval; It's a Go for Nashville MLS Stadium; Terms Reached for Nashville MLS Stadium Community Benefits Agreement; Despite Latest Progress, Nashville MLS Stadium Plan Still Has Hurdles to Clear; Committee Recommends Disapproval of Nashville MLS Stadium Ordinances; Fair Board: We Want to Reopen New Nashville MLS Stadium Deal; Metro Councilmembers Call for Nashville MLS Stadium Community Benefits Deal; Planning Commission Backs Nashville MLS Stadium Mixed-Use Development; Proposed Lease Terms for Nashville MLS Stadium Development Released; Nashville MLS Stadium Plan Faces Critical Votes; Nashville MLS Stadium Agreements Push Toward Approval; Populous Closer to Landing Nashville MLS Stadium Design Contract; Fair Board Approves Nashville MLS Stadium Site Plan; Nashville MLS Stadium Site Plan Revised; Officials Seek Feedback on Nashville MLS Stadium Project at Fairgrounds; Motion to Rescind Nashville MLS Stadium Plan Rejected; It's Official: Nashville MLS Expansion Team Unveiled; Nashville MLS Push Shows More Signs of Momentum; MLS Expansion Finalists Make Their Cases; Attorneys Seek Dismissal of Lawsuit on Nashville MLS Stadium; Metro Council Approves $225M in Bonding for New Nashville MLS Stadium