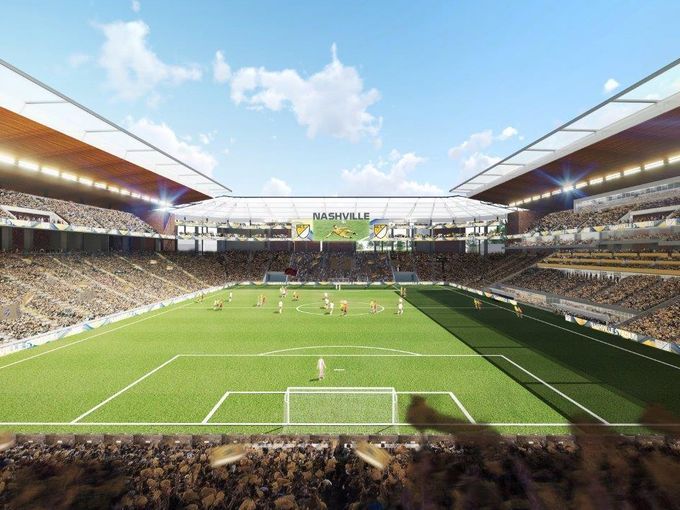 The hopes of a Nashville MLS franchise are growing in advance of a major announcement, as MLS officials are set to appear at an event in the city on Wednesday. 
There are some strong signs of progress for the Nashville MLS bid, including a victory in court. On Monday, Davidson County Chancellor Ellen Hobbs Lyle agreed to dismiss a lawsuit that had been brought about by a group of plaintiffs–including Save Our Fairgrounds–that claimed that a new MLS stadium would have a negative effect on protected uses at The Faigrounds Nashville. Per The Tennessean, she ultimately agreed with Nashville Metro's assertion that the plaintiffs "lacked standing to bring the case to court because they've not demonstrated any harm or injury in the case."
That occured ahead of what could be a major announcement on Wednesday, when MLS commissioner Don Garber, investors in the Nashville MLS group, and various dignitaries–including Nashville Metro mayor Megan Barry and Tennessee governor Bill Haslam–appear at an event in Nashville. More from The Tennessean:
A media event, set for the Country Music Hall of Fame, begins at 4 p.m. and is followed by an MLS2Nashville "Thank you" reception. Taylor Twellman, a soccer analyst for ESPN, will emcee the event.
Nashville, along with Sacramento, Cincinnati and Detroit, are vying for two spots that the league plans to fill this week. The league's board of governors discussed expansion last week at a meeting in New York.
"We are excited and optimistic about the future of soccer in Nashville," Barry said in a statement. "We look forward to hearing more tomorrow."
Led by John Ingram, Nashville's MLS expansion bid includes a proposal for a new stadium at The Fairgrounds Nashville. Political leaders have shown their support for the plan, with the Nashville Metro Council voting last month to approve $225 million in bonding for the stadium.
With an announcement expected in Nashville on Wednesday, it appears that MLS is on the verge of selecting two bids that will join the league in the coming years. Nashville, along with the three other finalists–Cincinnati, Detroit, and Sacramento–made presentations to Garber and the league's expansion committee earlier this month.
RELATED STORIES: Judge to Review Nashville MLS Stadium Lawsuit; MLS Expansion Finalists Make Their Cases; Attorneys Seek Dismissal of Lawsuit on Nashville MLS Stadium; Metro Council Approves $225M in Bonding for New Nashville MLS Stadium; Ingram Makes Pitch for Development at Nashville MLS Stadium; Tweaks Made to Nashville MLS Stadium Deal; Councilman Pushes for Harder Vote Threshold in Nashville MLS Plan; Public Weighs in on Nashville MLS Stadium; Women's Soccer Discussed; Nashville MLS Stadium Development Plans Unveiled; Sports Authority OKs $225M for New Nashville MLS Stadium; Development Proposal at Nashville MLS Stadium Raising Questions; Nashville MLS Stadium Funding Proposal Unveiled; Nashville MLS Stadium Funding Plan Will be Revealed Monday; Nashville MLS Stadium Design Unveiled; Nashville MLS Bid Adds Wilf Family to the Mix; Amidst MLS Expansion Push, Nashville Looks to Showcase Soccer Scene; Nashville MLS Stadium Planning Continues; Nashville MLS Expansion Boosters Form MLS2Nashville; John Ingram Purchases Majority Stake in Nashville SC; Nashville Presents MLS Stadium Site; Fairgrounds to be Pitched for Nashville MLS Stadium; Vanderbilt Could Partner on Nashville MLS Stadium; John Ingram Backings Nashville's Expansion Bid; Nashville MLS Stadium Part of State Legislation; Nashville SC Plays Key Role in City's MLS Hopes; Nashville SC Names Court Jeske CEO; Nashville SC Backs MLS Bid