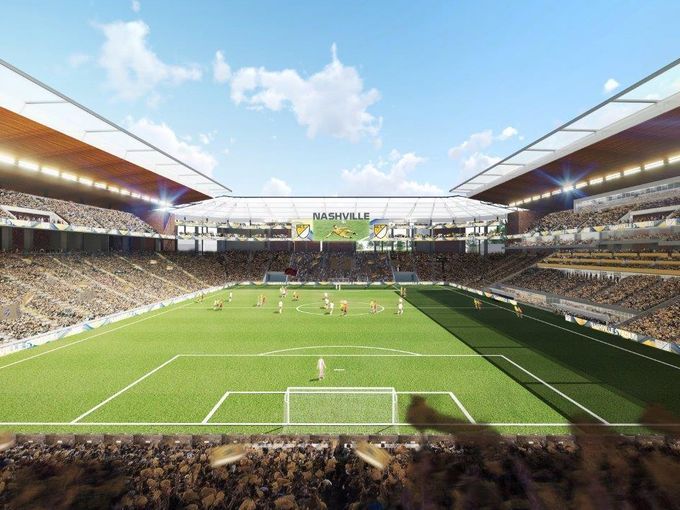 A Nashville MLS stadium site plan cleared a key hurdle on Tuesday, when it was adopted by the Metro Board of Fair Commissioners. 
Nashville continues to plan the construction of a soccer-specific stadium at The Fairgrounds Nashville, with the venue to become the home of an MLS expansion team. The $275-million stadium is one part of a larger project, as the plans also include a 10-acre mixed use development and new fairground event buildings.
As part of the ongoing planning process, the Metro Board of Fair Commissioners considered the site plan on Tuesday and were unanimous in their 5-0 vote in favor of the concept. Additional steps still have to be completed, but the board's approval allows other parts of the process to begin moving forward. More from the Tennessean:
The fair board's vote isn't binding, but it was an important requirement for the project to advance. It means the process to rezone the property will begin immediately, with legislation to be filed Wednesday to change the land use of the site.
"We want to get to work," said fair board chairman Ned Horton, calling feedback from the public generally positive and arguing that the plan matches the board's goals to upgrade the facilities. "There's going to be a lot people who don't like any change, people who will object to certain parts of this. We can't make everybody happy all the time. But I think we do have the charge to move forward in improving this facility.
"We have to get started, and today is the day, within our authority, to move the ball forward with this concept."
Nashville's MLS expansion bid was formally approved by the league in December, after the Nashville Metro Council decided in November to approve $225 million in bonding for the stadium project. However, the fair board's vote is important to the stadium planning process because of the additional steps that are needed. Some of the remaining tasks include approval for the demolition of existing buildings at the site, re-zoning of the property, and the completion of a final stadium lease agreement.
RELATED STORIES: Nashville MLS Stadium Site Plan Revised; Officials Seek Feedback on Nashville MLS Stadium Project at Fairgrounds; Motion to Rescind Nashville MLS Stadium Plan Rejected; It's Official: Nashville MLS Expansion Team Unveiled; Nashville MLS Push Shows More Signs of Momentum; MLS Expansion Finalists Make Their Cases; Attorneys Seek Dismissal of Lawsuit on Nashville MLS Stadium; Metro Council Approves $225M in Bonding for New Nashville MLS Stadium; Ingram Makes Pitch for Development at Nashville MLS Stadium; Tweaks Made to Nashville MLS Stadium Deal; Councilman Pushes for Harder Vote Threshold in Nashville MLS Plan; Public Weighs in on Nashville MLS Stadium; Women's Soccer Discussed; Nashville MLS Stadium Development Plans Unveiled; Sports Authority OKs $225M for New Nashville MLS Stadium; Development Proposal at Nashville MLS Stadium Raising Questions; Nashville MLS Stadium Funding Proposal Unveiled