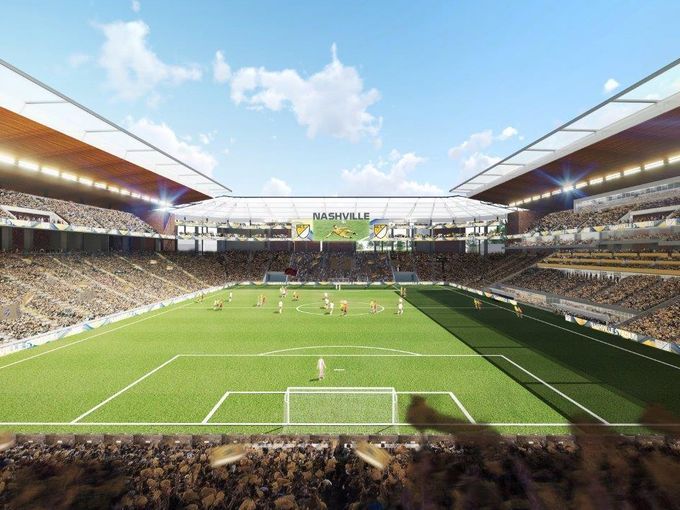 A proposal to rescind the agreement for a Nashville MLS stadium was recently introduced, but widely rejected upon a vote by the Nashville Metro Council. 
In December, MLS formally approved Nashville's MLS expansion bid, a proposal that included the construction of a new $275-million stadium at the city's fairgrounds. The Nashville Metro Council voted overwhelmingly in November to approve $225 million in bonding for the stadium, but other votes still have to be completed and the city has yet to officially issue the bonds. Meanwhile, former mayor Megan Barry–a champion of the project–resigned from office earlier this month after pleading guilty to criminal theft.
Some Nashville Metro Council members have been voicing their concerns about the project, and there was a sentiment among some officials to rescind the funding agreement for the stadium. A vote to rescind the deal took place Tuesday, but council members decided by a 16-8 margin (there were seven abstentions) to reject that proposal and keep the funding plan intact. More from The Tennessean:
Metro Department of Law Director Jon Cooper warned that rescinding the resolution would pose considerable liability concerns for the city because of franchise fees the team has agreed to pay MLS as part of its agreement with Metro.
[Councilman Steve] Glover's push was inspired by recent reports from WSMV-TV scrutinizing preliminary work for the stadium. That included one story that found Metro Chief Operating Officer Rich Riebeling authorized $135,000 in predevelopment work overseen by Commonwealth Development Group that came from Bridgestone Arena's financial account. The Metro Sports Authority, which operates the arena, was unaware of the spending.
"We have spent money that we never authorized," Glover said. "And until we get our act together, until we as a council fully understand what the expenses are, then I'm asking us to rescind it."
Although the council approved the bond resolution in November, the city has still not issued bonds. Future votes are still required for the project, including the demolition of existing buildings at the fairgrounds, a zoning change to accommodate a future mixed-use redevelopment on the site, and to approve a ticket tax that will generate funds for the stadium's construction.
The new Nashville MLS expansion franchise will be owned by Nashville Soccer Holdings, LLC, led by John Ingram of Ingram Industries, and backed by a group that includes Minnesota Vikings (NFL) owners Mark, Zygi and Leonard Wilf, and the Turner Family of Nashville-based MarketStreet Enterprises.
As part of the funding plan for the stadium, Nashville Metro will issue up to $225 million in revenue bonds for its construction. It would also provide land for the project, and borrow $25 million in general obligation bonds to pay for infrastructure upgrades at the site. Meanwhile, Ingram's group would commit a $25-million cash payment, and pay $9 million annually over a 30-year lease. That would cover some of Metro's expected $13 million in yearly debt on the stadium, with the remaining $4 million covered by sales tax revenue generated by the facility and a tax on every ticket that is sold. That ticket tax would begin at $1.75, before increasing over time.
RELATED STORIES: It's Official: Nashville MLS Expansion Team Unveiled; Nashville MLS Push Shows More Signs of Momentum; MLS Expansion Finalists Make Their Cases; Attorneys Seek Dismissal of Lawsuit on Nashville MLS Stadium; Metro Council Approves $225M in Bonding for New Nashville MLS Stadium; Ingram Makes Pitch for Development at Nashville MLS Stadium; Tweaks Made to Nashville MLS Stadium Deal; Councilman Pushes for Harder Vote Threshold in Nashville MLS Plan; Public Weighs in on Nashville MLS Stadium; Women's Soccer Discussed; Nashville MLS Stadium Development Plans Unveiled; Sports Authority OKs $225M for New Nashville MLS Stadium; Development Proposal at Nashville MLS Stadium Raising Questions; Nashville MLS Stadium Funding Proposal Unveiled