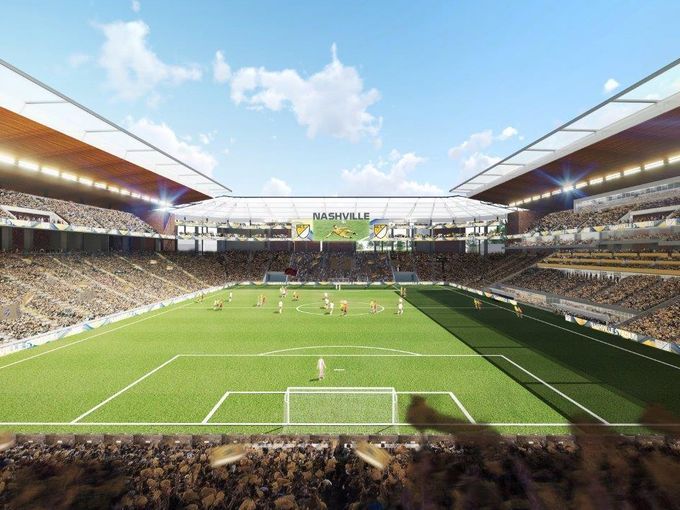 Now that the vote is in the books, MLS commissioner Don Garber is expressing relief that the Nashville MLS stadium approval process moved forward. 
MLS announced last December that it was awarding Nashville an expansion club, with the team to be backed by a group led by John Ingram. That came after the Nashville Metro Council voted in November to approve $225 million in bonding for a new MLS stadium at The Fairgrounds Nashville.
While that vote factored into MLS' selection of Nashville, the $275 million stadium project was technically contingent on several agreements receiving future approval from the Metro Council. That process lasted until last week, when the Metro Council approved three ordinances and a resolution, putting together the elements of the plan in final format. There had been a great deal of uncertainty leading up to those votes, but the council's action allows the project–which includes an adjacent 10-acre mixed-use development–to move forward.
Garber spoke that decision recently, noting that the league needed to have a backup plan if the project failed to clear last week's votes. He did not elaborate on what an alternate plan would have looked like, but was clear in his relief that the project will move forward as envisioned. More from The Tennessean:
But what if things had gone differently last week and the council had voted down the fairgrounds stadium plan?
Garber said it would have been "really devastating" for everyone who had worked to bring MLS to Nashville — but he stopped short of detailing the ramifications.
"It would have been really challenging," Garber said, adding that the Nashville MLS ownership group led by John Ingram realized MLS needed to have a "plan B" if the stadium was voted down. "Thankfully, we never had to pull that 'plan B' out of the drawer. There's a variety of different things that could have happened.
"I'm not going to necessarily talk about that now because we don't have to worry about it. But it would not have been business as usual, that's for sure."
Nashville was one of four expansion finalists considered by MLS last December, along with Cincinnati, Detroit, and Sacramento. It took months for MLS to unveil its next decision after accepting Nashville's proposal, as the league formally approved FC Cincinnati's bid in May after the club firmed up its plans for a new stadium.
The new 30,500-seat stadium at the Fairgrounds Nashville is expected to open in 2021, with Nashville SC set to move from USL to MLS in 2020.
RELATED STORIES: It's a Go for Nashville MLS Stadium; Terms Reached for Nashville MLS Stadium Community Benefits Agreement; Despite Latest Progress, Nashville MLS Stadium Plan Still Has Hurdles to Clear; Committee Recommends Disapproval of Nashville MLS Stadium Ordinances; Fair Board: We Want to Reopen New Nashville MLS Stadium Deal; Metro Councilmembers Call for Nashville MLS Stadium Community Benefits Deal; Planning Commission Backs Nashville MLS Stadium Mixed-Use Development; Proposed Lease Terms for Nashville MLS Stadium Development Released; Nashville MLS Stadium Plan Faces Critical Votes; Nashville MLS Stadium Agreements Push Toward Approval; Populous Closer to Landing Nashville MLS Stadium Design Contract; Fair Board Approves Nashville MLS Stadium Site Plan; Nashville MLS Stadium Site Plan Revised; Officials Seek Feedback on Nashville MLS Stadium Project at Fairgrounds; Motion to Rescind Nashville MLS Stadium Plan Rejected; It's Official: Nashville MLS Expansion Team Unveiled; Nashville MLS Push Shows More Signs of Momentum; MLS Expansion Finalists Make Their Cases; Attorneys Seek Dismissal of Lawsuit on Nashville MLS Stadium; Metro Council Approves $225M in Bonding for New Nashville MLS Stadium