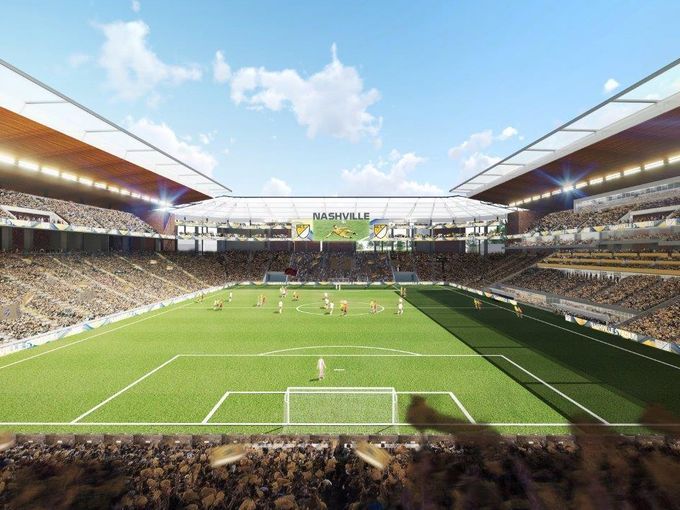 At a packed public hearing on Tuesday, many weighed in with their views on a proposed Nashville MLS stadium at The Faigrounds Nashville. 
With a vote from Nashville Metro Council on a bond package for the project scheduled for November 7, the proposal is receiving more discussion. Under what has been proposed, Nashville Metro would issue up to $225 million in revenue bonds for the construction of a 27,500-seat stadium. It would also provide land for the project, and borrow $25 million in general obligation bonds to pay for infrastructure upgrades at the site.  The ownership group led by John Ingram would commit a $25-million cash payment, and pay $9 million annually to the Metro Sports Authority over a 30-year lease. That would cover some of Metro's expected $13 million in yearly debt on the stadium, with the remaining $4 million covered by sales tax revenue generated by the facility, and a $1.70 tax would be added to every ticket that was sold.
A public hearing on Tuesday allowed for public opinion to be considered. Though skepticism over the plan–one of the major points of contention being the use of Fairgrounds land–was expressed, there were numerous supporters at the meeting. During the course of the evening, several groups offered either their enthusiasm or conditional support. More from The Tennessean:
A representative of the Nashville Area Chamber of Commerce announced the organization's support for the project. Representatives of the Southeast Laborers' District Council discussed possible benefits with the stadium but said they want construction jobs to be good-paying union work.
In a shift that could neutralize some opposition, the group Save Our Fairgrounds, led by Rick Williams, offered "conditional support" for the stadium proposal after previously opposing it. The group's request: that the mayor's administration agree to amend the bond resolution to ensure future fairgrounds improvements. The mayor's office has said that fairgrounds upgrades are part of the long-term plan, but that it would require a later vote.
"We felt working to keep improvements coming to the property, while maintaining and improving the existing events on the property, was the best route for our organization to take," Williams said.
Nashville's current focus is on MLS, and that plan has progress to make before it can move forward. However, there is a possibility that another club could join the city's soccer scene down the road.
At a separate event on Tuesday, Ingram spoke of a previous conversation with Nashville mayor Megan Barry in which she brought up the possibility of eventually bringing women's soccer to Nashville. In relaying that conversation, Ingram said that over time, it could become a reality. More from The Tennessean:
"Megan Barry walked straight up to me and said 'I have two words for you: women's soccer.' I told her, 'Give me time Megan, I'll get there.'"
While this possibility is still a long ways off, Ingram's push for professional soccer in Nashville had the full backing of the panelists, which included U.S. Women's National Team and World Cup champion Ali Krieger; US women's national team player Aubrey Bledsoe; Mexican women's nation team player Jenny Ruiz; and Ronnie Woodard, a former Vanderbilt soccer coach that is now coaching at Tennessee Soccer Club. Former SportsCenter host and ex-college soccer player Sara Walsh served as the moderator.
"It has really grown in the last 10 years and thank you guys for your support in helping that," said Krieger. "But we are really working towards equal play and equal pay every day and all of you help with that."
Nashville is looking to approve its stadium proposal in the coming weeks, which would give the city the opportunity to have something in place when MLS selects two expansion bids in December.
Rendering courtesy HOK. 
RELATED STORIES: Sports Authority OKs $225M for New Nashville MLS Stadium; Development Proposal at Nashville MLS Stadium Raising Questions; Nashville MLS Stadium Funding Proposal Unveiled; Nashville MLS Stadium Funding Plan Will be Revealed Monday; Nashville MLS Stadium Design Unveiled; Nashville MLS Bid Adds Wilf Family to the Mix; Amidst MLS Expansion Push, Nashville Looks to Showcase Soccer Scene; Nashville MLS Stadium Planning Continues; Nashville MLS Expansion Boosters Form MLS2Nashville; John Ingram Purchases Majority Stake in Nashville SC; Nashville Presents MLS Stadium Site; Fairgrounds to be Pitched for Nashville MLS Stadium; Vanderbilt Could Partner on Nashville MLS Stadium; John Ingram Backings Nashville's Expansion Bid; Nashville MLS Stadium Part of State Legislation; Nashville SC Plays Key Role in City's MLS Hopes; Nashville SC Names Court Jeske CEO; Nashville SC Backs MLS Bid