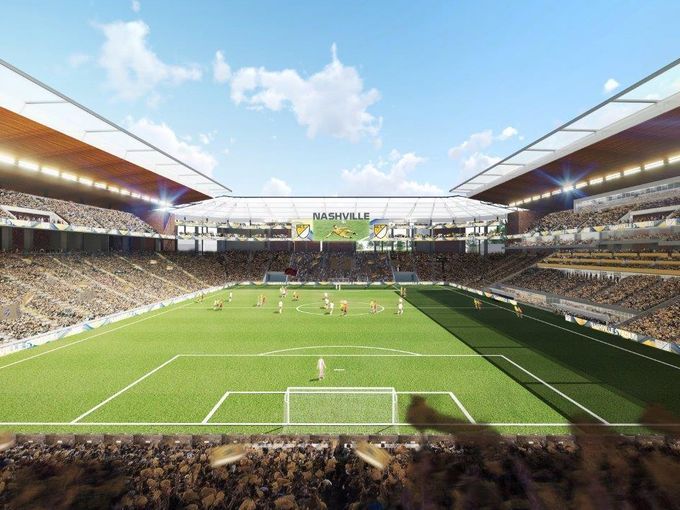 More information on a proposed Nashville MLS stadium has come to light, as preliminary design details for the project were released on Monday. 
Led by John Ingram, Nashville's bid for an MLS expansion club includes a proposal for a new stadium. While it had been known to this point that officials were considering a location at The Fairgrounds Nashville, Monday's presentation at a special Metro Council committee meeting revealed more information about the proposal.
If constructed, the stadium would be placed on the elevated west side section of the Fairgrounds, seat 30,000, and could be designed to host other events in addition to soccer–something that would be crucial if Vanderbilt University decides to relocate its football program to the stadium. Some expo buildings could be demolished to make way for the stadium, though replacements would be constructed in the process.
More specific information relating to a cost and funding model is expected to be revealed down the road. For now, Nashville MLS backers are touting the facility as the best way to land the franchise, while some officials are looking to move the discussions along. More from The Tennessean:
"Having a stadium that is approved by MLS is an absolutely essential part of ultimately being successful," [Ingram] said. "We've tried to put together something that we believe represents a great partnership between our MLS-in-Nashville group and the city."
Nashville is one of 12 cities vying for four expansion spots that MLS hopes to fill.
Ingram was joined by Mayor Megan Barry's Chief Operating Officer Rich Riebeling, who told council members the mayor's office hopes to finalize stadium financing negotiations with Ingram in 45 to 60 days and file legislation for a stadium deal by October. It's a quick timeline that is needed to get Nashville considered for one of two initial cities that the league plans to award in December.
"We think that an opportunity to bring an MLS team to Nashville is very important to our community," Riebeling said, adding that a final proposal "has got to minimize the impact to the taxpayers.
As the process unfolds, what happens with Nashville's MLS stadium proposal will be watched closely. The effort has had some momentum over the last few weeks, with the Wilf family signing on as investors in Nashville Soccer Holdings and MLS commissioner Don Garber singling Nashville–along with Cincinnati, Detroit, and Sacramento–out for praise in recent remarks.
Renderings courtesy HOK Architects. 
RELATED STORIES: Nashville MLS Bid Adds Wilf Family to the Mix; Amidst MLS Expansion Push, Nashville Looks to Showcase Soccer Scene; Nashville MLS Stadium Planning Continues; Nashville MLS Expansion Boosters Form MLS2Nashville; John Ingram Purchases Majority Stake in Nashville SC; Nashville Presents MLS Stadium Site; Fairgrounds to be Pitched for Nashville MLS Stadium; Vanderbilt Could Partner on Nashville MLS Stadium; John Ingram Backings Nashville's Expansion Bid; Nashville MLS Stadium Part of State Legislation; Nashville SC Plays Key Role in City's MLS Hopes; Nashville SC Names Court Jeske CEO; Nashville SC Backs MLS Bid