On Tuesday, the latest design renderings were unveiled for a new FC Cincinnati stadium slated to open on the city's West End in 2021.
The $250 million stadium construction cost is being privately funded by the club's diverse, local ownership group, which led by FC Cincinnati CEO and Managing Owner Carl H. Lindner III.
Designed by world-renowned architecture firm Populous and led by Jonathan Mallie, Senior Principal and Director of the New York office, West End Stadium features an ambitious interpretation of Cincinnati on the rise.
Taking the club's goal of creating an iconic and groundbreaking design for the city while prioritizing and amplifying the fan experience, Populous delivered a design that will stand alone in among North American stadiums and take a place among the world's most distinctive sporting venues.
EXTERNAL DISTINGUISHING FEATURES
A complete, 360-degree canopy roof will cover every single seat in the stadium
A total of 513 vertical fins will form the wave-like external structure that encloses the stadium
Custom LED lighting on each fin will help the stadium appear to glow when lit for evening events
Through a feature seen only on West End Stadium, a one-of-a-kind lighting feature utilizing the fins' LED lighting system will allow unique motion sequences to be displayed on the stadium's east-facing façade
The west-side façade will feature a more traditional, glass aesthetic to create a smooth transition into the surrounding neighborhood
A total of six entrance gates will bring fans into the building at concourse level
The Grand Staircase rises 30 feet from Central Parkway, providing a regal entrance into the stadium and showcasing the club's world-famous supporters march
The Mercy Health Plaza, located in the southeast corner of the stadium, will provide an acre of visible, accessible community programming space at the crossroads of two neighborhoods: the West End and Over-the-Rhine
INTERNAL DESIGN FEATURES
Final seating capacity will be between 26,000 and 26,500, pending the final seating manifest
A 110-yard by 75-yard natural grass field
A central field tunnel that guides the teams out just inches from the fans
A total of 4,500 total premium seats in suites and premium clubs

59 Suites, including 2 party suites and 3 three field-level suites, the most in MLS for a venue that does not also host an NFL team
Four distinct premium club areas, each with unique designs and amenities, varying hospitality options and different locations throughout the stadium

3,100 safe-standing seats in The Bailey, the designated supporter's section that encompasses the entire north end of the stadium

The Bailey rises from field level at a dramatic 34-degree pitch, continuously spanning both seating levels of the stadium

The upper mezzanine wraps around three sides of the stadium to completely enclose the bowl

The upper mezzanine is also pitched at 34 degrees, putting the farthest seat in the stadium only 130 feet from the field

The closest seat is 15 feet from the playing field
Two video boards and two LED ribbon scoreboards that wrap the mezzanine's façade around the stadium
Indoor seating to accommodate 75 media members in the press box, plus three television booths, four radio booths and one auxiliary broadcast booth on the east-facing press level. Six TV broadcast trucks (including satellite trucks) can be accommodated in the broadcast compound, with overflow space adjacent to the stadium.
"We are so proud of this incredible design that Populous has delivered to FC Cincinnati. It has been so well-thought and concepted, so carefully crafted," Carl H. Lindner III, FC Cincinnati CEO and Managing Owner, said in a statement. "We believe it will stand as a true icon and unifying force in our city. Our deep passion for FC Cincinnati is to create a legacy in this city, contribute a positive impact on our community and help raise the profile of Cincinnati not only nationally, but also around the world. We believe that soccer, as the world's game, is a true unifying force and can bring our region closer together. West End Stadium provides us a remarkable platform to continue pushing those goals even further and enhance our impact not only locally, but across the globe. With West End Stadium as our platform, more people will learn about – and fall in love with – Cincinnati. Locally, our region's youth will dream of stepping out on the West End Stadium pitch, playing for FC Cincinnati, and representing the Queen City in a game that is broadcast around the world. Those are incredible motivating factors behind everything we do and West End Stadium is central to actualizing those ambitions."
"As a Cincinnati native and life-long resident, I have nothing but pride knowing our West End Stadium will be a strong symbol of this city on the world stage," FC Cincinnati President Jeff Berding said in a statement. "We incorporated a lot of research and first-person feedback from fans and executives around the league with the goal of setting a new standard for both design and experience. We firmly believe we've not only matched the league's best, but pushed the bar further and will deliver a superior fan experience for our incredible fan base. A strong reason why we're in this position as a first-year MLS team just four years after our founding is because of the amazing, visible pride and exuberance of our fan base. West End Stadium was designed to showcase and harness that passion and create an extraordinary atmosphere and home-field advantage for our team. We cannot wait to start playing in West End Stadium in 2021."
"There's a dedication and authenticity to soccer in Cincinnati that rivals any city in the U.S. Our design for FC Cincinnati harnesses the energy of the fans to create a world-class soccer atmosphere," Jonathan Mallie, Populous Senior Principal and New York Director, said in a statement.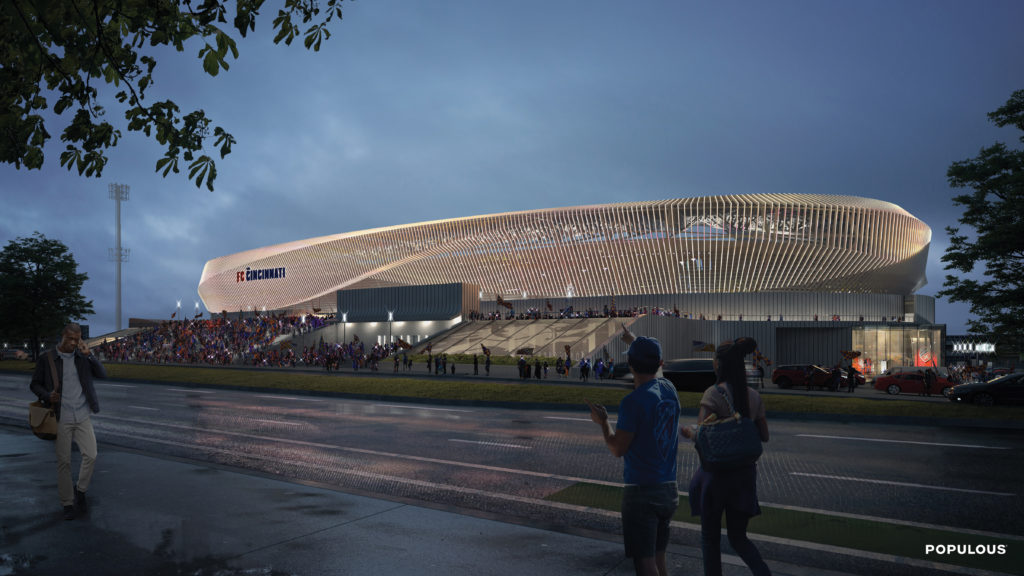 All images courtesy Populous/FC Cincinnati.
RELATED STORIES: Final FC Cincinnati Stadium Design Plan to be Unveiled Tuesday; FC Cincinnati Stadium Lands Another Key Approval; FC Cincinnati Stadium Project Gets Approvals After Deal with Displaced Tenants; Issues Raised With FC Cincinnati Stadium Funding; Displaced Tenants Seek Housing, Compensation from FC Cincinnati; Beer Hall May Be in FC Cincinnati Stadium Plans; Berding Balks at Council's Motion on FC Cincinnati Stadium Rezoning Request; City Council: FC Cincinnati's Rezoning Request Won't be Approved Without Housing for Displaced Residents; West End Residents Criticize Latest FC Cincinnati Stadium Plans; FC Cincinnati Stadium Project Footprint Could Grow; Unveiled: New FC Cincinnati MLS West End Stadium Renderings; Populous Tabbed as New FC Cincinnati Stadium Architect; FC Cincinnati Stadium Project Zoning Change Approved; FC Cincinnati Stadium Zoning Vote Delayed; FC Cincinnati Parking Plan Debated; Development Could Surround Future FC Cincinnati Stadium; FC Cincinnati Stadium Groundbreaking Ceremony Set for December 19; New FC Cincinnati Stadium Design Unveiled; FC Cincinnati Preparing Transition to MLS; FC Cincinnati Tabs Principal Partners for MLS Stadium Project; FC Cincinnati Training Academy Pitched for Milford; New for 2019: Fussball Club Cincinnati; FC Cincinnati MLS Expansion Bid Approved; FC Cincinnati MLS Expansion Announcement Could Come Next Week