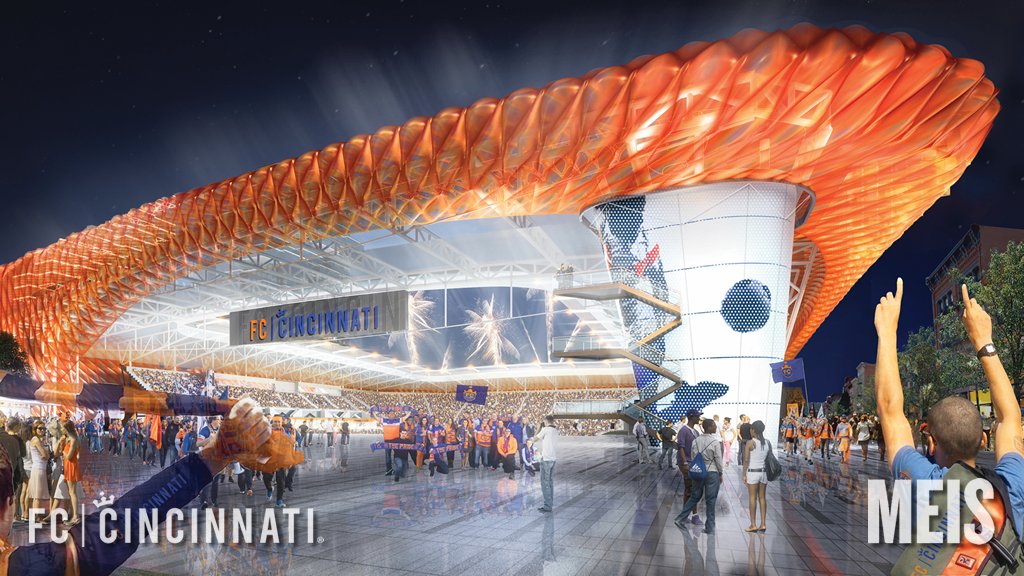 FC Cincinnati has unveiled principal development partners, including lead design and construction firms, for its $200 million-plus MLS stadium project on the city's West End. 
Architectural firm MEIS will design the facility, while Turner Construction will manage its construction. The Machete Group will manage all phases of FCC's West End stadium, and U.S. Bank is the finance partner for the stadium.
"We're thrilled to secure all four of these companies for our MLS stadium project," FC Cincinnati President and General Manager Jeff Berding said. "On the design and construction side, we had several strong options in each area. However, MEIS and Turner are trend-setters and have led the recent movement toward fan-centered facilities. To have two of the industry's top firms joining forces to work on our MLS stadium is really exciting. Not only do they each bring experience creating iconic stadiums, they also have extensive experience working together on the same projects to build some of the greatest venues in our sport.
"Having an industry leader like Machete guiding the project, and with the financial support from U.S. Bank and its experience in the sports market, we've assembled a stellar, collaborative group that will deliver us a venue that is fitting of the Queen City, the West End and the club's future," Berding said.
MEIS is widely recognized as one of the profession's most innovative firms and its work focuses on enhancing both fan experience and revenue generation. MEIS is currently designing stadiums for AS Roma and Everton FC, two highly anticipated projects that will set a new benchmark for stadia in Serie A and the English Premier League.
MEIS principal Dan Meis and the firm's key staff have led the design of a number of existing MLS stadiums, including Toyota Park (Chicago), Talen Energy Stadium (Philadelphia), Rio Tinto Stadium (Salt Lake City) and StubHub Center (Los Angeles). Other projects members of MEIS have led include Paul Brown Stadium (Cincinnati), Staples Center (Los Angeles) and Safeco Field (Seattle).
"It is the rare opportunity for a stadium architect to return to a city that was so important to the development of his career," Meis said. "Paul Brown Stadium will always be one of my most important projects of my career and the FC Cincinnati stadium is an incredible opportunity to return to a city that means so much to me. With our FC Cincinnati project, we expect to design a truly urban stadium that draws on the unique fabric of the West End."
Locally, MEIS is partnering with Elevar Design Group on some of the project's architectural elements. For over fifty years Elevar has provided architectural, engineering, planning, and interior design services to the Tri-State area, working on a number of local projects including: the US EPA AWBERC (Andrew W. Breidenbach Environmental Research Center), University of Cincinnati Vontz Center for Molecular Studies, Baldwin Apartments, West Clermont High School and the Kenton County Administration Building. Elevar is a certified MBE (Minority Business Enterprise) and SBE (Small Business Enterprise), and also holds EDGE (Encouraging Diversity, Growth, and Equity) certification.
With a backlog of more than $17 billion, Turner Construction is recognized as the largest construction management firm in the country and is the industry leader in sports facility development and construction. The firm has constructed more than 45 percent of all current MLS stadiums and is currently providing pre-construction services for the 2022 FIFA World Cup in Doha, Qatar. Overall, Turner is one of the country's top sports builders, constructing more than 450 sports facilities.
Locally, Turner has worked in Cincinnati since 1903 and is recognized as the largest construction firm in the city. The group's local sports projects include Paul Brown Stadium, Northern Kentucky University's BB&T Arena, Miami University's Athlete Performance Center & Indoor Sports Center, and the recent expansion and renovation of the University of Cincinnati's Nippert Stadium, FC Cincinnati's current home.
Among Turner's MLS stadium projects are CenturyLink Field (Seattle), Toyota Park (Chicago), Providence Park (Portland), Yankee Stadium (New York FC), Dick's Sporting Goods Park (Commerce City, Colo.), Rio Tinto Stadium (Salt Lake City), Sporting Park (Kansas City) and the soon-to-be-opened Audi Field (D.C.).
Turner is also recognized as one of the most diverse construction companies in the nation having received a grade of 100 percent on the Human Equality index by the Human Rights Campaign and is recognized as one of the top 50 diverse organizations in the country. Turner has a deep history of culturally significant projects such as the Martin Luther King Jr. Memorial and was recently selected to build the Barack Obama Presidential Center.
"As Cincinnati's leading downtown community builder, we are thrilled and grateful to be a part of this transformative project," Turner Vice President and General Manager David Spaulding said. "Our efforts will be focused on not only constructing a state-of-the-art stadium for this incredible team and their fans, but also creating opportunities and an environment that is driven towards community engagement and involvement."
Turner is partnering with Jostin Construction, a local African-American owned firm, who has been a part of other significant downtown Cincinnati projects with Turner such as 84.51 Centre, Great American Tower, and the new high-rise development at the intersection of Court & Walnut that is currently under construction. Jostin Construction is MBE (Minority Business Enterprise) and SBE (Small Business Enterprise) certified, as well as EDGE certified (Encouraging Diversity, Growth, and Equity). Jostin believes in creating a diversity of opportunities for all.
Machete Group will oversee and direct all aspects of the project, including site and master planning, venue program, design team assembly, project budget and project schedule, and will also assist FC Cincinnati in optimizing premium product and sponsorship assets.
Machete Group is a leader in sports and entertainment venue development and operation with projects ranging from Cadillac Arena in Beijing (site of the 2008 Olympic basketball competition), to Selhurst Park in London (home of Crystal Palace F.C.), to Barclays Center in Brooklyn (home of the Brooklyn Nets), to the iconic Webster Hall performance venue in New York City.
"We are honored to be a part of such an exciting project and to work for a team that has generated such enthusiasm in Cincinnati," Machete Group President David Carlock said.  "It is rare to find a site in such a dynamic urban environment and we appreciate the opportunity to help bring the new stadium to life."
U.S. Bank will provide financing to support FC Cincinnati in acquiring the team and constructing the new stadium. U.S. Bank actively supports MLS and provides capital and financial services to all five major sports leagues in the U.S. It's considered one of the nation's leading sports finance providers. U.S. Bank has been active in sports finance for nearly 20 years and offers a full set of solutions to support the unique business model of sports.
"U.S. Bank believes in the power of professional sports to bring communities together," said Bill Mulvihill, Senior Vice President and Head of U.S. Bank Sports and Entertainment. "We are proud to support FC Cincinnati in developing this new stadium and embarking on an important new growth initiative for the city of Cincinnati."
FC Cincinnati executives are on the bullish team assembled to design and construct the club's MLS stadium.
"We are prepared to build the top soccer stadium in the country right here in the Queen City." Berding said. "We have two of the world's top sports design and construction firms ready to design an iconic facility for our club and our community, and world-class management and financing partners on board to help us through the process. With MEIS, Turner, Machete and U.S. Bank working together, we're very excited for what is ahead for the soccer community in our region."
The club will begin MLS play in 2019 at Nippert Stadium, and host home matches there for its initial MLS seasons until the new West End facility opens.
RELATED STORIES: FC Cincinnati Training Academy Pitched for Milford; New for 2019: Fussball Club Cincinnati; FC Cincinnati MLS Expansion Bid Approved; FC Cincinnati MLS Expansion Announcement Could Come Next Week