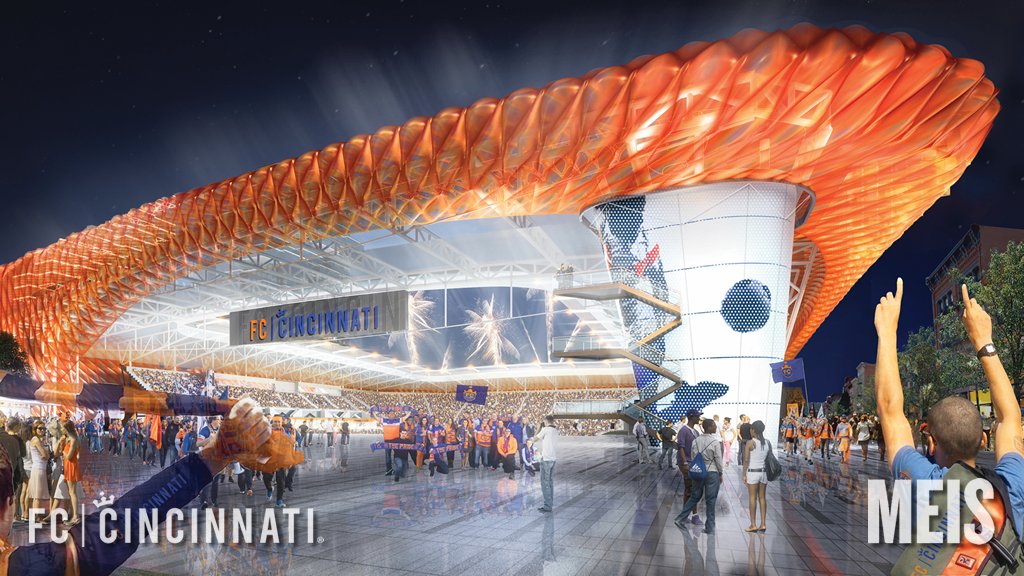 FC Cincinnati could be on its way to MLS, as an announcement on its MLS expansion bid is expected early next week.

The club has been pushing to join MLS, with one of the key components of its bid calling for the construction of a new soccer-specific stadium on Cincinnati's West End. Last month, the city council approved an ordinance that could lead to a $33.8-million funding package for infrastructure improvements to support the stadium, while the approval of a community benefits agreement last week marked a major step.
That push could culminate in next week's announcement. It has been reported that an announcement regarding FC Cincinnati will take place on Tuesday, with MLS commissioner Don Garber expected to be on hand. More from the Cincinnati Enquirer
Sources confirmed to The Enquirer that a major club announcement is coming Tuesday and MLS commissioner Don Garber will be in attendance.
Team and league officials declined to comment further on the nature of the announcement.
Perhaps there's nothing for officials to add, though, as Garber's presence for an announcement in Cincinnati points an invitation for FC Cincinnati to join MLS.
"Major soccer announcement" was the phrasing used as a not-so-subtle heads up prior to the December expansion announcement in Nashville.
MLS has tended to celebrate its expansion announcements with events in the cities of the winning bids, as was seen in recent months with Nashville and Miami. Approval of FC Cincinnati's bid would end months of uncertainty, as the club was one of four finalists considered by MLS in December. It was initially anticipated that the league would select two bids in December, but it selected Nashville and held off on decisions regarding the other finalists–including Cincinnati, Detroit, and Sacramento.
FC Cincinnati's plan for a new soccer-specific venue calls for the facility to be constructed at the site of Taft High School's Stargel Stadium. FC Cincinnati will replace Stargel Stadium by building a new venue at a nearby site.
Image courtesy FC Cincinnati.
RELATED STORIES: FC Cincinnati Stadium Community Benefits Agreement Approved; FC Cincinnati: More Work Needed in MLS Expansion Pitch; Schematics Detail FC Cincinnati West End Stadium Plan; Despite Stadium Deal MLS Passes on FC Cincinnati Expansion–For Now; City Council Approves FC Cincinnati West End Stadium; FC Cincinnati Stadium Financing Details Released; School Board Approves FC Cincinnati Stadium, Setting up City Council Vote; FC Cincinnati Pivots Back to West End Stadium Site