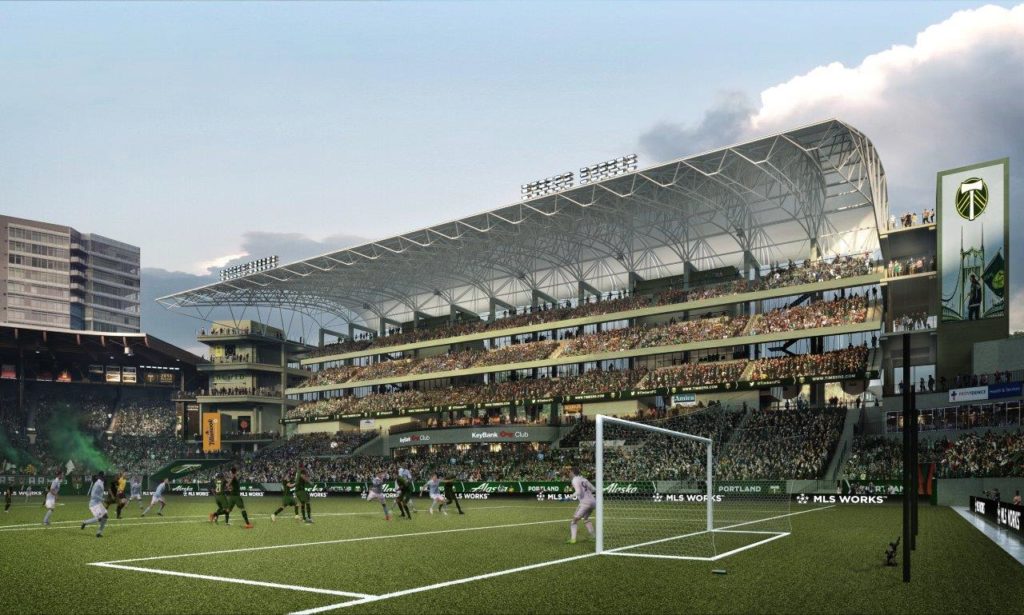 Providence Park will host two home matches for USL Championship's Portland Timbers 2 this month, providing soft openings before the Portland Timbers return June 1.
Providence Park has yet to host a home match for MLS's Timbers or NWSL's Portland Thorns this season, as the facility has been closed to accommodate construction on a 4,000-seat expansion on its east side. The $85 million project is winding down, and a couple of soft openings in the form of Timbers 2 matches are scheduled ahead of the Timbers' home opener against Los Angeles FC on June 1.
Timbers 2 will host a pair of games at Providence Park this month, including one against El Paso Locomotive FC on May 25 and another against Real Monarchs SLC on May 29. In both games, only the westside and north end of Providence Park will be open, allowing work to continue elsewhere in the facility. More from MLSsoccer.com:
T2, the Western Conference side's USL Championship team, will play two league matches at the newly-renovated stadium: May 25 against El Paso Locomotive FC and May 29 against Real Monarchs SLC, the reserve side of Real Salt Lake. The Timbers will then hit the ground running with a June 1 match against early Supporters' Shield leaders LAFC.
"As we get closer and closer to the official relaunch of Providence Park, and for all the hard work of everyone involved to come to fruition on June 1, these T2 games are a terrific opportunity for fans to get a first glimpse of this amazing transformation and for our staff to grow with its many new features," said Mike Golub, president of business for the Timbers.
Construction on the expansion began ahead of the 2018 season, but the work needed to finalize the project–combined with a deep playoff run last fall by the Timbers–required that both the Timbers and Thorns begin their respective 2019 campaigns on the road before returning to Providence Park in June.
Rendering courtesy Brooklyn Digital Foundry.

RELATED STORIES: Providence Park on Track for June 1 Reopening; Steps Taken for Upcoming Providence Park Reopening; New Providence Park Video Displays Being Installed; Timbers Could Start 2019 Season on Road to Accommodate Providence Park Construction; Providence Park Expansion on Track for Spring 2019 Completion; Providence Park Readies for Returns of Timbers, Thorns; Providence Park Expansion Project on Schedule; Portland Approve Providence Park Expansion Agreement; Providence Park Expansion Pushes Timbers' Home Opener to April; Design Commission Signs Off on Providence Park Expansion; Portland to Consider New Terms for Providence Park Tax Breaks; Portland Moves Forward with Providence Park Expansion; Timbers Pitch Providence Park Expansion to City; Portland Timbers Pitch Providence Park Expansion; Merrit Paulson Discusses Providence Park Expansion; Portland Timbers Mapping Out Stadium Expansion; Portland Timbers Mulling Providence Park Expansion