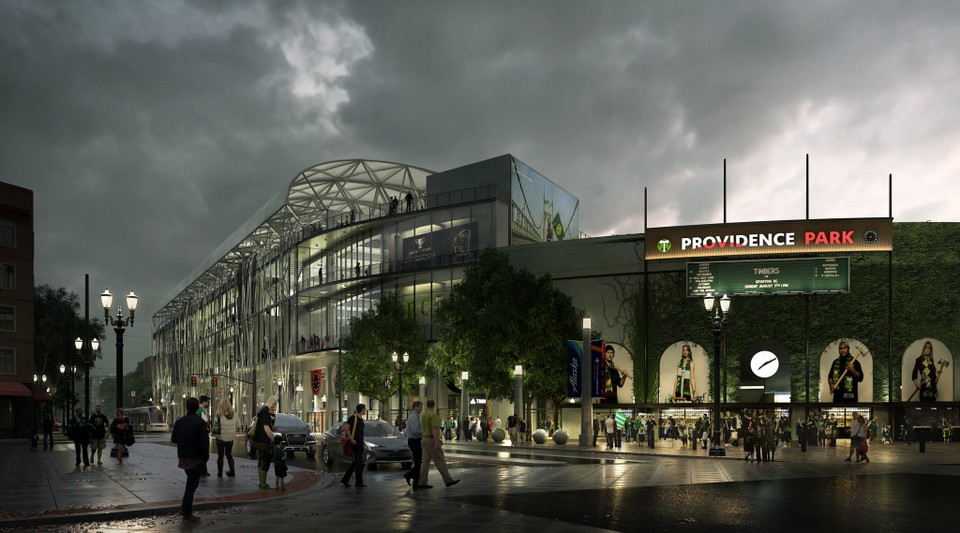 The home of the Portland Timbers and Thorns is preparing for a major change, as an ongoing Providence Park expansion is on track for a spring 2019 completion. 
In order to accommodate more fans and meet a high demand for tickets, Providence Park is being expanded. As part of the project, the facility will receive an additional 4,000 seats on its east side. Construction work began on the project last fall, and it has been eyed for a spring 2019 conclusion.
At this point, it appears that the project will meet that target date. While that could change, a recent update from Timbers and Thorns (NWSL) owner Merritt Paulson included mention that the expansion is "generally" on schedule to wrap up next spring. More from The Oregonian:
Timbers and Thorns owner Merritt Paulson took to Twitter last week to give fans an update on the expansion project, which has been underway since November 2017. The project will add 4,000 seats to Providence Park, bringing capacity up to about 25,000.
The price tag on the privately-financed project has changed dramatically since the Timbers first announced the plan in April 2017. What was originally proposed as a $50 million project will ultimately cost Paulson closer to $70 million.
According to Paulson, the project is "generally" on schedule to be completed by Spring 2019, though the Timbers' 2018 playoff schedule could change that. The Timbers are currently in fourth place in the Western Conference standings with two games left in the regular season and could clinch a playoff berth as early as Sunday, October 21.
The Timbers have already put the new seats up for sale and given current season tickets holders the opportunity to switch over to the new sections. Paulson said that roughly 3,700 of the 4,000 new seats have been sold. Timbers President of Business Mike Golub said in January that approximately 3,000 to 3,200 of the 4,000 new seats would be for new season ticket holders.
The Timbers and the Thorns are among the better draws in their respective leagues, so both clubs–particularly the Timbers, who are currently averaging 21,144 fans per game–could benefit from the expansion. The additional seating on the east side might not be the only major change on the way at Providence Park, as discussions are reportedly taking place about installing a natural grass field. The Oregonian has more in a separate story, but the surface would replace the artificial turf that is currently used at Providence Park.
Rendering courtesy Brooklyn Digital Foundry.
RELATED STORIES: Providence Park Readies for Returns of Timbers, Thorns; Providence Park Expansion Project on Schedule; Portland Approve Providence Park Expansion Agreement; Providence Park Expansion Pushes Timbers' Home Opener to April; Design Commission Signs Off on Providence Park Expansion; Portland to Consider New Terms for Providence Park Tax Breaks; Portland Moves Forward with Providence Park Expansion; Timbers Pitch Providence Park Expansion to City; Portland Timbers Pitch Providence Park Expansion; Merrit Paulson Discusses Providence Park Expansion; Portland Timbers Mapping Out Stadium Expansion; Portland Timbers Mulling Providence Park Expansion