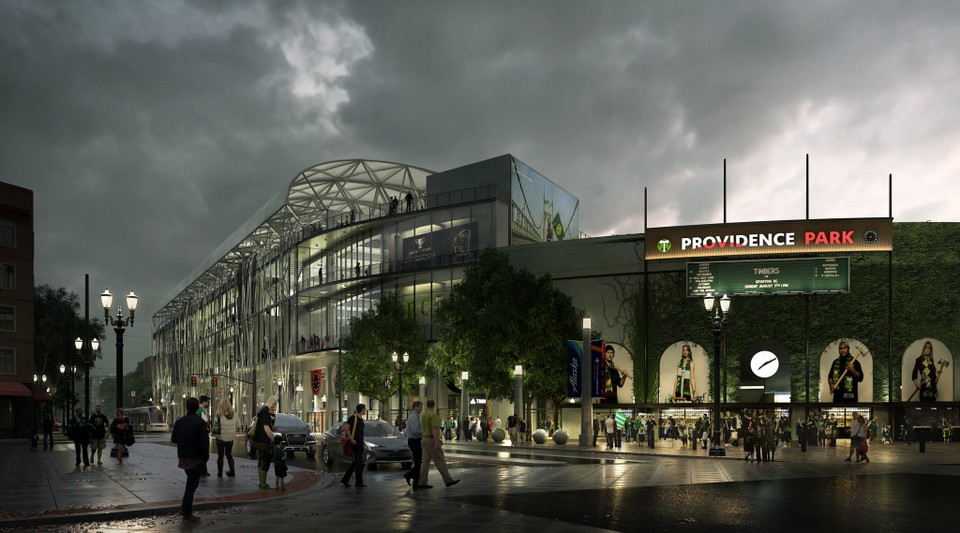 With work not expected to conclude until late spring, construction of an ongoing Providence Park expansion could force the Portland Timbers on the road for 12 games to start the 2019 MLS season. 
An ongoing playoff run has been a success on the field for the Timbers, who will play an away game against Sporting KC on Thursday with hopes of clinching a spot in the 2018 MLS Cup. The deep playoff run has had an effect on Providence Park, however, as it means a later construction schedule for an ongoing expansion project that will add about 4,000 seats on the facility's east side.
The Timbers did not play their final home game of 2018 until Sunday and, up through that point, certain parts of the stadium were off limits to construction crews. Providence Park construction is now back in full swing, but it is not expected to conclude until late May or early June of 2019. Given that time frame, the Timbers expect that they will start the 2019 season on the road to allow construction to continue. It will take some time before the 2019 MLS schedule is released, but the club could begin the campaign with 12 consecutive road games. More from The Oregonian/Oregon Live:
The Timbers began construction on a $70 million-plus stadium expansion project to add 4,000 seats to Providence Park shortly after Thanksgiving in 2017. As of October, they were on track to finish construction by Spring 2019. But Portland's deep run in the 2018 MLS Cup Playoffs forced the club to delay certain facets of its construction plan. Had Portland missed playoffs, the club would have stopped competing at Providence Park in October. Instead, the Timbers didn't play their final home game of the season until Sunday.
Timbers President of Business Mike Golub said Monday that the playoff run has slightly impacted the timeline around stadium expansion. He said the club now expects the expansion project to be completed by late May or early June 2019.
Due to the new timeline, Golub said that the Timbers and Portland Thorns would both be on the road for a significant amount of time at the start of their 2019 seasons. Golub said that the Timbers could play their first 12 games of the 2019 MLS season on the road.
"The playoff run that we're on — which has been terrific for all of us and our fans — has had some implications for the timeline of the project," Golub said. "It has impacted the schedule of the construction completion. At this point, we're looking at a late May, early June reopening of Providence Park."
Once it is completed, the expansion will result in Providence Park's capacity growing to above 25,000. The Timbers have been an attendance success in MLS, a trend that continued during the 2018 season with their per-game average of 21,144 fans.
Rendering courtesy Brooklyn Digital Foundry.
RELATED STORIES: Providence Park Expansion on Track for Spring 2019 Completion; Providence Park Readies for Returns of Timbers, Thorns; Providence Park Expansion Project on Schedule; Portland Approve Providence Park Expansion Agreement; Providence Park Expansion Pushes Timbers' Home Opener to April; Design Commission Signs Off on Providence Park Expansion; Portland to Consider New Terms for Providence Park Tax Breaks; Portland Moves Forward with Providence Park Expansion; Timbers Pitch Providence Park Expansion to City; Portland Timbers Pitch Providence Park Expansion; Merrit Paulson Discusses Providence Park Expansion; Portland Timbers Mapping Out Stadium Expansion; Portland Timbers Mulling Providence Park Expansion